Fact Check: Netizens wrongly expressed condolences to Ex UP CM Mulayam Singh Yadav in place of SP veteran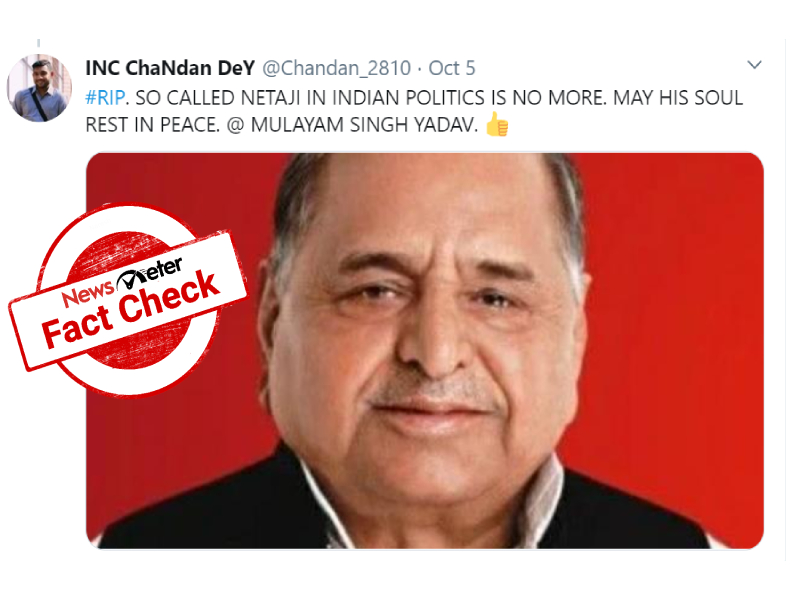 Hyderabad: Image of former Chief Minister of Uttar Pradesh Mulayam Singh Yadav is viral on social media with a claim that he has passed away.
Social media users are sharing his image and writing," #RIP. SO CALLED NETAJI IN INDIAN POLITICS IS NO MORE. MAY HIS SOUL REST IN PEACE. @ MULAYAM SINGH YADAV. 👍 " (archived tweet)
Click here and here to view similar claims.
FACT CHECK:
This claim is misleading.
Newsmeter checked for news reports on this issue and found news articles by many media houses like 'ABP LIVE' and 'Times Now' which stated that Mulayam Singh Yadav passed away on October 3, 2020 at his native village in Uttar Pradesh's Auraiya district around 9 pm.
However, it should be noted that it was Samajwadi Party leader Mulayam Singh Yadav who passed away on October 3 and not the man in the viral picture who is identified as UP CM Mulayam Singh Yadav.
This false claim arose due to the confusion between two political leaders who share the same name - Samajwadi party leader Mulayam Singh Yadav and UP CM Mulayam Singh Yadav.
According to reports, Samajwadi Party veteran and three-time MLC Mulayam Singh Yadav had been fighting illness for the last few days and was undergoing treatment at a Kanpur hospital. Recently, he returned home from hospital but his health deteriorated again and he passed away.
This news was also confirmed by the tweet of Samajwadi party which posted an image of him and expressed grief.
This proves that SP leader Mulayam Singh Yadav had passed away and the image of UP CM Mulayam Singh Yadav has wrongly been circulated in his place.
Claim Review :
Netizens expressed condolences to Ex UP CM Mulayam Singh Yadav
Claimed By :
Twitter Users