Yoga guru Ramdev, on 25 April, had claimed that applying mustard oil to the nostrils will make Corona virus flow to the stomach where it will be killed by the natural acids present there. He made the claim while speaking at a special session at e-Agenda Aaj Tak.
Ramdev also claimed that if people can hold their breath for a minute then it means s/he is not suffering from Corona virus. He called the exercise a self-test for COVID-19. "Those who have chronic hypertension, heart problems, diabetes, and the elderly, if they can hold their breath for 30 seconds, and those who are young for one minute, it means you do not have COVID-19, either symptomatic or asymptomatic," Ramdev claimed.
Several news organisations, including India Today, Business Today, and Free Press Journal, have reported the yoga guru's claim.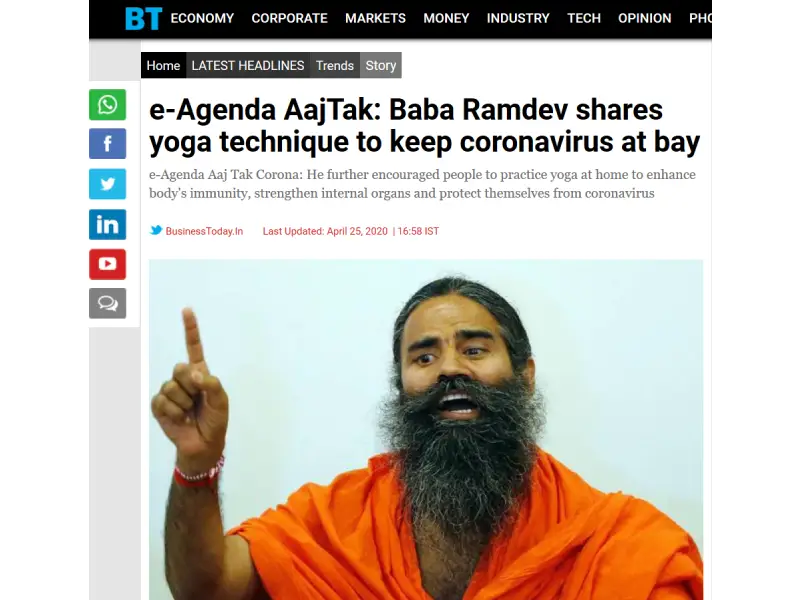 A newspaper clipping reportedly from India Today is also doing the rounds of social media platforms such as Twitter and WhatsApp.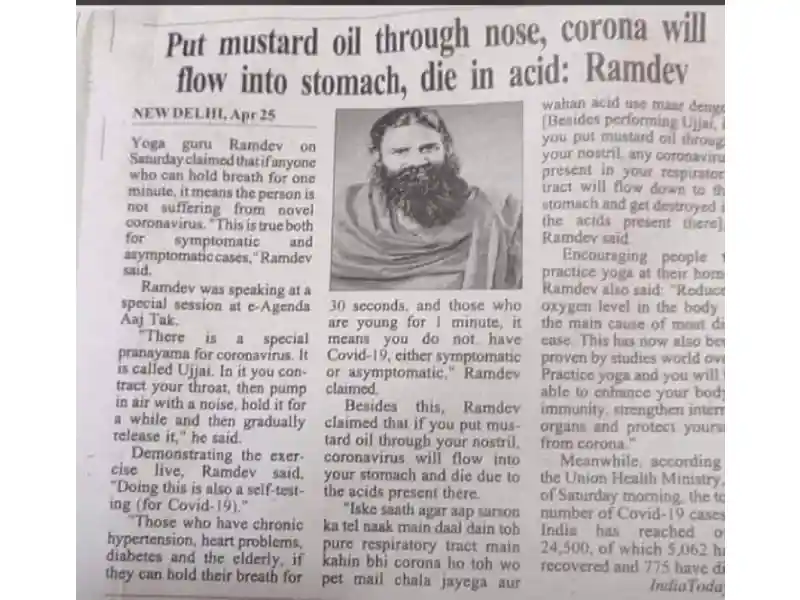 Fact Check:
NewsMeter spoke to a few experts to check Ramdev's claims.
Rubbishing the guru's claims, Dr. Rakesh Mishra, the director of Centre for Cellular and Molecular Biology (CCMB), told NewsMeter that there is no medical evidence to support such claims. "We don't have medical evidence so far to claim that any nasal drop or oil can kill Corona virus or act as a physical barrier to the movement of the virus from the nasal cavity or throat to the lungs. Similarly, there is no evidence to prove that acid in your stomach can kill Corona virus."
He further said there are only two ways to cure the disease. "Either you need to introduce a drug into your system to fight off the viral infection or your immunity should be really good that it can ward off the virus."
Meanwhile, regarding Ramdev's self-test, Dr. Sunitha Narreddy, an infectious disease physician from Apollo hospital, said, "A majority of Covid patients in the country are asymptomatic. As long as the virus has not affected your body you can breathe fine. Also, at the same time, the inability to hold your breath can also be due to several other lung diseases and not necessarily COVID-19."
NewsMeter could not find any medical journal or article that supports Ramdev's claim.
Therefore, the claim that applying mustard oil to the nostril will let Corona virus move to the stomach where it will be killed by the stomach acids is false. Also, the ability to hold one's breath for a minute does not mean you don't have COVID-19.
Claim Review :
mustard oil kill Corona virus
Claimed By :
Social Media Users