Hyderabad: Amid lockdown, many images of wild animals coming out into the open have gone viral. Videos of a civet moving on the road in Kozhikode and some monkeys found at the Rashtrapathi Bhavan were true but many of the other images shared turned out to be older ones, which were in circulation even before the lockdown.
One such image going viral on social media is of parrots flocking over a huge pile of grains stored in gunny bags.
The image is being shared with a caption in Hindi which reads, "One cannot witness such things in life which are being witnessed during lockdown."
The post was also virally shared on Facebook. A post on a user page titled Jai Hind got nearly 11,000 likes and 6,900 people shared it.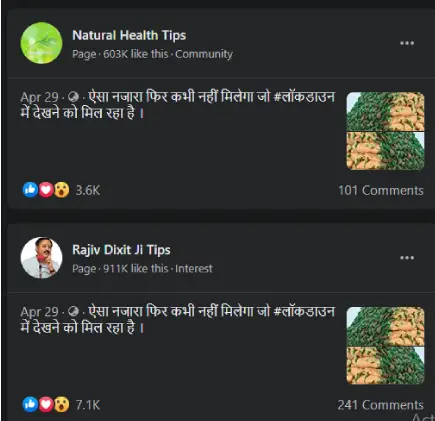 Fact Check:
By doing Yandex reverse image search of the images being shared online, we found that the same image was published in a blog website, Natureforever.
According to the details in the website the post was published six years ago, in 2014. And the picture was taken by Vivek Rathod.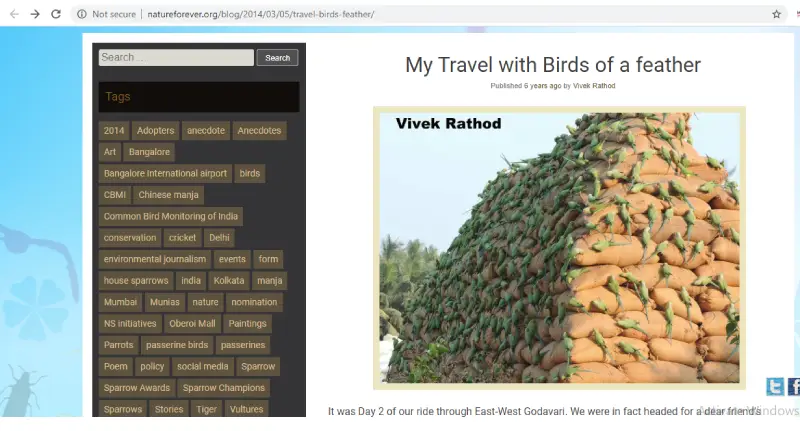 The blog is titled, 'My travel with birds of feather'. In the blog post, the author seems to be travelling in Andhra Pradesh as he mentions passing through districts like East Godavari, Yanam and others. He has written, "And just when we zipped past a tiny rice mill go-down, Vivek, pillion riding, jumped up and screamed as if I had just hit someone. I hastily stopped and was about to shout back at him, when he screamed "50 parrots sitting in one place". We turned back and headed back to the spot, when we got to see this amazing picture of not 50 but nearly 100 or more parrots, perched upon rice bags, and feeding. It was a sight to behold. From afar, it appeared as if the rice bags were covered with leaves. (Sic)"
NewsMeter also found the Instagram page of the author 'rathod_17'. In the page, the author tagging the place as West Godavari has shared the same picture on September 2019, which means before the lockdown was declared. We reached out to the author via is Instagram and the author confirmed that the pictures were taken by him. He in his reply said, "Hello, those pics are taken in February 2014 at Andhra Pradesh.(Sic)"
Hence, the claim that the picture was taken after the lockdown is fake. The picture is taken probably in 2014 as the blog post suggests.
Claim Review :
Parrots feeding on grains bags amid lockdown
Claimed By :
Social Media Users