Hyderabad: Madhya Pradesh Congress MLA Jitu Patwani shared a photograph showing the inside of a luxurious aircraft, claiming that it to be that of Prime Minister Modi. The tweet in Hindi, satirically mentions that "Even with his tea selling background, India will progress only when Modi enjoys all the luxuries as Prime Minister. Here is the interior of the PM's aircraft".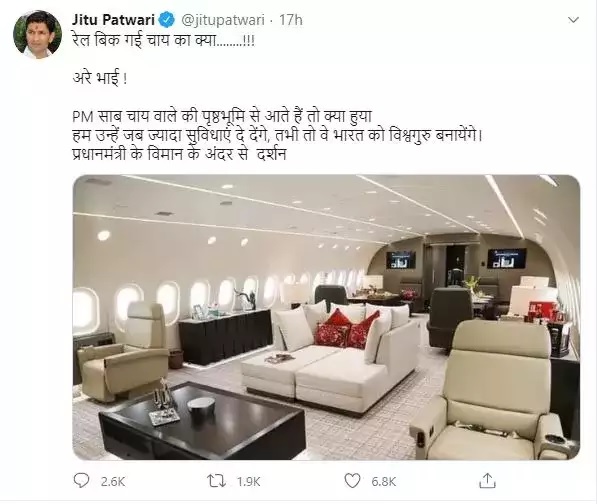 Archived claim can be found here.

Fact Check:
The claim that the picture shared is the interior of the aircraft designed for the Indian Prime Minister is FALSE.
Google reverse image search gives us several results stating that it is the interior of Boeing 787, whereas the aircraft which has been designed for the use of Indian Prime Minister, President and Vice President is Boeing 777.
When searched further, we found that this image belongs to a private Boeing dreamliner jet from Hong Kong, Deer Jet. Deer jet is a service provider of business jet leasing, wherein they provide their business jets, helicopters, private yachts for lease.
We found a YouTube video showing the inside of this private Boeing 787, which shows visuals similar to that of the viral picture.
When ventured onto deerjet website, we also found the same image shared there.
Here are other links that show the inside images of Dreamliner 787.
Though it is true that two custom-made B777 aircrafts, which will be used to fly Prime Minister Narendra Modi and other top Indian dignitaries, are likely to be delivered by Boeing to Air India by September, the picture shared by the Congress leader is not of that aircraft.
The new wide-body planes will be maintained by the Air India Engineering Services Limited (AIESL), which is a subsidiary of the Indian national carrier. These aircrafts will be operated by the Indian Air Force pilots and not Air India pilots.
The B777 planes will have state-of-the-art missile defence systems called Large Aircraft Infrared Countermeasures (LAIRCM) and Self-Protection Suites (SPS).
However, the fleet maintenance will be the responsibility of Air India Engineering Services Limited (AIESL), a subsidiary of the Indian national carrier Air India.
Fact check division of Press Information Bureau (PIB Fact Check) has also refuted the claim.
Claim – A twitter user has posted image of luxurious interior of an aircraft claiming it is PM @narendramodi's official aircraft #PIBFactCheck – The photo is of a private Dreamliner model by Boeing 787 and not of PM's aircraft #FakeNews pic.twitter.com/eTyhpBTpor

— PIB Fact Check (@PIBFactCheck) August 1, 2020
Hence, the claim that the viral image is the interior of the aircraft designed for Indian Prime Minister is FALSE.