Fact Check: Rent in Fuggerei, Germany, has not been increased since 1520; tenants pay less than $1 per year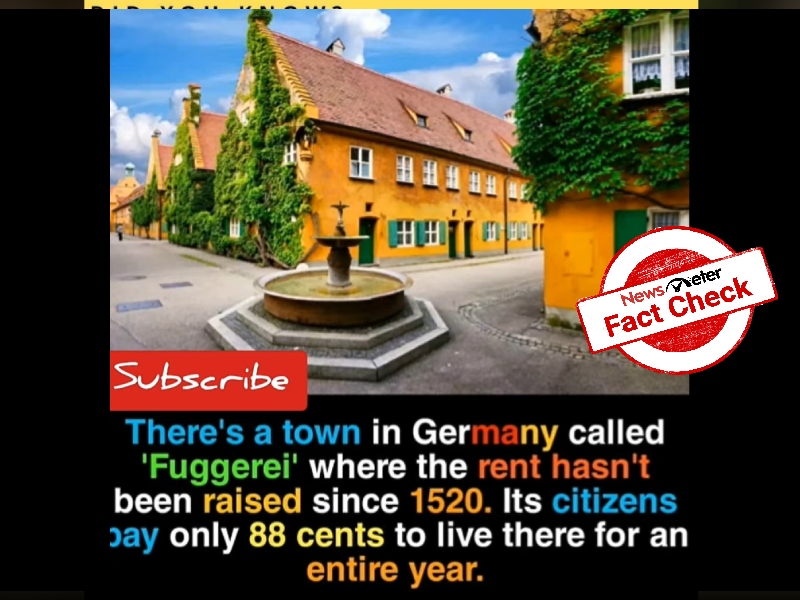 Hyderabad: Rising rents are a concern worldwide. Living in a city is very expensive, especially because the rents of the houses keep increasing. Imagine a place where rent never increases, no matter how long we stay.
A message is in circulation on all platforms of social media, including YouTube, claiming that "There's a town in Germany called 'Fuggerei' where the rent hasn't been raised since 1520. Its citizens pay only 88 cents to live there for an entire year."
Few users shared it with the claim "Rent 1$ only for a year since 500 years Germany Fuggerei town"
While some users shared the pictures with the claim, Fuggerei in Augsburg - the oldest social housing complex in the world (15th century) still in use. As of 2020, rent is 88 cents a year.
This claim has also been shared on Twitter too.
Claim archives can be found here, here and here.
Fact Check
The claim that the rent of the houses in Fuggerei, Germany has been 88 cents from the year 1520 is TRUE.
Fuggerei, the Bavarian village, is located on the outskirts of Augsburg, one of Germany's oldest cities, and recently shortlisted in the running to become the next World Heritage Site. Jakob Fugger constructed Fuggerei in 1521 for citizens who were poor. Applicants were required to provide proof of their financial status and also that they have no debt. Even today, the applicants are required to do the same.
Fuggerei has a rich history and is beautiful but the thing that leaves people in awe is that people residing in the complex today pay the same rent as in 1520. The annual rent in 1520 was 1 Rhein guilder, and people today pay the equivalent which is €0.88 or just under $1.
Even though the rent and the ambiance of the town are tempting, there is a four-year waiting list to move into Fuggerei. Moreover, there are strict restrictions for being a part of the Fuggerei housing community.
People who are willing to reside in Feggurei must be above 60 years in age and be of the Catholic faith. They must also participate in prayers that happen three times on a daily basis – the Lord's Prayer, Hail Mary, and the Nicene Creed. They are also required to contribute to the community by working as a night watchman, sexton, or gardener.
They also have strict curfews. The gates of the complex are closed at 10 p.m. every day. Late entry is only available with a payment of $.50 (or €1) to the night watchman.
Even if it is not possible for everyone to stay in this historical place, it's possible to take a guided tour of Fuggerei. The entrance fee is six Euros and 50 cents (£6.80) – or about seven times the yearly rent.
Attractions include two museums, a World War II bunker, and a 'display residence' – an apartment that showcases what life is like for those who live there.
Fuggerei town's website states that "To this day, people with low incomes can live in the Fuggerei for an annual base rent of 88 cents and three daily prayers. Here, in the oldest social housing complex in the world, visitors experience a fascinating journey through history – and the normal everyday life of the Fuggerei's 150 current residents."
Ironically, though this housing complex is only for the poor and needy, if they are in debt, they are not allowed.
Hence, the claim that the rent of the houses in Fuggerei, Germany, has not increased from the year 1520 is TRUE.
Claim Review :
Rent in Fuggerei, Germany, has been increased since 1520; tenants pay less than $1 per year
Claimed By :
social media users