FACT CHECK: Viral photo of Hindu-Muslim couple is not BJP leader Kapil Mishra's sister and brother in law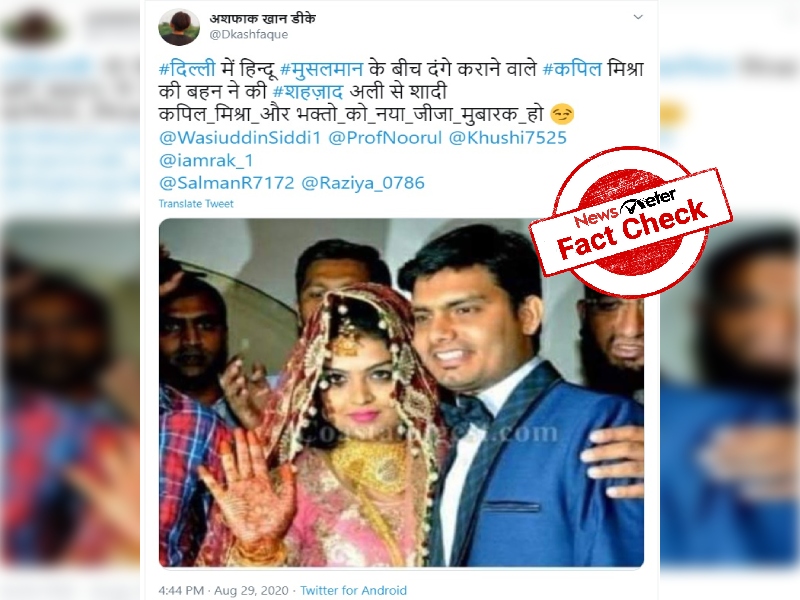 Hyderabad: Delhi BJP leader Kapil Mishra came under attack after communal riots erupted in North East Delhi in February. He had allegedly told the police to clear anti-CAA protesters from Jafrabad. After a few hours of his speech, Delhi witnessed communal riots in which more than 50 people died. Many people accused Kapil Mishra of fueling riots.
Seven months on, a post about Kapil Mishra is now going viral. A wedding photo is being shared on Twitter and Facebook. Netizens claim that the bride is Kapil Mishra's sister who married Shahzad Ali.
"Kapil Mishra's sister married Shehzad Ali. Why am I tweeting this? To tell u that how much ever hate u spread you cannot kill love. Love is the sapling that will tear apart mountains to come out. Spread love. Be the sapling that will grow to give flowers, fruits & shade to others," wrote a Twitter user.
On August 29 another Twitter user posted an image of a man and woman and captioned it in Hindi. "Kapil Mishra who has started the Hindu-Muslim riots in Delhi, his sister is wedded to Shahzad Ali," reads the English translation of the post. It notched 400 retweets.
On August 30 a Facebook user posted the same viral image with the same text. The post notched 3,200 shares.
Claim archives can be found here, here and here.
Fact Check: The picture is not of Kapil Mishra's sister. The claim being shared is FALSE.
Newsmeter did a google reverse image search and found that NDTV published the photo on April 18, 2016 picture. It showed wedding rituals of the Hindu-Muslim couple, Ashita Babu and Shakeel Ahmed, at Taj Convention Hall in Bannimanta of Mysore. The report added that the marriage was held peacefully amidst tight security. Local Bajrang Dal and BJP members were opposed to the wedding as Ashita had decided to convert to Islam.
A Mangalore-based news website Coastal Digest reported their wedding in 2016.
The Indian Express also reported it.
Regarding the viral post, Kapil Mishra has also clarified that this is misleading. Talking to fact-checking website Boom Live, Kapil said that he has three sisters, two of whom are married. According to Kapil, no sister of his close or distant relationship is married to a Muslim.
It was a wedding photo of a Hindu-Muslim couple in Mysore in 2016. It has no connection with Kapil Mishra.
Hence, the claim is FALSE.
Claim Review :
Photo of Hindu-Muslim couple is BJP leader Kapil Mishras sister and brother in law
Claimed By :
social media users