Hyderabad: French President Emanuel Macron is facing a lot of criticism over his recent remarks on Islam following the brutal killing of French teacher Samuel Patty. Several leaders of Muslim countries, including Pakistan Prime Minister Imran Khan, have condemned Macron's remarks as Islamophobic.

Several media houses and social media users claimed that in retaliation to Imran Khan's recent remarks, France has rejected 183 visitor visas provided to Pakistani nationals in France. These reports further claimed that 118 citizens have been forcefully deported from France so far.

Several media houses, including DNA India, Yahoo News, Amar Ujala, and others have reported the same.

All these media houses cited a tweet by Twitter handle @PakConsulateFr with the username 'Consulate General Of Pakistan France' as the source for the news. The tweet reads, "183 visitor visa provided to our citizens has been found to be rejected by french authorities following the criticism by PM Imran khan. 118 citizen with proper documents were deported forcefully. We're currently in touch with french authority to give our citizens temporary stay (sic)."


Archive Tweet

The news went viral on both Facebook and Twitter.

Archive post


Fact Check:
Reports about the cancellation of 183 visas of Pakistani nationals in France is FALSE. The official Twitter handle of the Pakistan Embassy in France issued a clarification regarding the same.
NewsMeter found the official tweet posted by Pakistan Embassy in France through its Twitter handle @PakinFrance on 1 November 2020. The tweet identified the Twitter handle @PakConsulateFr as a fake account and further said, "The Embassy of Pakistan in Paris, France has only one Twitter account @PakInFrance. Any other account claiming to represent the Embassy anywhere in France is fake & misleading & may be reported to @Twitter. @FakeNews_Buster @ForeignOfficePk @MoIB_Official." The tweet also contains a screenshot of the imposter account which tweeted news about visa cancellation and termed it as a fake.



Archive Tweet

A keyword search led to an article by Pakistani news channel Geo News which had fact-checked the article and debunked the claim.

NewsMeter also examined the profile of the fake Twitter handle @PakConsulateFr which was created in April 2020. This account has only 448 followers and has posted 27 tweets so far. This Twitter profile also doesn't have any official website links which is unusual for an official account. All this makes the account suspicious.

]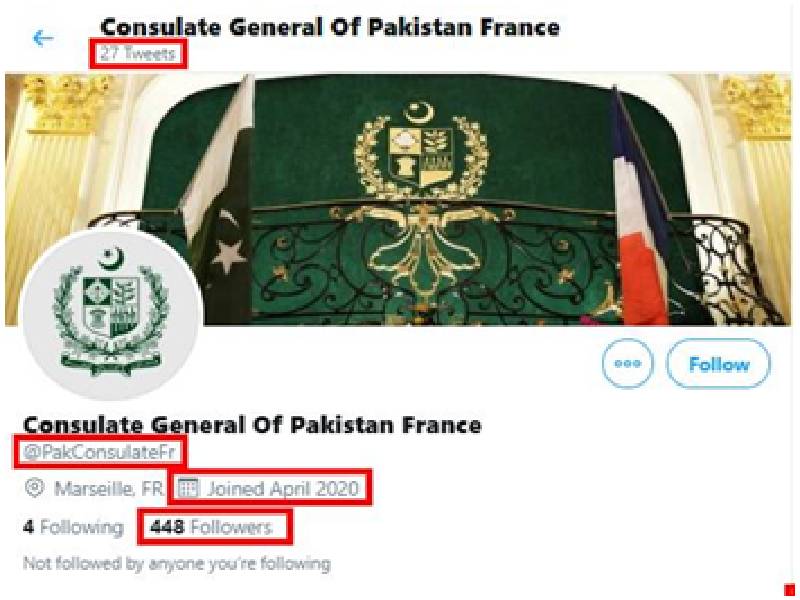 Source: Twitter



Whereas the official Twitter handle @PakinFrance, created nine years ago, has 4,715 followers. This handle has posted 20.8K tweets so far and it also carries a link to its official website pakembparis.com.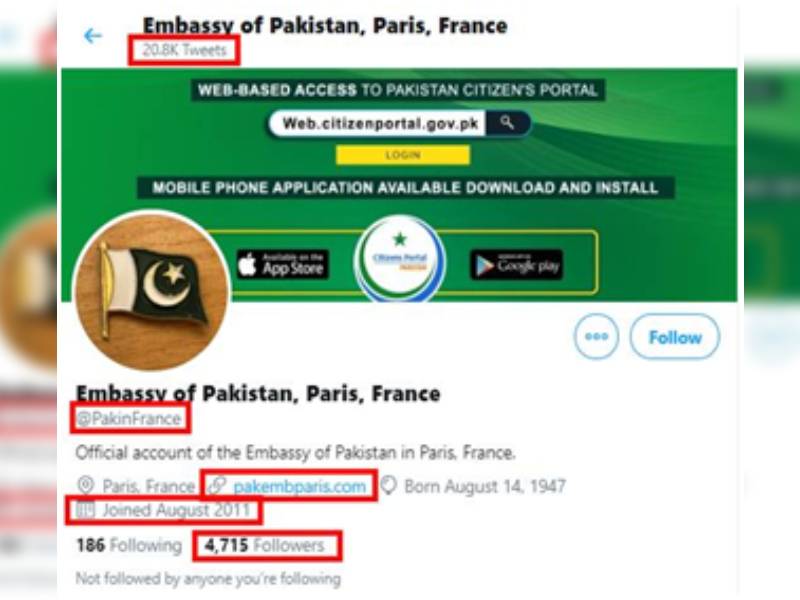 Source: Twitter

In conclusion, reports about the cancellation of 183 visas of Pakistani nationals in France are based on a fake Twitter account. Therefore, these viral claims are FALSE.