Hyderabad: A picture of three Indian Police Service (IPS) officers has gone viral on social media with the claim that they are siblings.
"Not just jeans, not cigarettes … equal rights, equal dignity. Two brothers and a sister are IPS officers !! A girl is not a burden. We should understand," reads an English translation of the message in Bangla.https://t.co/U76x3g1wwT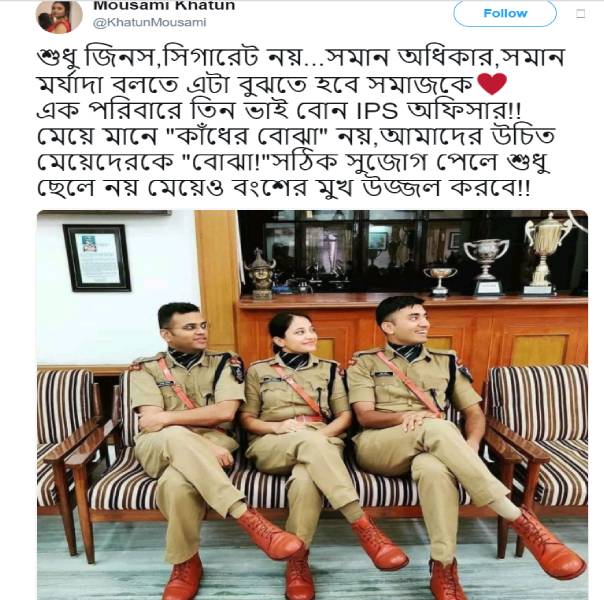 https://twitter.com/KhatunMousami/status/1301413051917365250?s=19
https://web.archive.org/web/20200908134006/https://twitter.com/KhatunMousami/status/1301413051917365250?s=19
Similar posts can be viewed here.
This claim is false.
Newsmeter performed a reverse image search and found the same picture on an Instagram account that belongs to IPS Probationer Pooja Vashisth. She tagged the other two people in the picture who are identified as Tushar Gupta and Shrut Kirti Somavanshi.
Tushar Gupta posted the same picture on his account on 22 August 2020 and tagged Vashisth and Somavanshi.
It is to be noted that the three officers don't share the same last name, thus hinting that they are not siblings.
Newsmeter found a list of candidates allocated to the Indian Police Service on its website from 2018. Through this, we found that the home states of the officers were different which proves they are not siblings. Tushar belonged to Punjab, Pooja to Haryana, and Shrut Kirti to Uttar Pradesh.
https://ips.gov.in/Empanelment/Cadreallocationcivil_201719122018.pdf
In another Instagram post, Pooja Vashith posted a picture from the Passing out Parade. This proves that the 3 officers belonged to the same batch of training.
Therefore it is clear that the claim is false.