Hyderabad: Recently, NewsMeter received a photo allegedly of Sudha Murthy sorting vegetables at Sri Raghavendra Swamy Mutt in Jayanagar, Bangalore.
A text that accompanied the photo read, "Lady in the picture is Mrs. Sudha Murthy, wife of N.R Narayana Murthy, and a co-founder of Infosys, a multi billion Rupees Indian enterprise. You may see her making garlands and in front of vegetables. The explanation is that one day in a year she will make garlands at tirumala balaji temple and three days she will cut vegetables at Raghavendra swamy mutt at Jayanagar for prasadam, this she does every year to get rid of arrogance that might come due to wealth. To retain humility. A big salute to her 👍"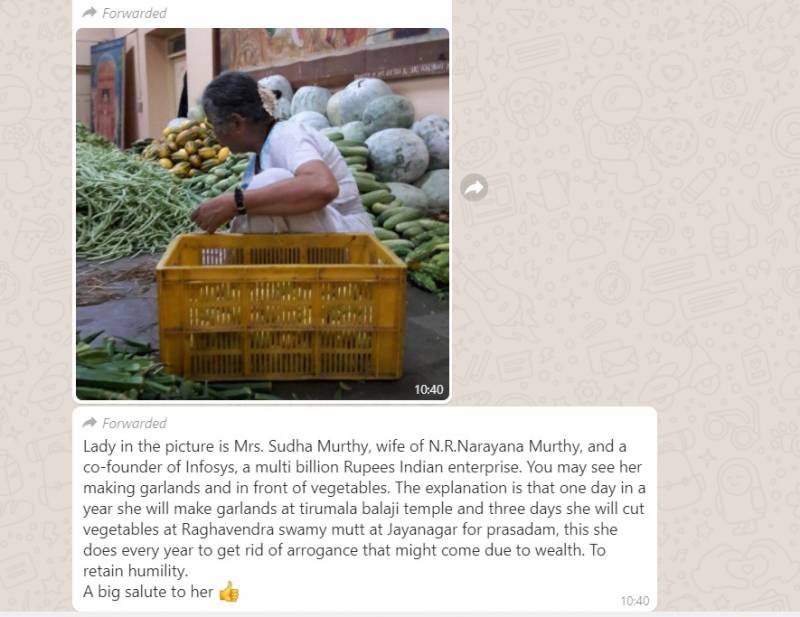 We also found similar claims on social media.
Fact Check:
The claim that the woman in the photo is Sudha Murthy, the wife of the co-founder of Infosys Narayana Murthy, is TRUE.
We performed a Google reverse image search and found a few articles which proved that Ms. Murthy has been participating in the Raghavendra Aradhanostava celebrations and other seva programs for several years.
An article published in Bangalore Mirror in October 2013 said three days a year during the Raghavendra Aradhanostava celebrations, Sudha Murthy wakes up at 4 a.m and heads to the Raghavendra Swamy temple to offer her service. Accompanied by a lone assistant, she goes to the temple kitchen, which is a block away from her z-security-guarded house in Jayanagar, Bangalore.
For the next four hours, she cleans the kitchen and the adjoining rooms, washes the dirty utensils, dusts the shelves, chops vegetables, takes inventory of stock, sweeps the yard, and empties the trash cans.
She seeks the help of her assistant only to carry the large sacks of vegetables and rice to the storeroom. At 9 a.m, Sudha returns to the two-storey building that's been her home for the last 25 years.
She told Bangalore Mirror in 2013, "Giving money is easy because it is a simple transaction. But doing physical Seva is not." Influenced by the Sikh philosophy of 'Kar Seva', she can often be seen "taking care" of devotees' footwear at a Gurudwara in Delhi, too.
The viral photographs were published in the Kannada edition of Oneindia.com, which shows Ms. Murthy participating in various seva programmes like serving meals to the devotees, making lavish washes for the offering of rice, and washing fruits for the Panchamruta along with other devotees.
According to the Mutt officials, she worked as the store manager for three days in the mutt.
These images were also published by Sakshi TV on its YouTube channel claiming that Sudha Murthy is selling vegetables in the Aradhanostava, which is NOT true, as she was not selling vegetables but maintaining a storage facility during the festivities.
Several news websites recently reported that Ms. Murthy visited Jamakhandi weekly market in Bagalkot, along with her relative, to buy vegetables from local vendors.
Sudha Murthy has showcased, on multiple occasions, that money hasn't changed her values. Here are some of those instances when she taught us how humanity and values are priceless and no money can buy them.
Therefore, it is TRUE that the photo of a woman doing seva at the Rayar Mutt in Jayanagar is of Sudha Murthy.
Claim Review :
Woman sorting vegetables at Raghavendra Mutt is Sudha Murthy
Claimed By :
social media users