Hyderabad: A tweet is viral on Twitter saying, "I boycott Jaya Bachchan and Amitabh Bachchan. Who is with him?" Mukesh Khanna tweeted on his Twitter account on September 15, 2020.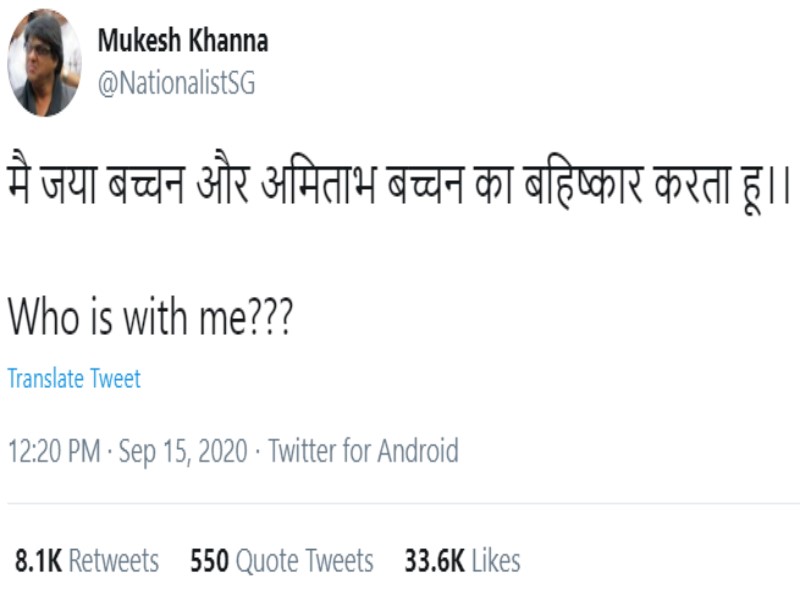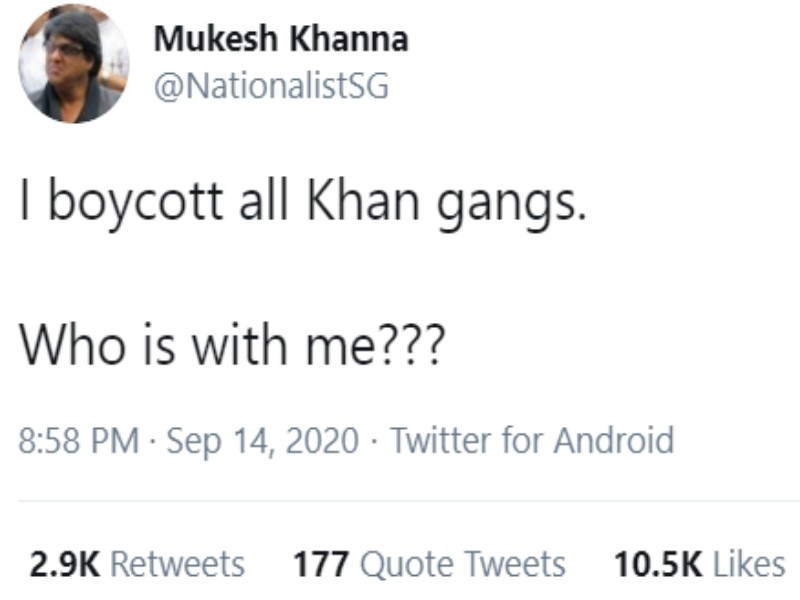 The name and the handle of this account are now changed to Sonu Nigam.
मै जया बच्चन और अमिताभ बच्चन का बहिष्कार करता हू।।

Who is with me???

— Sonu Nigam (@SonuNigamINT) September 15, 2020
The same Twitter handle also tweeted on September 14: "I boycott all Khan gangs. Who is with me???"
I boycott all Khan gangs.

Who is with me???

— Sonu Nigam (@SonuNigamINT) September 14, 2020
Fact Check:

The claim is FALSE. This account is a Fake one. The actor Mukesh Khanna has not called for a boycott of actress and MP Jaya Bachchan or veteran actor Amitabh Bachchan.
It is a fake Twitter account created in September 2020. The actor was present on Twitter from November 2018. Another fake Twitter account was created in 2015 even before Mukesh Khanna has joined Twitter. As many as 49,600 users follow this account.
The actor is struggling with his fake Twitter accounts.
He has posted a selfie-video of himself stating that his original Twitter handle is @actmukeshkhanna. And all other Twitter accounts are fake. He has no link with those Twitter handles.
Fake Accounts. Shikayat Mukesh khanna Ki

क्यों भड़के मुकेश खन्ना एक जालसाज़ पर !!It is strange what we said in Shaktimaan is proving right in real life.As we have shown, Kilwish has his bashinde spread all over our country.They lack honesty and truth.They want fame,name, money by deception. By cheating others.It is happening with my Social media accounts..You are reading my thoughts right now in this Twitter of mine. It has as you know an official account id. But someone is showing his thoughts as if they are mine through another( fake) account ie (@TheMukesh_). It is hight of indecency. He is cheating people through my name.. I call such people burden on earth.If they are cheating me they must be cheating others. May be even their family, their friends even their wives. I call them Kilwish ke bashinde.Jo apna to bura karte hi hain, duniya Me Andhera phailate hain.Aap in subse bacho.Unhe pahchano..Is Facebook me main yahee batane ja raha hoon ki mere sabhi Official social media accounts ye hain.Twitter- @actmukeshkhanna . Instagram- iammukeshkhanna Facebook- Mukesh Khanna. You Tube – Bheeshm International. Baaki fake accounts jo mere naam chal rahe hain unse bache rahiye agar mujhe Sunana, Dekhana chahte hain. Ye Andhera hai jise aapko kaayam hone se rokana padhega…..My original instagram, twitter and youtube channel account.https://www.instagram.com/p/BxfCErJpdTj/?utm_source=ig_web_copy_link https://twitter.com/actmukeshkhannahttps://www.youtube.com/channel/UCa8tNZ1rMwbsxVgU0FvbPQw

Posted by MUKESH KHANNA on Thursday, April 16, 2020
The original Twitter account of Mukesh Khanna is @actmukeshkhanna. Twenty-seven thousand three hundred users follow it. It is surprising to see that fake Twitter handle has more followers than the original one.
Mukesh Khanna: I am not targeting Sonakshi Sinha at all. I don't even know her – Times of India | The Times of India – https://t.co/B3FGoe07ZE Khanna: I am not targeting Sonakshi Sinha at all I don't even know her.Times of India@nitishkrishna8 @sonakshisinha

— Mukesh Khanna (@actmukeshkhanna) April 7, 2020
Hence, the claim that actor Mukesh Khanna called for a boycott of Amitab Bachchan and Jaya Bachchan is FALSE.