Hyderabad: Social media is flooded with misinformation following the recent Nice church attack and the murder of a teacher, Samuel Patty, in France. Amidst this, several social media users shared a video of a burqa-clad woman being assaulted by a man in front of her children reportedly in France. The caption of the video read, 'Trends start coming from France.'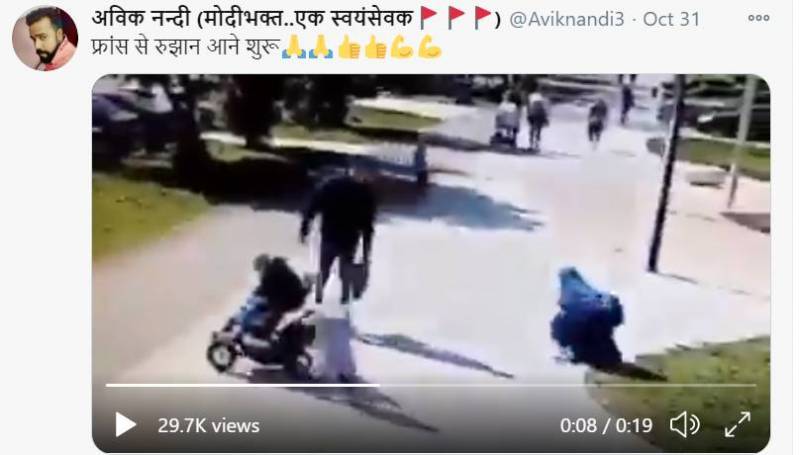 (Archive Tweet)

The same video was also shared widely on Facebook.



(Archive Tweet)


Fact Check:
The claim that the video is from France is FALSE. The incident happened in Nizhnekamsk, a city in the Republic of Tatarstan, Russia, in July 2020.
A reverse image search of one of the keyframes of the video on Yandex led to a YouTube video uploaded by RuNews24 on 8 July 2020. The video is titled 'A maniac who attacked women was detained in Tatarstan.'
https://www.youtube.com/watch?v=d8svJ32nJuw
The description of the video states, "Footage from CCTV cameras appeared on the web which shows how a man attacked women in parks. According to some reports, the attacker was previously convicted. He admitted that the reason for his behaviour was his hateful attitude towards women."
NewsMeter also came across a report by Russia newspaper
Komsomolskaya Pravda
(kp.ru) published on 8 July 2020. The article featured the same viral video and wrote, "Several women turned to the police of Tatarstan Nizhnekamsk, one of them was pregnant. All of them said that when they were walking in the city park Family, they became victims of an attack by an unknown person."
The same incident was reported by
Tatarstan24
, TV Channel 360, and others.

In conclusion, the video showing a man assaulting a burqa-clad woman is not from France. The incident occurred in the Republic of Tatarstan, Russia. Therefore, the claims are FALSE.