Fact Check: Video of RJD's Tejashwi Yadav distributing money to flood-hit people shared with false claims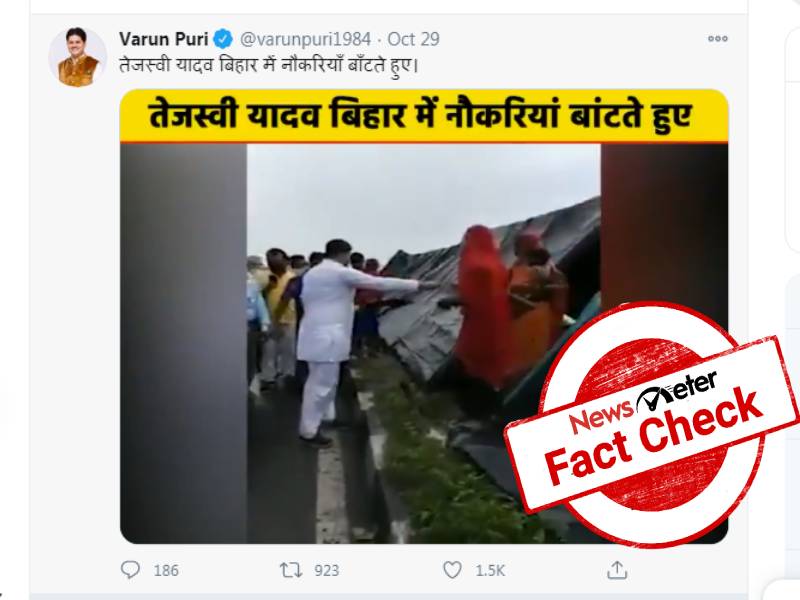 Hyderabad: With the first phase of the Bihar elections underway, social media is flooded with fake news and misinformation about the polls. Now a video reportedly showing Rashtriya Janata Dal (RJD) leader Tejashwi Yadav distributing money and providing jobs to people in exchange for their votes has gone viral on social media.

The BJP's social media head, Punjab Varun Puri, tweeted the video and wrote, "Tejashwi Yadav distributing jobs in Bihar."



(archived link)

FACT CHECK:

The claim that Yadav was distributing money and providing jobs to people in order to get more votes is FALSE.

NewsMeter performed a reverse image search and found a report by the Times of India published in July 2020. According to the report, Yadav was donating money to people affected by the floods in the state. 'Yadav had visited flood-affected areas yesterday. He visited Madhepur block of Madhubani district and donated money among affected people,' reads the report.


Another report by Navbharat Times from July 2020 had a clip of the video from the same event. It said that Yadav toured the flood-prone Bihar's east Champaran district and was distributing money to the affected people.

We also found the same video on Yadav's Facebook page which was uploaded on 31 July 2020. The caption reads, "In Chakia, Pipra Assembly constituency, he collaborated with flood victims by sharing grief and pain."

Hence, the claim that the viral video shows RJD's Tejashwi Yadav distributing money to voters is FALSE. He was visiting flood-affected areas and providing aid to the victims.