Swarms of desert locusts have reached urban areas of Rajasthan and many parts of Madhya Pradesh and Maharashtra in the past few days. Millions of locusts have affected around 100 districts in five states - Rajasthan, MP, Uttar Pradesh, Gujarat, and Maharashtra - and can reach another 12 in the next few weeks, officials have warned. Telangana, Andhra Pradesh, and Karnataka are on high alert.
Desert locust is a species of swarming short-horned grasshopper. They consume everything in their path and pose a threat to the food supply and livelihoods of millions of people.
Amidst this, a video is being shared on WhatsApp claiming that locusts were spotted in Choutuppal in Telangana's Bhongir district.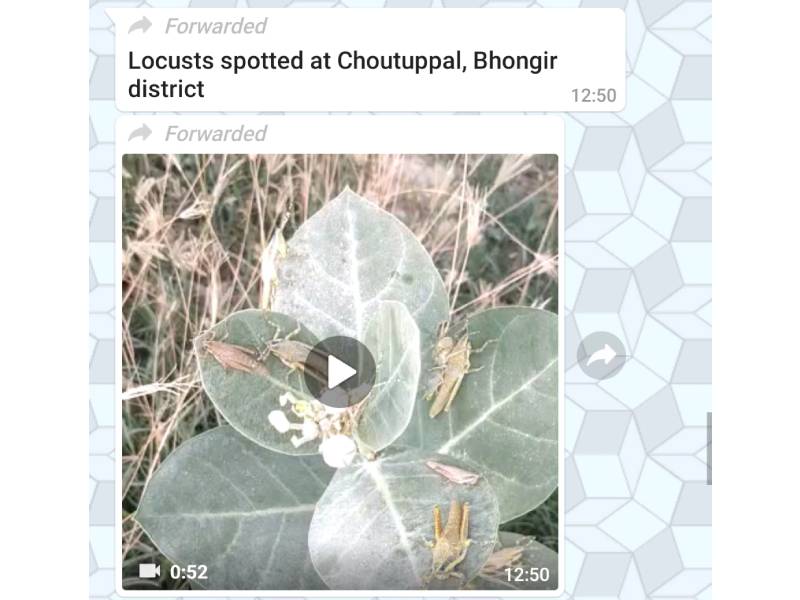 The same video was also shared on Facebook and Twitter claiming that swarms of locusts were spotted in Telangana. The video reportedly shows grasshoppers in Ananthapuram district in Andhra Pradesh.
Fact Check:
The above claim that locusts have entered Choutuppal in Bhongir district is FALSE.
A reverse image search of screenshots from the video could not be verified. However, when we searched for locusts in Ananthapur, we found similar visuals of the insects preying on Aak plants (Colifera). Here are the reports published by Mahaa news and Telugu Samayam.
Dr. B. Janardhan Reddy, Secretary to Government of Telangana- Agriculture and Co-operation, rubbished the claims that locusts were spotted in Bhongir. He said scientists are conducting preliminary studies and that these little groups of insects might be local grasshoppers and NOT locusts.
The GHMC chief entomologist, Mr. V. Venkatesh, also confirmed that they have received no such reports of locust attacks in Telangana. Even if there is an attack, he said they are fully equipped with spray drones and necessary accessories to fight them.
According to reports, a detailed review meeting was held in Hyderabad on 29 May under the leadership of Chief Minister K. Chandrasekhar Rao. Top officials and experts attended. Meanwhile, a five-member committee is on a four-day visit to Ramagundam where they will monitor the situation from Adilabad to Bhadrachalam alongside river Godavari on helicopters. They will also monitor the killing of the locusts if they enter Telangana.
Therefore, the claim that locusts have entered Telangana's Bhongir district is FALSE.
Claim Review :
Video showing locusts in Telanganas Bhongir district
Claimed By :
Social Media Users