Hyderabad: A post is viral on social media claiming that the economy of the US, Canada, and Japan have contracted more than the Indian economy.
S Gurumurthy, a director with the Reserve Bank of India shared the claim on Twitter and wrote that India is not the only one to receive a cut. However, he later issued a correction.
India Today, in a broadcast, aired an infographic that showed the US economy falling by 32.9 percent and India by 23.9 percent.
Similar claims were posted on twitter. (archived link)
Postcard News posted this claim with reference to Business Today's graphic and said the graphic is misleading.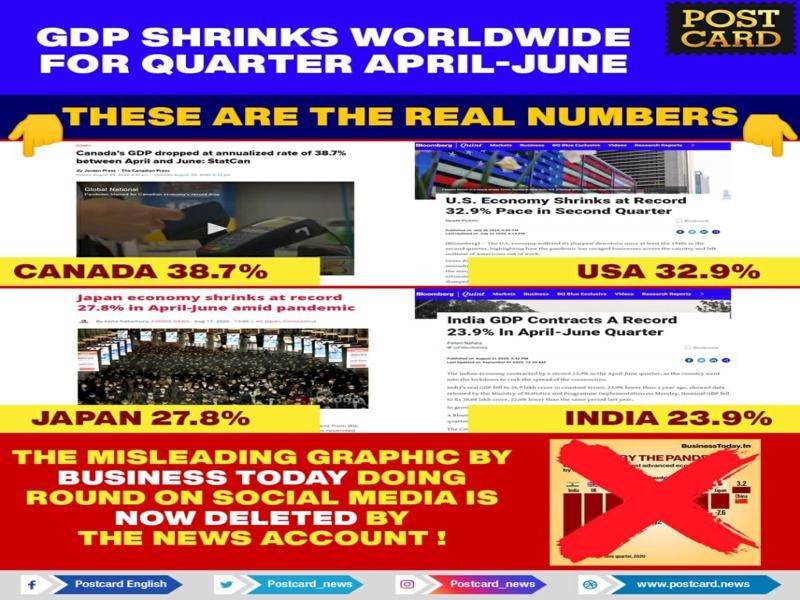 Fact check:
This claim is false.
According to the Bureau of Economic Analysis (BEA), the economy of the United States contracted by 9.1 percent in the April-June quarter. The gross domestic product of the US dropped at an annual rate of 31.7 percent in the same quarter of 2020.
The GDP of the US which shrunk by 32 percent is the annualized figure. Journalist Vivek Kaul, in an article, pointed out the difference between the calculation process for India and the US. "From April to June 2020, the US economy contracted by 9.1% in comparison to January to March 2020. This is a quarter to the quarter comparison. This figure is then annualized," the article read.
India's GDP dropped 23.9 percent in the April-June quarter due to the COVID-19 pandemic. Unlike the US that conducts quarterly comparisons, India's comparison takes place on a yearly basis. This means that India's GDP drop by 23.9 percent in the April-June quarter in 2020 can be compared to the April-June 2019 contraction. If Indian GDP numbers were to be compared with the US numbers, then the 23.9 percent figure should be compared with 9.1 percent of contraction.
Newsmeter found a tweet by Gita Gopinath, chief economist of the Indian Monetary Fund (IMF)about the non-annualized quarterly growth numbers. According to the data, India witnessed a drop of 25.6 percent, the US had a 9.1 percent drop, Canada had an 11.5 percent and Japan had a 7.8 percent drop.
The calculation and GDP of the US dropping by 9.1 was also explained by a YouTube channel. It discussed the term annualization and also confirmed that the drop was by 9.1 percent and not 32 percent.
Another YouTube video by Indian.com, a news organization also showed stats where the above claim is proven wrong.
Therefore, this claim is false.
Claim Review :
US economy has contracted more than India
Claimed By :
social media users