Fact check: Viral image of Trump's pic as Hitler's moustache on Time magazine cover is false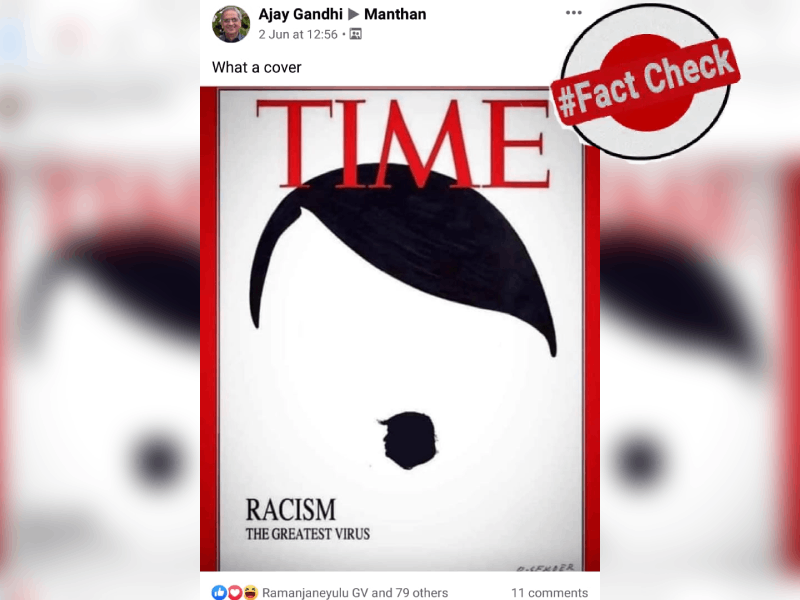 Fact check: Viral image of Trump's pic as Hitler's moustache on Time magazine cover is false
Protests over the death of the African-American man George Floyd has been incinerating America the whole of last week. Even social media was brimming with remarks condemning the 'racist' incident that occurred in the USA.
Amdist this chaos, an image, claimed to be the cover of TIME magazine, is going viral on social media, especially Twitter. Not just in English, the image was shared rampantly in many other languages.
When searched with the hashtag #timemagazine, we can see the virality of the claim.
Fact Check:
The claim is FALSE.
The latest magazine cover can be seen at https://time.com/magazine/, as the magazine has dedicated the latest issue to the impact of the pandemic on the next generation.
The Time magazine hared some tips in an article 'How to Spot a Fake TIME Cover'.
Some of the tips are checking the logo, as most of the fake covers have the logo wrong. The border might be thinner or broader. In some cases, the images used covered the logo whereas the original never does that. The cover pages of TIME magazine are generally shared on the social media accounts of TIME, so that they can be verified.
https://time.com/4836933/fake-time-cover/
More information can be found about the magazines published till now at TIME vault.
https://time.com/vault/year/2020/
Nowhere among these covers could we find the viral image.
When the viral image was observed carefully, we can see the signature of the artist – Osekoer. When we searched for this name in Google, we found several results O-sekoer, Belgian cartoonist.
According to cartoongallery.eu, Luc Descheemaeker was born on October 2, 1955 in Kuurna, Belgium. His pseudonym is O-SEKOER, which is phonetically transcribed French word "au-secours" and means "Help" in English.
http://www.cartoongallery.eu/englishversion/gallery/belgium/luc-descheemaeker-o-sekoer/
We also found a blogspot named http://o-sekoer.blogspot.com/, where all his artistic work is displayed chronologically. In this blogspot, we found the viral picture also, along with the others.
We found this image posted on the Twitter account of @osekoer on August 9, 2016.
We can also see several versions of this image posted on Facebook along with recent images used as Time cover magazine and also the fact checks done about the image in various languages.
Luc himself shared the cartoon as a Time magazine cover last month and shared it on Twitter. It was an instant hit on the internet. It went viral and many people took it as a real Time magazine cover.
Therefore, the viral image of TIME magazine cover, with Hitler with an image of Trump as his moustache is NOT original. It is an artwork by a Belgian cartoonist in 2016.
So, the above claim is FALSE.
Claim Review :
Viral image of Trumps pic as Hitlers moustache on Time magazine cover
Claimed By :
Social Media Users