Hyderabad: The Covid-19 pandemic has not left anybody untouched, be it celebrities or common people. A few international and Indian celebrities too are reporting positive for Coronavirus. More than that rumours involving celebrities have become rampant.
Recently, there were rumours that Suddala Ashok Teja, a popular lyricist in Tollywood, succumbed to Covid-19. Messages on the same have been circulating on WhatsApp and other social media.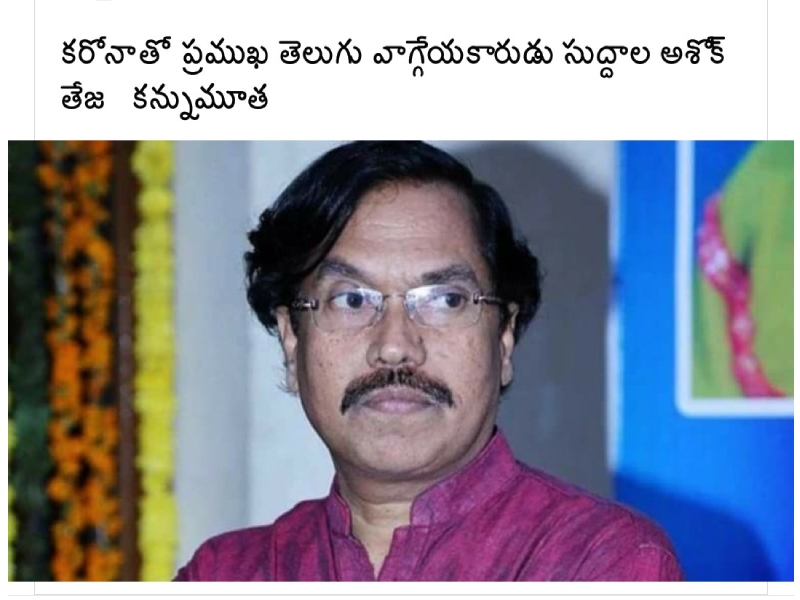 Fact check:
The above claim is FALSE.
The lyricist is safe and sound at home. When searched for what led to these rumours, we found that the reports of the death of another Telangana celebrity, folk singer, poet and activist Mohammed Nissar were misunderstood and inferred as that of Suddala Ashok Teja.
Fiftysix-year-old Mohammed Nissar was an employee of the Telangana State Road Transport Corporation (TSRTC) and worked as the controller at the Miyapur depot. He was also a member of the Praja Natya Mandali, a cultural troupe. Hailing from Suddala village of Nalgonda, Mohammed Nissar wrote a song about Coronavirus and its disastrous implications on the lives of working-class, during the lockdown period.
Publishing the report of the demise of Mohammed Nissar, a news website, V6 Velugu, titled the article 'సుద్దల గొంతు మూగపోయింది', in Telugu, meaning 'The voice of Suddala is no more'. However, the strap of the article still stated that Mohammed Nissar, a folk singer and activist, was dead. Because Nissar is from Suddala, the report was titled so.
This report was misread by many, leading to rumours that Suddala Ashok Teja is no more.
Suddala Ashok Teja responded to these rumours and released videos clarifying that he was fine and at home. He also stated that he has taken up new projects and is writing new songs.
https://www.indiaglitz.com/suddala-ashok-teja-refutes-rumours-about-his-health-telugu-news-264768
https://www.sakshi.com/news/movies/lyricist-suddala-ashok-teja-about-rumours-his-health-1300109
Here are few other reports of Mohammed Nissar's demise
https://telanganatoday.com/noted-folk-artiste-balladeer-nissar-passes-away-due-to-covid-19
https://www.thenewsminute.com/article/telangana-folk-singer-and-activist-mohammed-nissar-dies-hyderabad-128230
Therefore, the above claim is FALSE.
Claim Review :
Viral messages on Suddalas demise
Claimed By :
Social Media Users