Fact check: Viral msg that SP Balasubrahmanyam's family was not able to pay hospital bills are False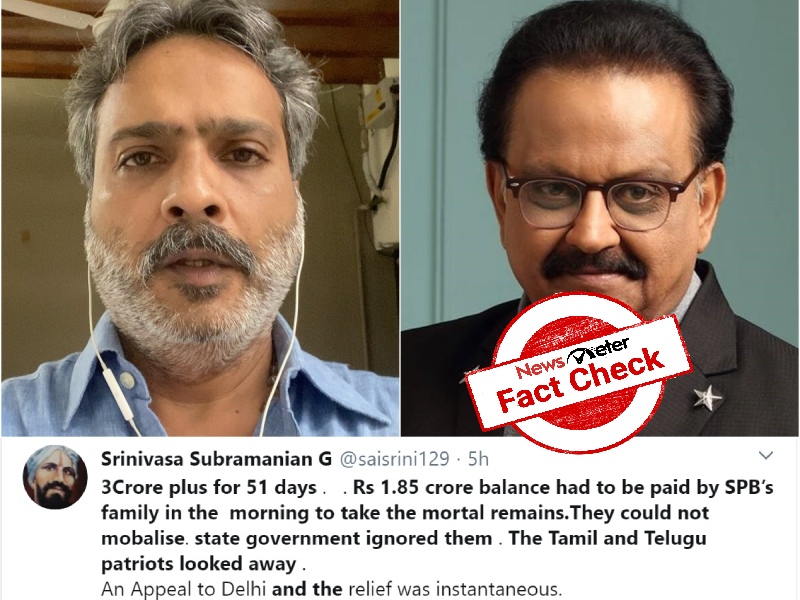 Hyderabad: Not even 24 hours have passed after the burial of singer SP Balasubrahmanyam, messages claiming that his family was not able pay the hospital bills became viral on social media.
Netizens claimed that Central Government had to intervene and Vice President Venkaiah Naidu's daughter cleared the hospital bills after which the body was handed over to the family. This message is going viral on Twitter and WhatsApp.
Archived link to the claims can be found here and here.
Fact Check:
The claim that the family of SP Balasubrahmanyam was not able to clear the hospital bills is FALSE.
SPB's son, SP Charan dismissed these rumours, terming them disheartening and hurtful.
In a video posted on S P Balasubrahmanyam's verified Facebook page, Charan said the messages being circulated are just "hogwash" and underlined that the family and hospital are being forced to come out. "Let me just say one just thing. This is all a big hogwash. I do not know why people do this. They do not realize how offensive and hurting it is to the people who are associated with this issue," he said in the message.
Charan added that the family and the hospital were planning to come out with a press release or convene a press conference to explain the details.
"Patient confidentiality is very important. We do not have to be accountable to everyone," he said.
A hospital board member said whatever rumours people are spreading are unfortunate and distasteful. "This was not the time for that. We are Tamil people. We are much bigger fans of SPB (as the singer was known fondly among fans) than anyone else. We don't need a single rupee from them," he said.
Charan's comments on these rumours have been published by several media outlets.
Therefore, the claims stating that the family of SPB was not able to pay hospital bills is FALSE.
Claim Review :
Viral msg that SP Balasubrahmanyams family was not able to pay hospital bills
Claimed By :
Twitter Users