Hyderabad: A pamphlet in Tamil printed by a sweet shop owner went viral on the social media. This pamplet claims that the Herbal Mysore Pak (South Indian sweet) prepared in his shop in Coimbatore, can cure Covid-19 infection in just one day. It also claimed that the sweet was prepared as per the recipe handed over by his grandfather who is a Siddha expert.
"Covid-19 patients get cured in a day, a miracle!! Yes, this happened in Chinniyampalayam and Vellalore through Herbal Mysore Pak" read the pamphlet in Tamil.
The shop owner claims that the Mysore Pak contains 19 different herbs which boost immunity and kill the Coronavirus. Four pieces of the sweet should be eaten in a day to get rid of the infection, the pamphlet reads.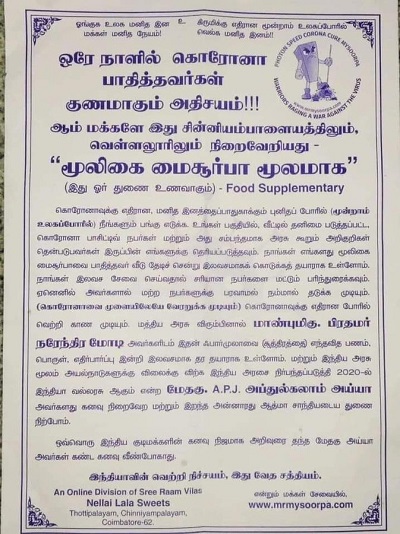 A few social media users shared the pamphlet with the address and details of the shop.
A few even claimed that Mysore Pak cures Corona in 1 day.
This news was published on a few websites in Tamil, with articles referring to the claim made by the proprietor of the sweet shop, Sri Ram. In these reports, he claimed that the Herbal Mysore Pak has been successful in curing people of Covid-19 in Coimbatore.
Here are the archived versions of the claim.
Fact Check:
The claim that Herbal Mysore Pak can cure Covid-19 is FALSE.
When searched with the keywords "Herbal Mysore Pak cures Coronavirus infection", we found several media reports stating that "When this advertisement reached the local health authorities, they launched an inquiry. Deputy Director of health services G. Ramesh Kumar stated that it was in clear violation of the Epidemic Disease Act, 1897. He clarified that the Herbal Mysore Pak cannot cure Coronavirus patients.
According to a report by Outlookindia.com, a team of food safety officials immediately raided the shop at Chinniyampalayam in Coimbatore. The designated officer of FSSAI stated that the product had not been certified by the FSSAI and making such claims about the cure will also invite action under the Epidemic Diseases Act.
The officials found that each 50 gm piece of the brown-colored cake was sold at Rs 50 and one kg at Rs 800. They seized 120 kg of the Herbal Mysoorpa, sealed the shop, and canceled its license. A case has been filed under the Food Safety Act and also the Epidemic Diseases Act.
Vishwas News Tamil has also debunked this viral claim.
So, the claim that the Herbal Mysore Pak cures Covid-19 infection is FALSE.
Claim Review :
Viral pamphlets claim that Herbal Mysore Pak can cure Covid-19
Claimed By :
Social Media Users