Hyderabad: The number of COVID-19 cases in India has reached 3.5 lakh while the death toll has now crossed 11,000 after Maharashtra and Delhi, the two worst-hit states in the country, added unreported deaths to their tally on 17 June.
Meanwhile, photos of an isolation ward have gone viral on social media. Twitter and Facebook users have shared the photos claiming that work is in progress to turn Delhi's Pragati Maidan into a COVID-19 facility with 2,500 beds.
Some have even claimed that this ward will be in use from 20 June.
The official Facebook page of Aam Aadmi Party's Jharkhand unit also posted the photos claiming a 2,700-bed isolation ward was being prepared at Pragati Maidan in Delhi. However, it later deleted the post.
Fact Check:
The above claim that these pictures show an isolation ward at Pragati Maidan in Delhi is FALSE.
Maharashtra MLA Zeeshan Siddiqui commented on one of the tweets and said the photos are from Mumbai and not Delhi. In another tweet, Mr. Siddiqui wrote, "I wonder how ready Delhi is because that picture has ME walking inside our Covid-19 modular hospital at BKC, Bandra East - MUMBAI. This was when we were setting the hospital up. I don't remember visiting Delhi anytime in the recent past so clearly that's not Delhi." https://twitter.com/piyushakak4/status/1272202437915545601…
Newsmeter checked the images and found that the Maharashtra MLA is in some of the photos.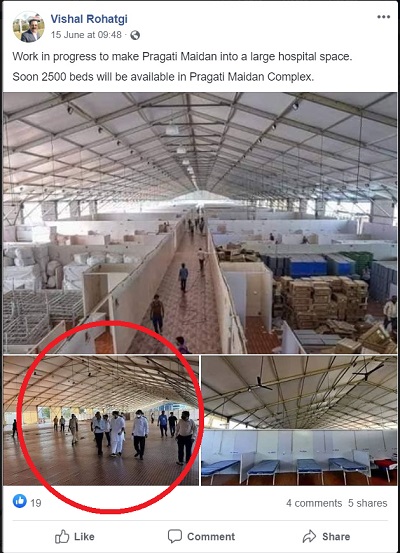 The Twitter user who had shared the photos apologized for the post.
Meanwhile, The Print also reported that the images being circulated are not from Pragati Maidan but shows a COVID-19 facility in Mumbai. Mr. Zeeshan Siddiqui pointed out that these were taken from his constituency where he had inaugurated a 1,000-bed isolation center in the Bandra-Kurla complex recently.
We found several media links to prove that these pictures show an isolation ward in MMRDC, Mumbai.
https://timesofindia.indiatimes.com/videos/city/mumbai/mumbai-isolation-centre-for-covid-19-patients-at-mmrda-grounds-nears-completion/videoshow/75786764.cms
https://www.mumbailive.com/en/health/mmrda-quarantine-center-starts-on-16th-may-49618
https://www.newindianexpress.com/cities/mumbai/2020/may/21/bmc-to-acquire-100-beds-of-private-hospitals-in-each-mumbai-ward-2146178.html
Therefore, the photos that were shared on social media of an isolation ward in Delhi's Pragati Maidan actually show a COVID-19 facility in Mumbai. So, the claim is FALSE.
Claim Review :
Viral photos of isolation ward at Delhis Pragati Maidan
Claimed By :
Social Media Users