- By NN Dharmasena
For the last few days, a photo in which few people in saffron clothes are performing last rites of an elephant is being circulated on social media.
The people sharing the photo are claiming that the funeral is of the pregnant elephant that died after consuming a fruit stuffed with explosives in Kerala last month.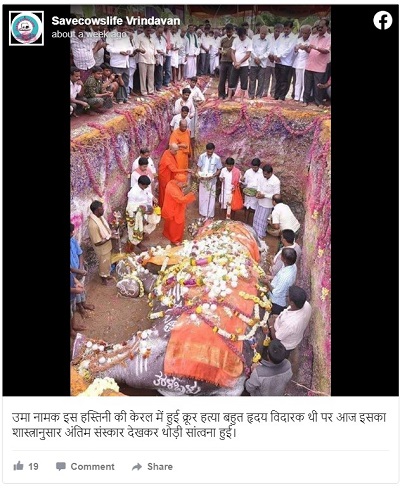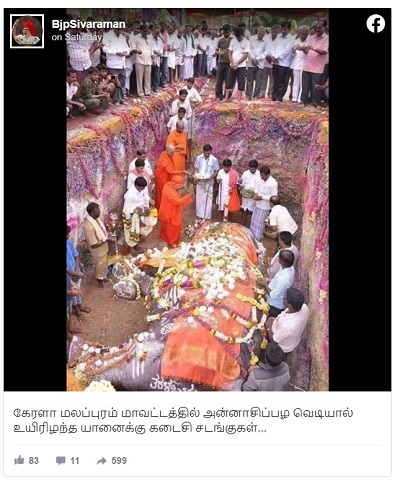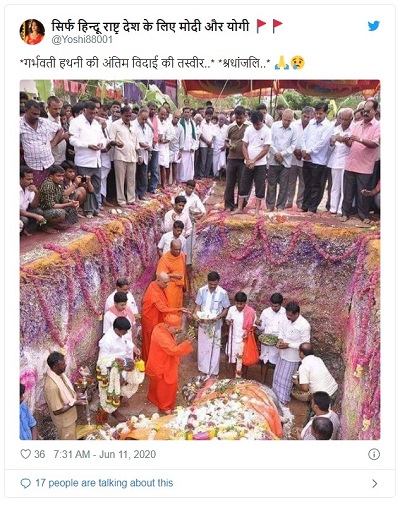 Fact Check
A closer look at the picture reveals that ತರಳಬಾಳು, (Taralabalu) is written on the body. These words are written in Kannada. The people donning saffron dresses clearly shows it is a different picture. Hence, people claiming that it is the funeral of an elephant killed in Kerala is FALSE.
By running a simple Google search with 'Taralabalu elephant funeral', it led to a news article by One India on November 13, 2015, at
The news story reveals that it is a captive elephant used in various services at Sri Taralabalu Jagadguru Brihanmath in Sirigere of Chitradurga district in Karnataka.
In 2002, the then minister Shamanuru Shivashankarappa donated an 11-year-old elephant to the Taralabalu Jagadguru Brihanmath.
Noted film director TS Nagabharana later gave a role to the elephant in his film 'Kallarali Hoovagi', which was released in 2006. Since then the elephant became popular by the name of Gauri.
After serving for 13 years, the elephant died due to illness on November 8, 2015, and the Math performed its funeral in a traditional style as per the orders of Mahaswami. One of the devotees Basu Banakar posted the images of the body and funeral of the elephant on Facebook on November 8, 2015.
On November 9, 2015 also Basu Banakar posted multiple pictures of the funeral of the math elephant, Gauri.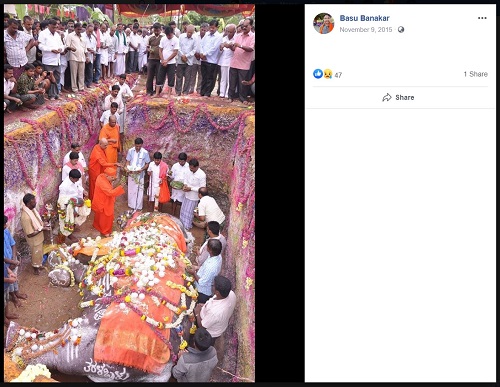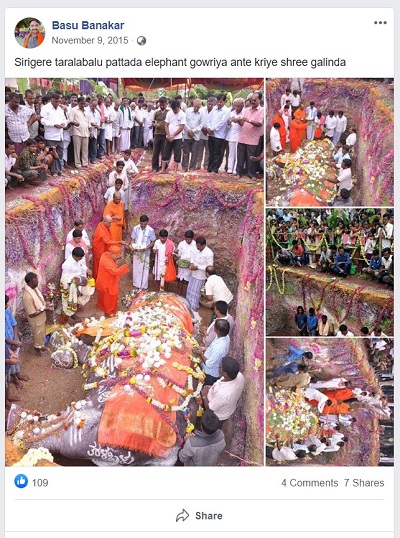 Taralubalu Jagadguru Brihanmath also posted the same images on its Facebook page on November 12, 2015.
One India published the file picture of the elephant and the Swamijis in its story. Retired deputy conservator of forests in Karnataka government, Kumaraswamy Settihalli also shared the family picture with Gauri.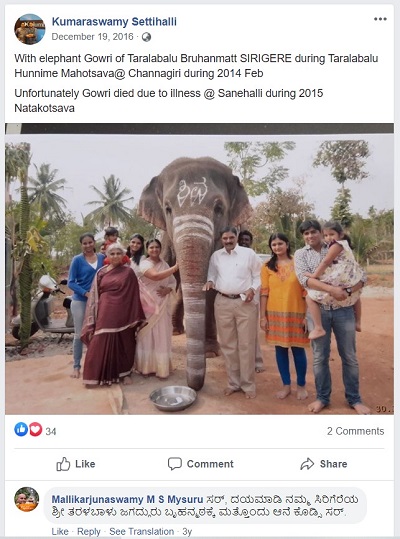 Hence, the viral photo claiming that it is a funeral of a pregnant elephant killed in Kerala is FALSE. The animal in the picture is the elephant of Sri Taralubalu Jagadguru Brihanmath which died in November 2015.
Claim Review :
Viral pictures about elephant funeral are from Kerala
Claimed By :
Social Media Users