Following the death of George Floyd, anti-racist protests began in May 2020 and continued to spread to several cities in the USA. Amidst this situation, a video is in circulation showing the US police, shooting, and killing a dog that was trying to protect its master, whom the police were arresting.
The title of the video says, "Very sad, dog shows loyalty to his master but killed by police. इस कुत्ते को पुलिस की गोली इसलिए खानी पड़ी क्योंकी वो अपने मालिक के प्रति वफ़ादार था"
This video was also shared by Tollywood actor and Mega brother Nagababu, expressing distress over the incident.
In a series of 3 tweets, he said, "It's painful and disturbing to watch this upsetting video. The poor dog just wanted to save the owner. Irrespective of the situation and the charges pressed against the owner, the police could have handled the situation in a different way and not just taking the life of the dog who only wanted to protect the owner!"
"Dog is the only animal that sacrifices its life for its master."
"Look how a dog proves its loyalty to the owner! #Faithful #Loyal #ForeverFriend. We Indians should at least have 10% of loyalty and faithfulness of a dog towards our own country. I am very upset and in great distress after watching this clip. Really ashamed to be called as a human."
Though in the above shares, it is not mentioned that this video is recent, many other users have shared it with the claim stating "the situation in US today"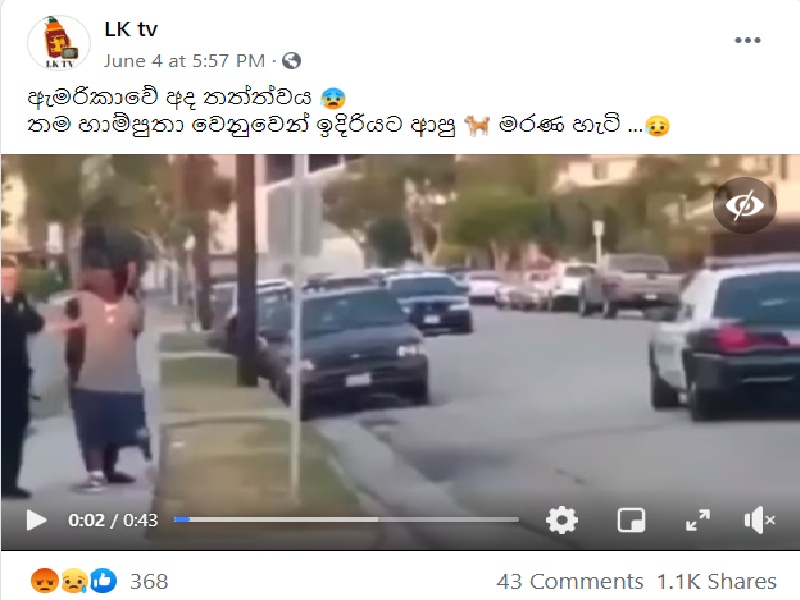 Fact Check:
The claim that the video is recent is MISLEADING.
When the key frames extracted from the video were used and a reverse image search was done on Google, we found that the video was in circulation on the internet from 2013.
The video was shot by a bystander and uploaded on YouTube which created rage in the country. An officer shot and killed a Southern California man's dog after it jumped from an open car window and lunged at officers who were taking the Rottweiler's owner into custody on suspicion of interfering with a SWAT stand-off.
We can read the whole report here.
Other reports are:
https://abcnews.go.com/blogs/headlines/2013/07/video-shows-dog-shot-killed-by-police
https://www.nydailynews.com/news/national/hawthorne-police-receive-death-threats-shooting-max-rottweiler-article-1.1390610
Therefore, the above claim that the viral video is recent is MISLEADING. The video belongs to 2013.
Claim Review :
Viral video of police shooting dead a dog in the USA
Claimed By :
Social Media Users