Hyderabad: A statement attributed to former Chief Minister of Uttar Pradesh and Samajwadi Party (SP) leader, Akhilesh Yadav is viral on social media.
"In 2022, SP will form the government in UP and we don't need Ram and Hanuman," reads the purported quote.
Many social media users are posting the quote. One such tweet with a picture of the statement reads, "Tap thief used to say we don't need Ram and Hanuman but he is now saying that he wants to build Vishnu temple in Etawah".
This post has now been deleted. (archived tweet)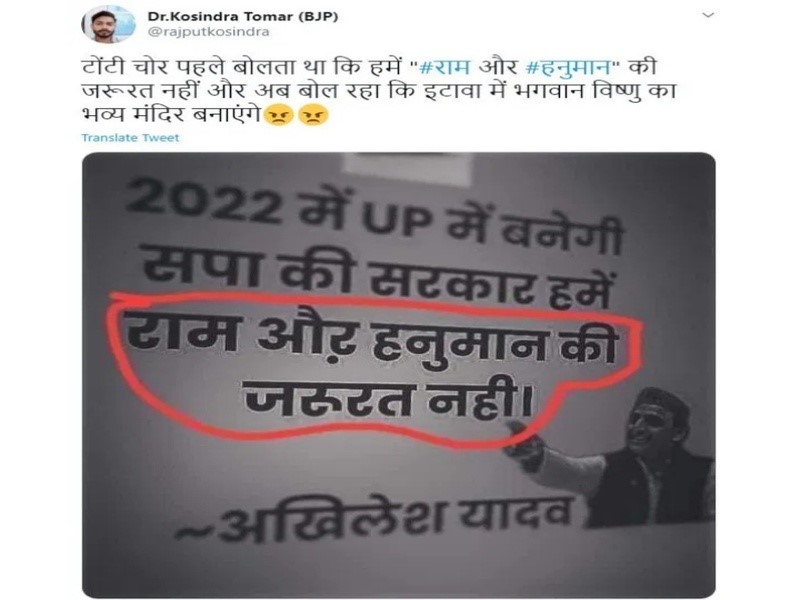 FACT CHECK:
This claim is false.
Newsmeter performed a keyword search and found a report in Hindustan. The article was titled, "Hindustan Summit Conference: I don't need to latch on to Ram and Hanuman. I will hold on to work."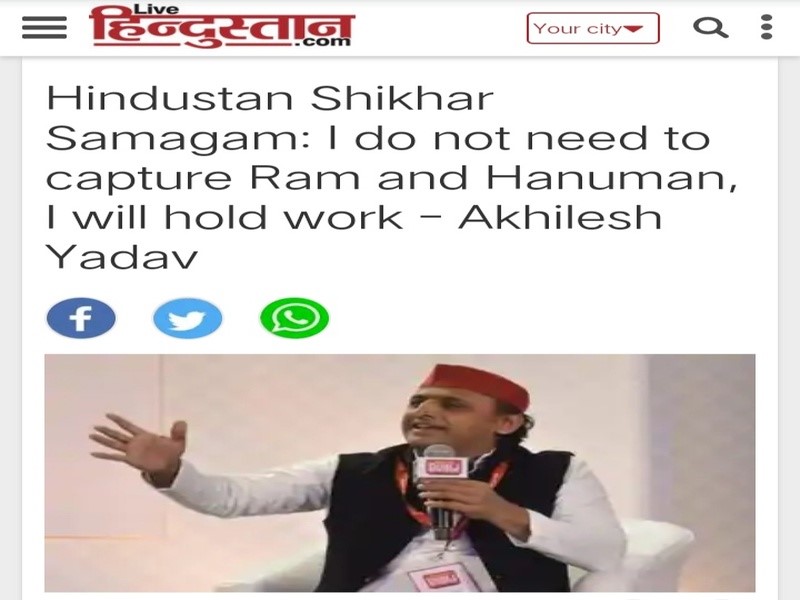 Former UP CM Akhilesh Yadav was one of the speakers at a Hindustan Summit held in February 2020. In response to a question at the Hindustan Summit he said that he does not need to capture Ram and Hanuman, he will hold on to the work.
We also found a video where this conversation can be heard. Yadav was asked, "Kejriwal is latching onto Hanuman, BJP is latching onto Ram…so you latch onto Krishnaji… you are Yaduvanshi."
In response to the question, he said, "We are holding on to work, we are making an expressway."
Various news reports of Yadav's statement were also published which proves that the claim of Yadav saying he doesn't need Ram or Laxman is taken out of context.
https://www.headlinestoday.in/hn/news/uttar-pradesh-story-i-do-not-need-to-catch-ram-and-hanuman-i-will-hold-work-say-akhilesh-yadav-at-hindustan-shikhar-samagam-3041990-157411905.html
https://www.google.com/amp/s/www.zoomnews.in/amp/en/news-detail/sp-will-win-351-seats-in-2022-up-polls-says-akhilesh-yadav.html
Thus, the claim is false.
Claim Review :
Viral statement attributed to former UP chief minister Akhilesh Yadav
Claimed By :
Social Media Users