Hyderabad: BJP leaders have shared a video allegedly claiming that TRS leaders were distributing money to the voters. The leaders claimed that this video shows money distribution by TRS leaders to voters for the Dubbaka by-poll. The text reads: 'Dubbaka by-election or Dabbu ku by-election. TRS up to its real color.'

Fact Check:

The claim is
FALSE
.
Few users have commented on this tweet stating that this is an old video.


When performed Google Reverse image search using the keyframes from the video, we found few videos telecasted by local Telugu television channels including NTV and CVR news.

According to these reports, gifts and money were distributed by the TRS leaders to the voters.

Telangana Today reported that an altercation took place between followers of TRS and Congress candidates. Congress candidate P Sambaiah and party workers alleged that in ward number 14, a former councilor V Gopi distributed money to the voters.

TRS leaders were caught by the media and the visuals were aired in several media channels during Municipal elections that took place in January 2020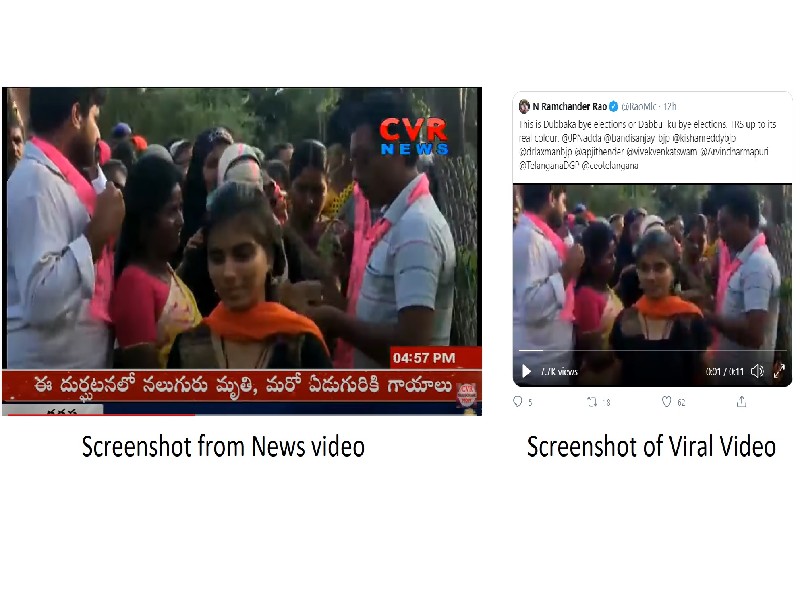 Though the video shows TRS leaders distributing money to the voters, it took place during municipal elections in Sattupalli, Khammam district in January 2020. This is not related to the Dubbaka by-poll and is NOT recent. Hence, the claim is FALSE.