Hyderabad: With the ghastly killing of 26-year-old veterinarian Disha (name changed), the safety of women has opened a new debate with many taking to vent their ire, express concerns and also came up with possible solutions to making life safer for women. Some have come up with measures that are to be taken by women when alone and the numbers to where they can send their SOS.
One such message is being sent in Whatsapp stating "Send this Nirbhaya number to your wife, daughters, sisters, mothers, friends, and all the ladies you know..ask them to save it.. all the men please share with all the ladies you know…
In case of emergency, women can send blank msg or can give a missed call..so that police will find your location and help u", along with a number +91 98333 12222.
There is another Whatsapp message, which has freshly surfaced, that states "Telangana Friends: Please add this numbers: She team phone numbers: She team phone no – 040 – 27852355. Whatsapp 9490616555. Please share it with all women for assistance from police in any emergency".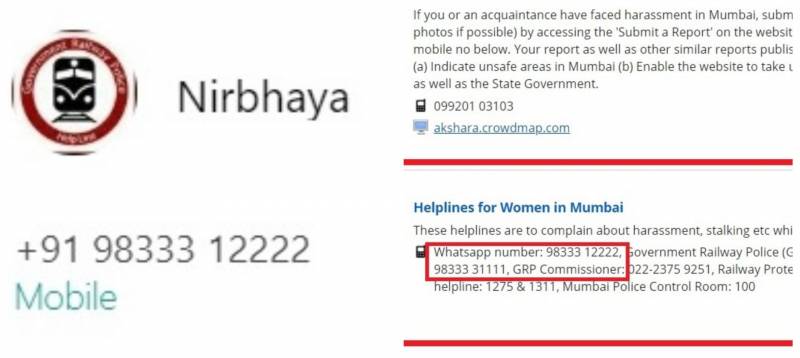 Fact Check: These messages are going viral on social media, especially Whatsapp. When Newsmeter team inspected further on the first number, we found that this number was launched in 2015 by Government Railway Police (GRP). The number could be used by railway commuters to send messages, pictures or videos related to the issue of women's safety, via WhatsApp.
But this number is restricted to Mumbai and is not functional in Hyderabad or any other cities, for that matter.
The second message contains two numbers-one landline and the other a Whatsapp number. When we checked online for these numbers, we found various instances where these numbers were shared by the Hyderabad city police and also by the SHE teams.
#HyderabadPolice Whatsapp-9490616555 https://t.co/90YEskasC9 pic.twitter.com/BvfELgp4op

— Hyderabad City Police (@hydcitypolice) February 19, 2016
Here is another list that provides the list of all the phone numbers and email IDs of all SHE team officers in Telangana.
Keeping vigil is good, and hoping to pass information that saves someone's life is a good thought. But crosschecking the information passed off before we forward any messages is a MUST.
Hence, the numbers 040 – 27852355. Whatsapp 9490616555 that are forwarded in the second message are the CORRECT ones. But the number in the first message is FALSE.