Hyderabad: An image of the body of a man being surrounded by a dog is viral on social media. Users claim that he is 'Pappu Shukla' from Gujarat.
"This is a dead body of Pappu Shukla Ji, a homeless man from Gujarat State (India) who took care of abandoned dogs for many years. He died yesterday and his beloved dogs surrounded and protected his body, refusing to leave his side. May Pappu Shukla Ji Rest in Peace (sic)," said a user on Twitter.
Click here to view the archive.
Click here and here to view similar claims.
FACT CHECK:
The claim that the man in the viral image is from Gujarat is false.
NewsMeter performed a reverse image search and found October 2020 article on a Yemeni website 'Ababil'. Stray dogs surrounded a homeless Yemeni man who spent years of his life caring for stray dogs upon his death and refused to allow anyone to approach his body. Citizen Ismael Muhammad Hadi died in the center of the Ibb governorate. Citizens said that the dogs that he had bred for years surround him and stick to him in a clear state of sadness," the article reads.
Al Jazeera Mubasher also identified the man as Ismail Hadi of Yemen. "The stray dogs did not leave the man who spent his life caring for him upon his death, refusing to allow anyone to approach his body", it reads.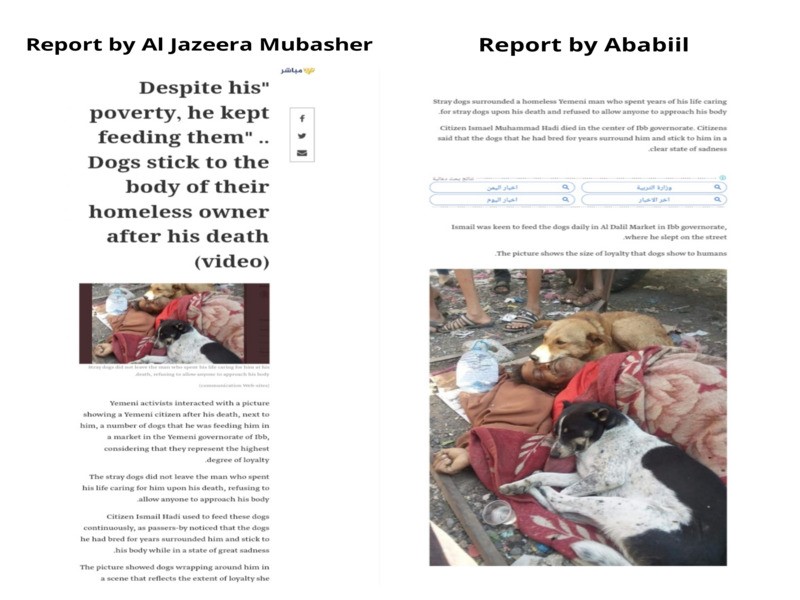 Apart from this, Abdulhadi Habtor, editor of the newspaper Asharq Al-Awsat also tweeted the same image with the same details. The man is identified as Ismael Muhammad Hadi who was surrounded by dogs after he was found dead on the road in Yemen.
Evidently, it is clear that the deceased in the picture is not 'Pappu Shukla' of Gujarat.
Claim Review :
'Pappu Shukla' of Gujarat
Claimed By :
Social Media Users