Fact Check: Eatala Rajender's letter to ECI asking to halt Dalit Bandhu in Huzurabad is fake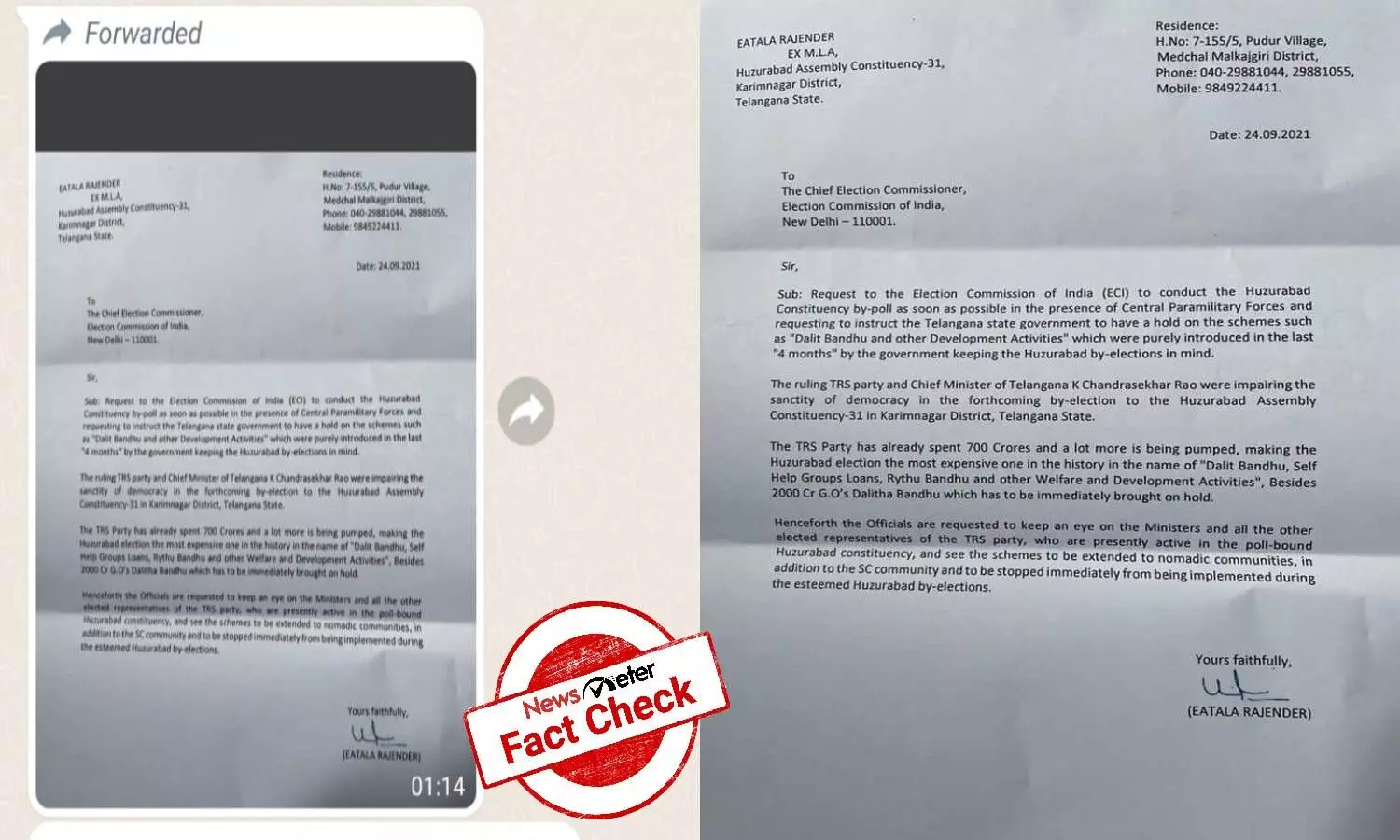 Hyderabad: A photo of a letter reportedly written by former Telangana health minister and BJP leader Eatala Rajender to the Chief Election Commissioner is doing the rounds of social media. In the letter, he urges the Election Commission of India (ECI) to hold the Huzurabad by-polls "as soon as possible" and to stop the implementation of the Dalit Bandhu scheme in the constituency.
The post can be viewed here.

NewsMeter received the forward on WhatsApp.
The claim is false.
NewsMeter checked the official social media accounts of Eatala Rajender and found a tweet in Telugu that translated to, "Please do not believe the news about me on social media. I did not write any letter to the EC. I have repeatedly demanded that Dalit Bandhu be extended to every Dalit child and Rythu Bandhu to every poor farmer."
According to a report by Telangana Today dated 29 September, the politician had faced the wrath of Dalits in the Huzurabad Assembly constituency after they came to know about the letter. However, the report did not mention whether the letter was actually written by the politician. It said the letter was "purportedly written by Rajender to EC".
Our fact-check team contacted a member of BJP (Hyderabad). On condition of anonymity, the member said that Mr. Rajender did not write the letter and alleged that it was "a seed planted by the Opposition party (TRS)".
We also found another report by The Hans India dated 19 August titled "Eatala asks CM KCR to implement Dalit Bandhu across state."
Earlier, a fake letter written by Mr. Rajender to KCR had gone viral.
Hence, the letter written by Eatala Rajender to the ECI asking it to hold the Huzurabad by-poll soon and to stop the implementation of Dalit Bandhu scheme is fake.
Claim Review :
Letter written by BJP's Eatala Rajender to ECI to stop the implementation of Dalit Bandhu scheme and hold Huzurabad by-poll.
Claimed By :
Social Media Users