Fact Check: 2015 photo of Sikh activist on hunger strike falsely linked to ongoing farmers' protest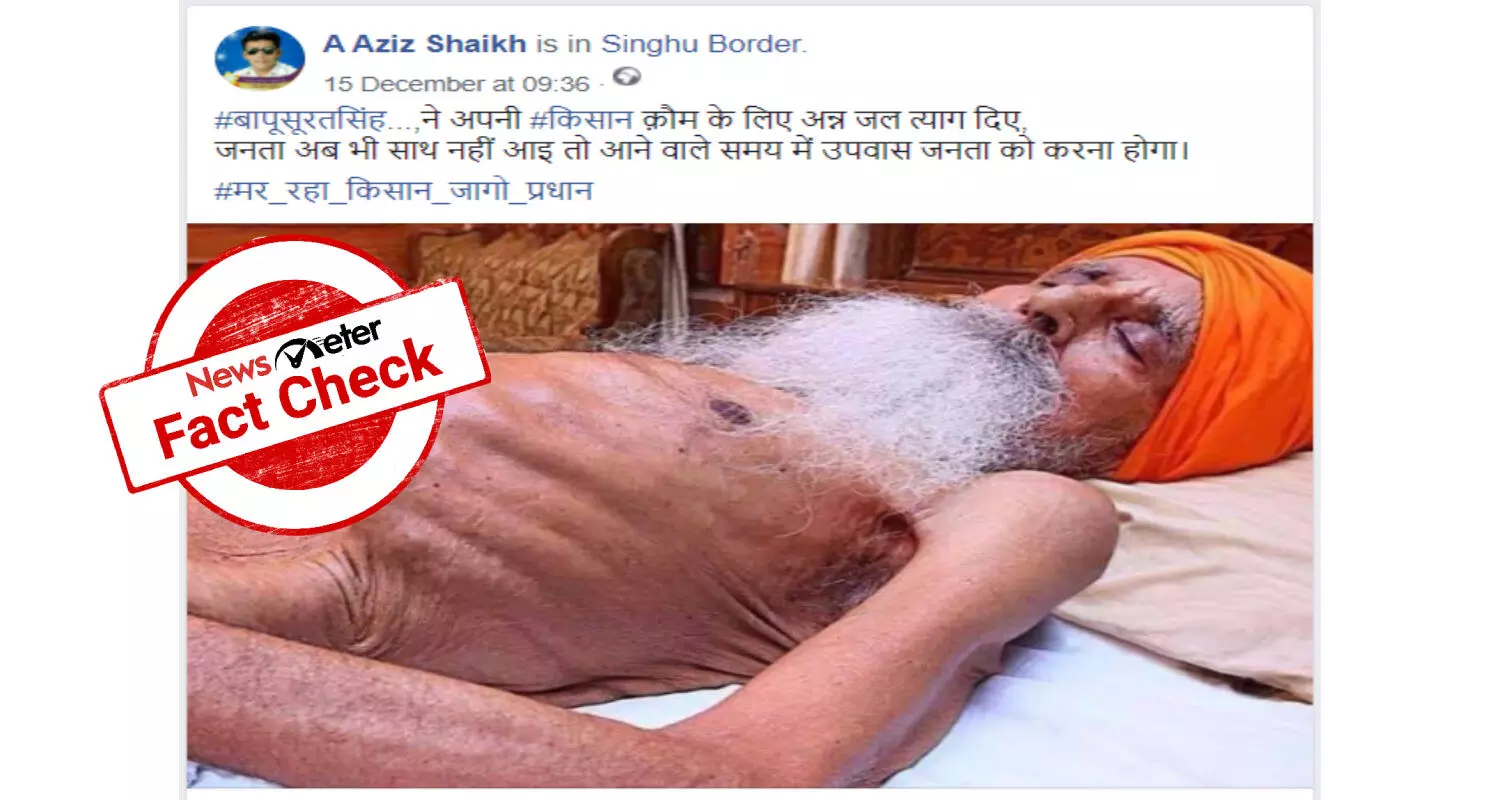 Hyderabad: The farmers' protest against the three controversial farm Bills introduced by the Centre entered its 31st day on 26 December. Prime Minister Narendra Modi has stressed that farmers' lands will not be taken away while Defence minister Rajnath Singh has urged farmers to allow the laws to be implemented for a year. If they are not beneficial, then the government will amend them, Mr. Singh had added.

Amidst this, a photo of a malnourished Sikh activist has gone viral on social media. He is on a hunger strike in support of the ongoing farmers' protest, it was claimed.
Fact Check:

NewsMeter found that the claim is FALSE and the photo is around five-years-old.
We performed a reverse image search and found a report from September 2017 that identified the man as Bapu Surat Singh Khalsa. It said that the Indian-American had been on a hunger strike for nearly 1,000 days in Punjab to raise awareness about Sikh political prisoners.
https://www.sikh24.com/2017/09/25/blood-donation-event-for-bapu-surat-singh/#.X-bgztgzZPZ
According to a 2015 report by The Indian Express, the Sikh activist went on a hunger strike from January 2015 demanding "the release of Sikh prisoners allegedly languishing in jails even after having completed their terms".
We also found the same image on a Facebook page from 2015.
The photo has been on the Internet for over five years and hence cannot be related to the farmers' protest that started in November this year. Khalsa was on a hunger strike to demand the release of Sikh political prisoners who had completed their jail term. Evidently, the claim is FALSE.

Claim Review :
photo of Sikh activist on hunger strike farmers protest
Claimed By :
Social Media Users