Fact Check: 2018 video showing man spraying water on wheat sacks falsely linked to 2020 farmers' protest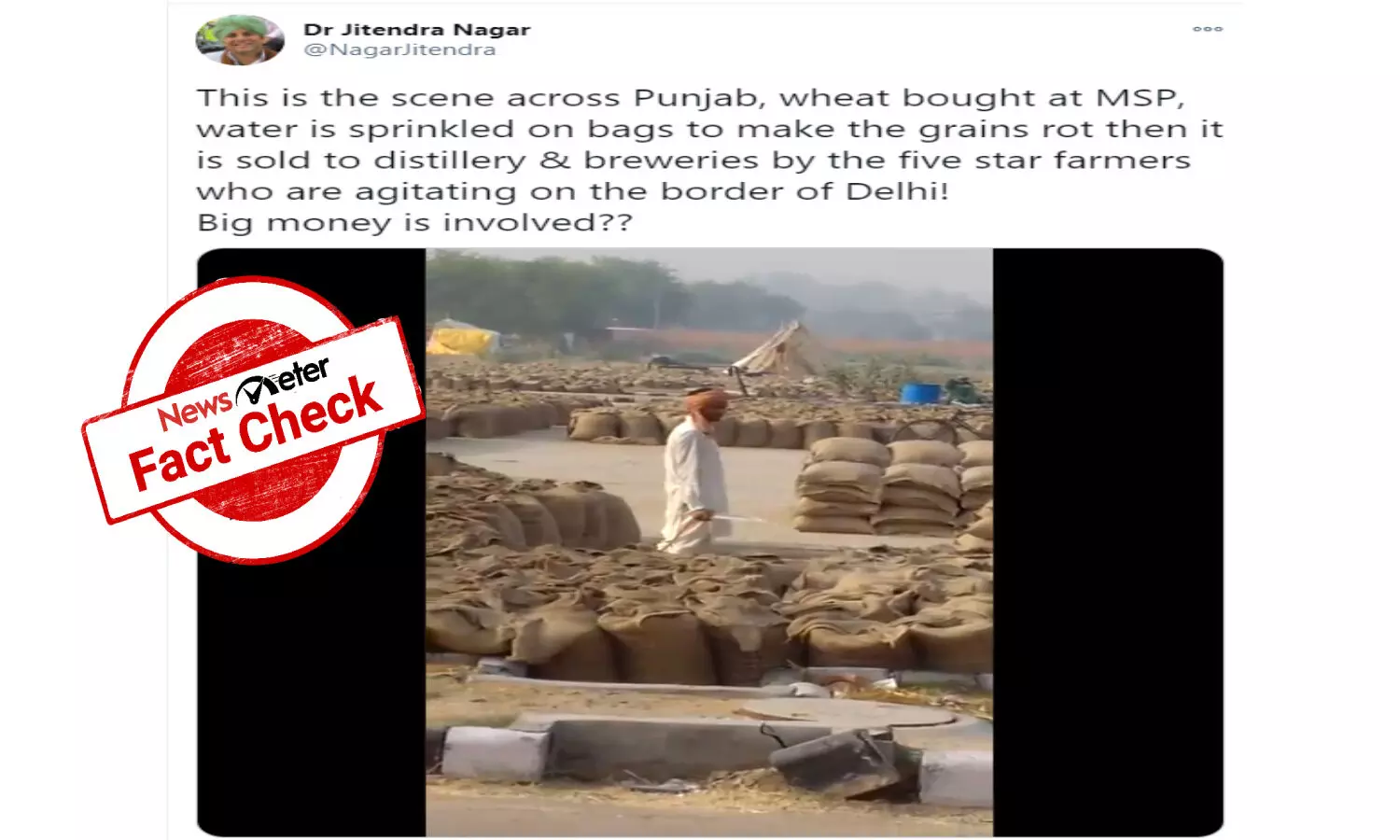 Hyderabad: A video of a man spraying water on sacks of wheat allegedly to expedite the rotting process has gone viral on social media with the claim that it is related to the ongoing farmers' protest. A few have claimed that this is a practice adopted by farmers in Punjab. They sprinkle water on grains to speed up the rotting process and then sell these grains to distilleries and breweries.

According to one Twitter user, "This is the scene across Punjab, wheat bought at MSP, water is sprinkled on bags to make the grains rot then it is sold to distillery & breweries by the five star farmers who are agitating on the border of Delhi! Big money is involved??[sic]"
Click here, here and here to view these claims.

Fact Check:
NewsMeter found that the claim is FALSE and the video is not related to the ongoing farmers' protest. The video is from 2018 from Haryana's Fatehabad district.
We performed a reverse image search and found a news bulletin by ABP News dated 8 May 2018 with the title "Man spreads water on wheat sack to increase its weight". It should be noted that as the video has been available on the Internet since 2018, it is clear it is not related to the farmers' protest.
The report said the video is from Haryana's Fatehabad district where a man was caught on camera pouring water on sacks of wheat to increase their weight. This case was investigated by the Fatehabad Market Committee.
This incident was also reported by Punjab Kesari and News 18 Hindi in 2018. All these reports state that the incident took place in Haryana.
Evidently, an old video from Haryana has been revived to discredit the farmers' agitation against the new farm laws. Hence, the claim is FALSE.

Claim Review :
man spraying water on wheat sacks linked to 2020 farmers' protest
Claimed By :
Twitter Users