Fact Check: Akhilesh Yadav's tweet promising to reconstruct Babri Masjid if voted to power is fake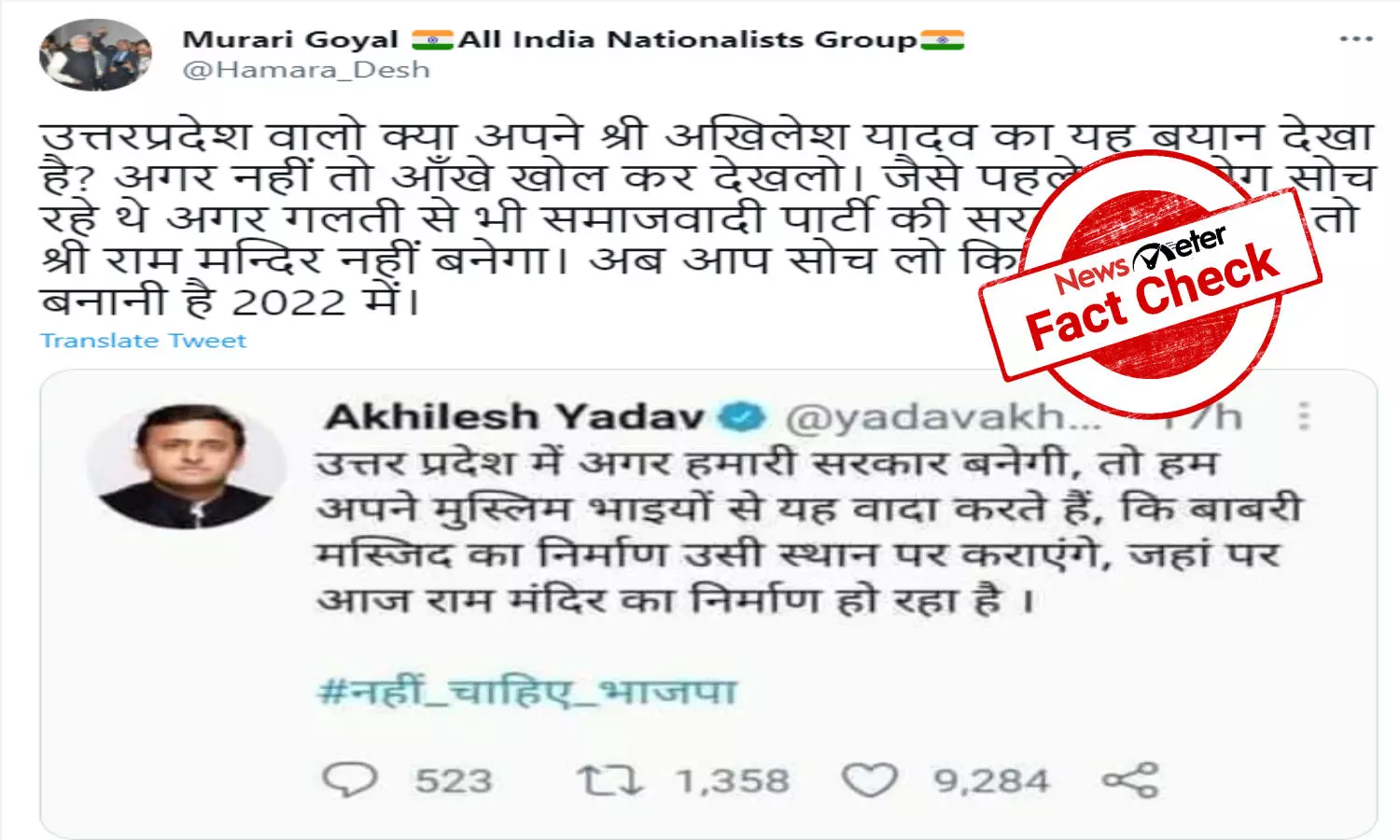 Hyderabad: Ahead of the Uttar Pradesh elections, a screenshot of a tweet allegedly by Samajwadi Party president Akhilesh Yadav is circulating on social media. It reads, "If our government comes to power in Uttar Pradesh, we promise our Muslim brothers that we will reconstruct the Babri Masjid at the same place the Ram Mandir is being built today."

A Twitter user with over 15,000 followers shared the screenshot and wrote, "To all the people of Uttar Pradesh, have you seen this statement by your leader Mr. Akhilesh Yadav? If not, then open your eyes and take a look. Earlier, everyone though Ram Mandir would not be built if the Samajwadi Party government came to power. Now you decide whose party to elect into power in 2022." (Archive link)
Click here for more posts.
FACT CHECK:
The tweet is fake.
NewsMeter checked Akhilesh Yadav's Twitter account but couldn't find the tweet. We also checked the archive websites in case the tweet was deleted but found nothing. The websites 'archive.is' and 'webarchive.org' showed no relevant results.
We noticed that the viral tweet was misaligned which is uncommon if posted officially on the micro-blogging website. Upon comparison, we noticed that the comment icon and the name were not aligned with the rest of the text. Further, a similar post was posted on Yadav's official account (notice similar words) at the same time mentioned in the viral image. This indicates that the viral image is fake and was not officially posted by Yadav.
It should be noted that if Akhilesh Yadav did make such a controversial statement many media organizations would have reported it but we found no news reports about the tweet.

Clearly, the viral screenshot is fake.
Claim Review :
Akhilesh Yadav tweeted that if Samajwadi Party comes to power in Uttar Pradesh, Babri Masjid would be reconstructed in the place where Ram Mandir is being built.
Claimed By :
Social Media Users