Fact-check: Are these viral images of cash and gold seizures from Stalin daughter's house?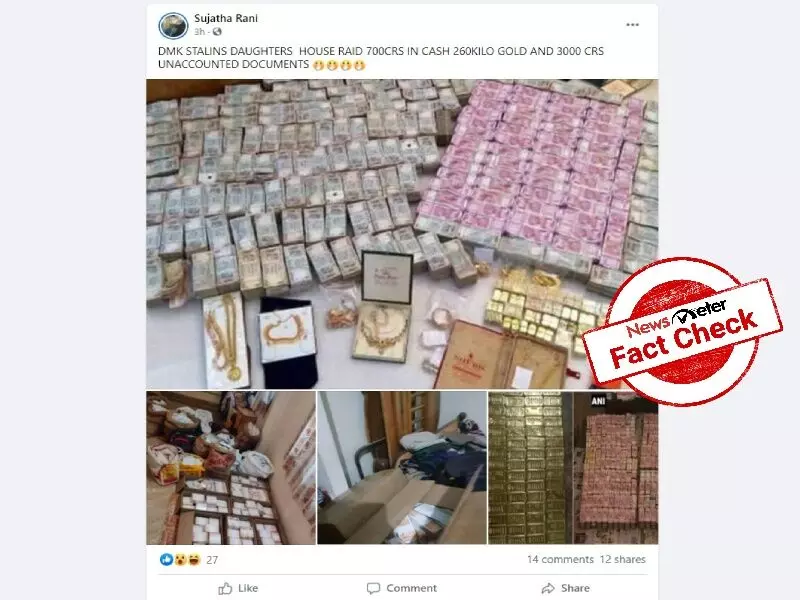 Hyderabad: On 1 April 2021, Income-Tax officials raided the house of Sabareesan, son-in-law of DMK party president M.K. Stalin, and a few of his associates, and former Transport Minister Senthil Balaji.

Several images with pictures of cash and gold have come in circulation ever since with the claim, "DMK STALIN'S DAUGHTERS HOUSE RAID 700CRS IN CASH 260KILO GOLD AND 3000 CRS UNACCOUNTED DOCUMENTS (sic)."
https://www.facebook.com/sujatha.rani.583/posts/4238966426114955

Archive links:

https://web.archive.org/save/https://twitter.com/Rajivgupta1515/status/1378243676531351554
https://web.archive.org/save/https://www.facebook.com/sujatha.rani.583/posts/4238966426114955
These images are being shared widely on WhatsApp too.
Fact Check:
The claim that these viral images showed the money confiscated from the house of Stalin's daughter is FALSE. The images are dated and were picked up from several news reports over the years and were being shared along with this false claim.
Firstly, when NewsMeter checked the news reports published about the I-T raid on Stalin daughter's house, we found an NDTV report stating that the Income-Tax department has said they have found "incriminating evidence" of tax evasion in the searches they conducted on key people related to the DMK leadership on Friday in Chennai, Karur, and Coimbatore, four days before Tamil Nadu goes to vote.
A statement issued by the I-T department however did not mention any cash seizure but said the searches were meant to verify if the three groups who were raided assisted in political cash distribution. The groups and individuals who were raided included those who run distilleries, breweries, real estate, and solar power operations. Stalin's son-in-law was also among those whose residence got raided. DMK MP R.S. Bharathi claimed the I-T officials had only found Rs 1.36 lakhs from the house of Stalin's son-in-law.
So, we used the Google Reverse image search on the images and found that they were not current and were not related to the recent events.
Image 1 which showed a box full of Rs 2,000 notes is from a news report from November 2019. The report published by several media websites stated that Telangana Police on Saturday busted an inter-state gang involved in the circulation of fake Rs 2,000 notes. The incident took place in Vemsoor Mandal area of Khammam district where police had arrested five persons for cheating public in the guise of exchanging Rs 2,000 denomination currency notes in return for 20 percent commission. The police have also seized 320 bundles of Rs 2,000 denomination fake notes worth Rs 6.4 crore.

Image -2 is a generic image of Rs 2,000 notes cash used several times in many media news reports. Here is an example.

Image-3 is from April 2019 showed boxes full of Rs 200 notes which were seized from the godown, owned by Poonjolai Srinivasan, a DMK functionary, and is located close to his house in Katpadi. A total of Rs 11.50 crore was found stashed away in gunny bags and cardboard boxes and were seized by the I-T team.

Image – 4 showed cash and jewelry from a news report published in December 2011, when Rs 5.7 crore was found in the bathroom of a hawala dealer's - K.C. Veerendra alias Poppi - house at Challakere town, 40 km from Chitradurga

Image -5 is another old image that showed rows of gold biscuits and cash. This was recovered during an I-T raid conducted in Tamil Nadu at the premises of SPK and Company, a partnership firm engaged in roads and highways construction on contract from the government. The I-T department has seized Rs 163 crores in cash and about 100 kg bullion, following raids at multiple premises of a road construction firm in Tamil Nadu.

This image of the apartment is actually an image of the house of Stalin's daughter where the I-T raid was conducted on 1 April.

A fact-checker, Muralikrishnan Chinnadurai, from Tamil Nadu, also debunked the claim and stated on his Facebook page, "The news spread on Facebook that money was confiscated from the house of DMK leader Stalin's daughter is fake. The information shared in the group called Chief Minister Anbumani on Facebook was seen. The first picture in this post is the apartment building where DMK leader Stalin's daughter resides. Pictures posted as seized money are pictures of money seized during the raid in Vellore in 2019. No official report has been released that money or documents have been seized by the Income-Tax Department so far!"
Hence, the claim from the viral images that money was confiscated from the house of Stalin's daughter is FALSE. A series of old images have been shared with a false claim.

Claim Review :
Images of cash and gold seizures from Stalin daughter's house
Claimed By :
Social Media Users