Fact Check: Art installation by 3D artist goes viral as Mickey Mouse head abandoned by Disney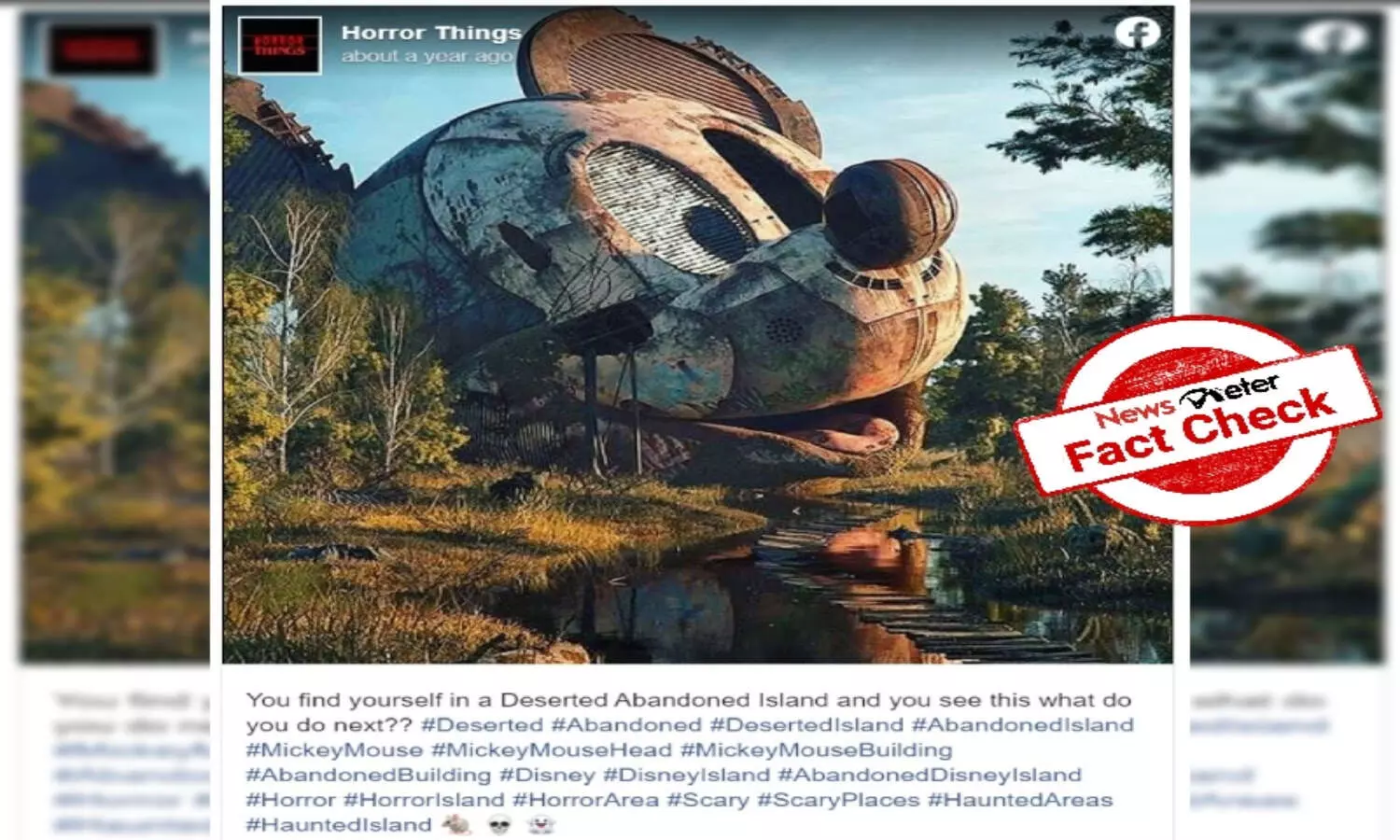 Hyderabad: Over the years, Disney has abandoned several rides and projects in its various theme parks. The result is eerie looking remains of sites that were once popular tourist attractions.

Recently, a photo of a giant Mickey Mouse head went viral on Facebook and Pinterest with the claim that it was from an abandoned Disney Park.
Taking a cue from this, we searched for Filip Hodas and found that he is a 3D artist based in Prague, Czech Republic. In 2015, Filip started a daily render project that lasted for almost 400 days and helped him gain initial traction online. Since then, he has become one of the most-followed 3D artists in the world.

Throughout his career, Filip accumulated over 6,50,000 fans on social media which opened the door for collaborations with numerous international brands like Adidas, Coca Cola, and Samsung, and artists like Jean-Michel Jarre. Over the years, several of Filip's renderings went viral and made front pages on numerous sites and social networks like Bored Panda, 9gag, and Reddit. His work was also featured in several exhibitions across Europe and one of his images even made it to London's Tate Modern.
Filip is most known for his artwork series 'Pop Culture Dystopia' that envisions decaying pop-culture icons such as Mickey Mouse, Pacman, or Hello Kitty in desolate and abandoned post-apocalyptic landscapes. In 2020, he followed up with a similarly popular series called 'Cartoon Fossils' portraying realistic skulls of the cartoon characters from his childhood.
Various art pieces created by Filip are shared on his website. The viral image of Mickey Mouse is published under the heading Pop Culture Dystopia -2
We also found that the same image was shared on Filip Hodas's Instagram account in November 2017.
An article in Trendland.com said the Prague-based digital artist, in an Instagram series, explored the dystopian world of pop-culture icons. It is funny to imagine a possible 'Mad Max' future with huge abandoned attraction park structures overtaken by nature, it said.

For the artist, the main goal of this series is to learn how to use 3D texture software Substance Painter and how to implement it in his texturing workflow. All of the textures were made procedurally in Substance Designer with little details from Illustrator/Photoshop.
We can see the viral image of the Mickey Mouse head in this article.
https://trendland.com/pop-culture-dystopia-by-filip-hodas/
Hence, the image of the giant head of Mickey Mouse is an art installation created by Filip Hodas using 3D texture software. It is not from an abandoned Disney park. Hence, the claim is FALSE.
Claim Review :
Art installation by 3D artist goes viral as Mickey Mouse head abandoned by Disney
Claimed By :
Social Media Users