Fact check: Beware! Shopclues is not giving away SWIFT DZIRE car as part of its 10th-anniversary celebrations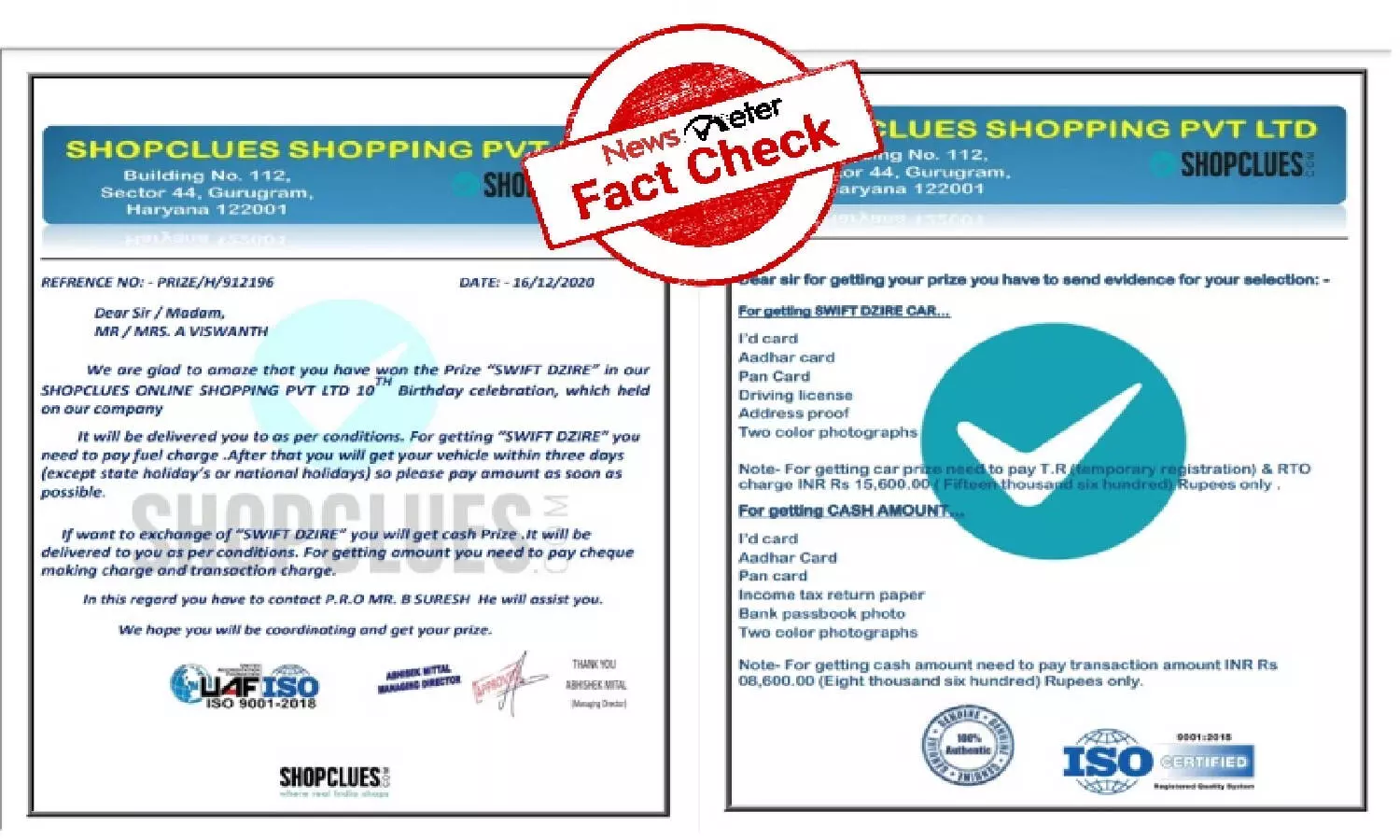 shopA letter written on Shopclues.com letterhead has been sent to Newsmeter for the fact check.

The letter addressed to Mr/Mrs. A Viswanath, dated December 16, 2020 claims: "Shopclues Shopping Pvt Ltd is offering a prize "SWIFT DZIRE" as part of 10th Birthday Celebrations."
The letter goes on to say that for "SWIFT DZIRE" you need to pay the fuel charge. After payment, the vehicle will be delivered in 3 days.
For getting SWIFT DZIRE Car: Proofs such as ID card, Aadhaar card, Pan Card, etc details are needed. Temporary registration and RTO Charges Rs 15,600 are needed to be paid.
This kind of claim has also been shared on Facebook in November 2020.

Fact Check:
The claim that Shopclues.com is giving away SWIFT DZIRE as part of its 10th-anniversary celebrations is FALSE.

When observed the letter carefully, we can see that Managing Director's name is written as Abhishek Mital.

Shopclues is an Indian online marketplace owned by Clues Network Pvt. Ltd. It was established in July 2011 in Silicon Valley by Sanjay Sethi, Sandeep Aggarwal, and Radhika Aggarwal. Though the address given in the letter is correct, the CEO of the company is Sanjay Sethi. There is no Abhishek Mital in Management.

https://www.business-standard.com/article/companies/we-plan-to-become-profitable-by-q2fy18-sanjay-sethi-116072300575_1.html

Shopclues is owned by Clues Network Pvt Ltd and NOT Shopclues Shopping Pvt Ltd.
By searching the history of the company, Newsmeter found that the company was founded in 2011, so the 10th year anniversary is in 2021 and NOT now.

There are no such press releases announcing any celebrations giving away any prizes.

The letter contains several grammatical mistakes which make it clear that it is a clickbait attempt to loot innocent people.

A similar scam had surfaced in 2018. Later several YouTube videos were posted alerting the viewers about the scam calls in the name of Shopclues.

Hence, the claim that Shopclues is giving away a SWIFT DZIRE car as part of its 10th-anniversary celebrations is FALSE. This letter is a Clickbait, which is an attempt to trap innocent people to transfer money in the name of the car.

Claim Review :
Shopclues is giving away SWIFT DZIRE car as part of its 10th-anniversary celebrations
Claimed By :
Social Media Users