Fact check: Bird in viral video is not `Jatayu' from Ramayana, but Andean Condor from Argentina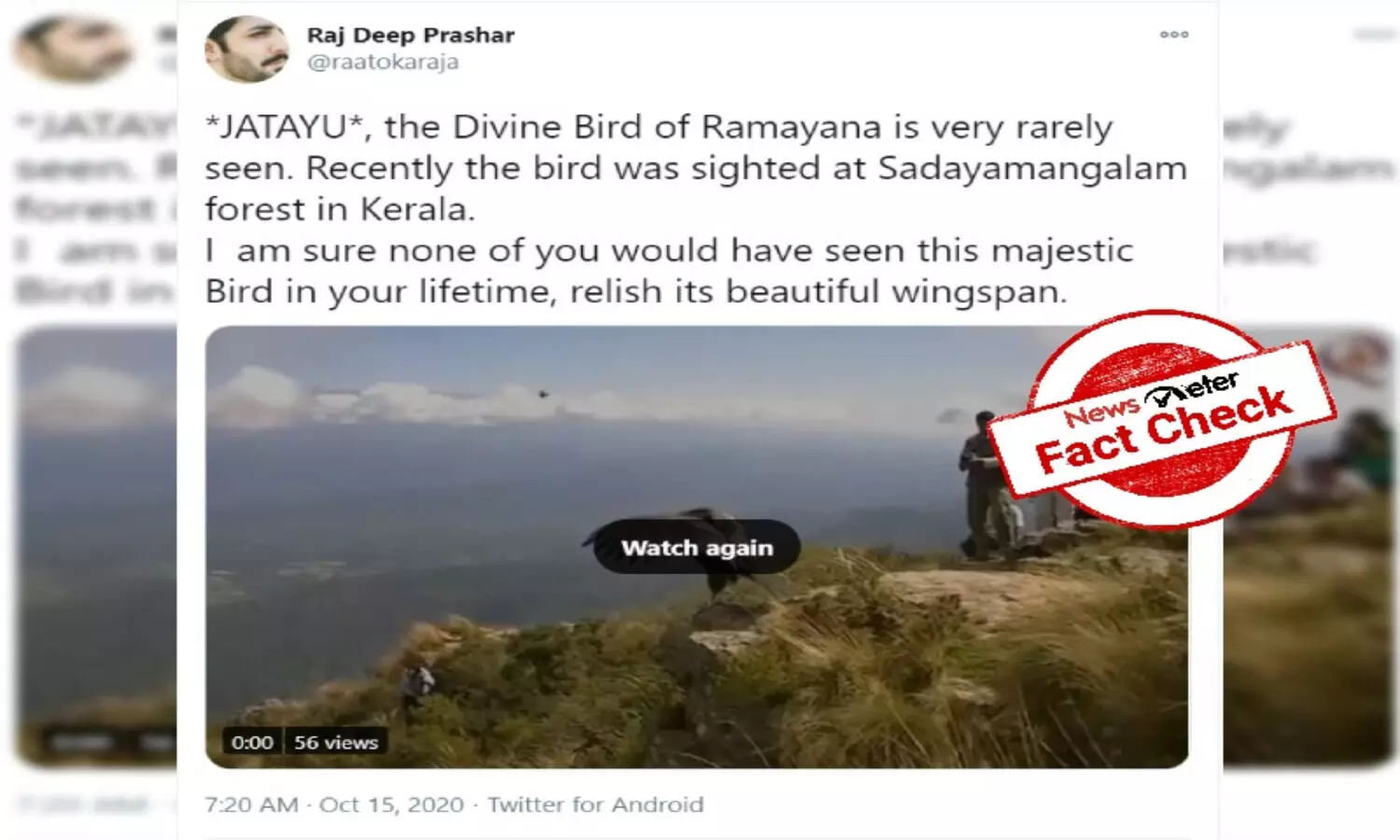 A video showing a huge bird with its wings wide open is viral on social media. Users claim that the bird was sighted in the Sadayamangalam forest in Kerala. Users also said that it is is 'Jatayu', the divine bird of Ramayana that is rarely seen.
"*JATAYU*, the Divine Bird of Ramayana is very rarely seen. Recently the bird was sighted at Sadayamangalam forest in Kerala. I am sure none of you would have seen this majestic Bird in your lifetime, relish its beautiful wingspan," read a description of the video
The video is in circulation on Facebook, Twitter, and WhatsApp.
Archive links: https://web.archive.org/save/https://www.facebook.com/hindushreeee/videos/1216233312108938
https://web.archive.org/save/https://twitter.com/raatokaraja/status/1316557087707521025
Fact Check:
The claim that the bird is Jatayu and spotted in Sadayamangalam forest is FALSE.
When the keyframes extracted from the video were used to perform a Google Reverse image search, we found a video on YouTube with the same visuals on `Denise Vieira pinto'. The video was uploaded in April 2014 and is titled `Liberation Condor'. The giant bird seen in the video is an Andean Condor named Sayani. Sayani was unable to fly in 2012 and was rescued by Police in Catamarca. The Condor was treated at Buenos Aires Zoo and was released on the slope of Portezuelo in Catamarca, Argentina.
When searched with the keywords 'Sayani Andean Condor', we found several articles on websites like Dodo, Animal rescue site, the animalclub stating that Sayani was found close to death in December 2012 after being poisoned in Catamarca, Argentina. And it isn't the only condor that nearly died of poisoning.
Because ranchers in the region sometimes poison predators for getting too close to livestock, Andean condors can become victims after ingesting poison in the carcasses.
With the help of local police and officials, Sayani was sent to the Buenos Aires Zoo for treatment for over a year. And after 16 months, the bird became strong enough to be released in the wild again.
On March 28, 2014, Sayani's rescuers gathered on the top of a mountain in Catamarca with Sayani, ready to set it free. The video which was shared on Silvana Andrade's Facebook page (Andrade is the founder of ANDA, an animal welfare organization in the region) — shows Sayani standing on a rock with a spectacular view below him. It stretches magnificent wings out, as though taking a moment to fully experience his surroundings.
This bird is different from Jatayu from Ramayana, depicting which Jatayu Earth Center has been built in Chadamangalam in Kerala. Here is more information about the Jatayu statue.
This video is in circulation on social media since 2018 and has been debunked by several fact-checking organizations over a period of time.
https://www.boomlive.in/video-of-andean-condor-passed-off-as-ramayanas-jatayu/
https://www.latestly.com/social-viral/fact-check/fact-check-video-of-jatayu-bird-from-ramayana-spotted-in-kerala-is-fake-know-truth-about-viral-clip-of-andean-condor-1546124.html
https://www.altnews.in/jatayu-mythical-bird-from-ramayana-spotted-in-kerala-no-its-a-condor-from-argentina/
https://timesofindia.indiatimes.com/times-fact-check/news/fake-alert-dont-fall-for-whatsapp-video-saying-jatayu-bird-was-spotted-in-karnataka/articleshow/66067628.cms
Hence, the claim that the bird is Jatayu which was spotted in the Sadayamangalam forest in Kerala is FALSE.
Claim Review :
Bird in viral video is `Jatayu' from Ramayana
Claimed By :
Social Media Users