Fact check: BJP leader's claim about cross, Narasimha Swami Idol located on same hillock is false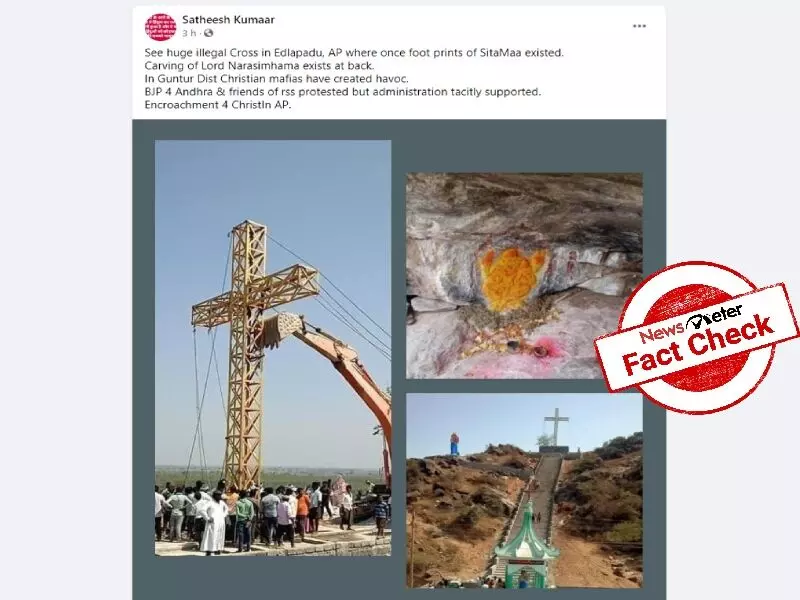 Few images of a huge cross being installed near the Narasimha Swami temple are viral on social media.
"See huge illegal Cross in Edlapadu, AP where once footprints of #SitaMaa existed. Carving of Lord Narasimhama exists at back. In Guntur Dist Christian mafias have created havoc. @BJP4Andhra & @friendsofrss protested but the administration tacitly supported. #Encroachment4ChristInAP (sic)," reads the message
These images are viral on both Twitter as well as Facebook. The users are claiming that a huge cross is being installed on the hillocks of Edlapadu where an idol of Narasimha Swami and Sitamma footprints are located. The idol and Sitamma footprints are worshipped by Hindus. Users claim that the church is encroaching upon the area and disrupting its sanctity.

For archive, click here and here.
Fact Check:

The claim that a huge cross is being installed on the same hillock where Narasimha swami idol and Sitamma Padalu (footprints) are located is FALSE.

Guntur rural district Police have refuted these claims. They published a clarification on this issue. "THEY ARE COMPLETELY 2 DIFFERENT HILLOCKS and there is absolutely NO encroachment of the hill where Narasimha Swami Idol is located (check videos by our SHO), Request to use Twitter to spread love, unity, and peace. @APPOLICE100, @dgpapofficial, @ysjagan," police said.

They even shared the video of the hillock where Narasimha Swami Idol is located.
In a press release, Sub Collector of Narasaraopet said there is no encroachment on the hillock where Narasimha Swami Idol and Sitamma Padalu (Footprints) are located.

"There is NO truth in this news. RCM Church has applied to the government on the construction of a huge cross on the Yerrakonda area. But even before permission was granted, the Church has started the construction of the cross. Police commisionerate and Tahsildar of the area is taking the necessary action on the construction," he said.
There is a minimum of ½ kilometer distance between the place where Narasimha Swami Idol is located and the cross being constructed. So Please do not believe in the rumors, police added.