Fact Check: BJP leaders share photo of AP's Srisailam dam to praise UP's infrastructure development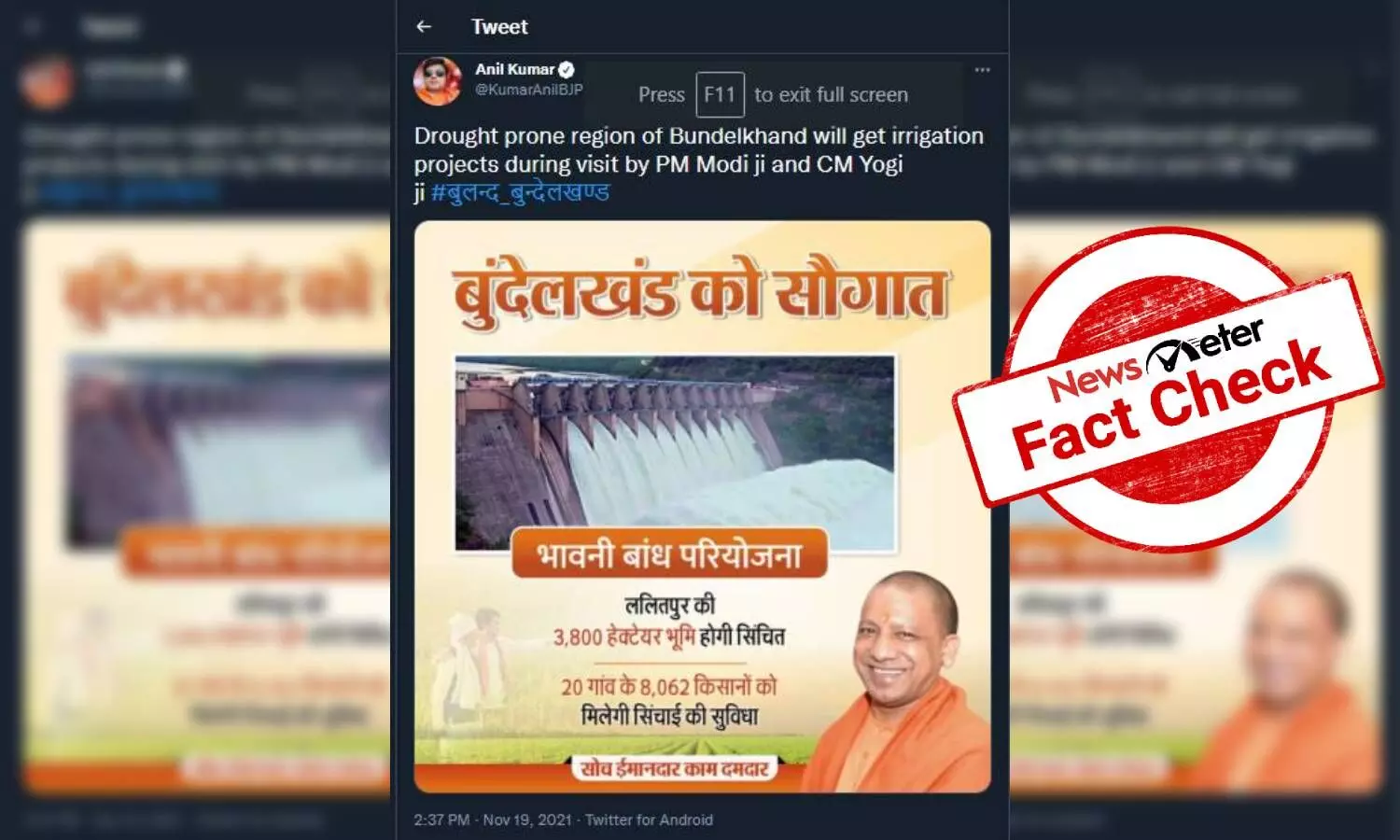 Hyderabad: Shortly after Prime Minister Narendra Modi addressed a gathering in Mahoba, a district in Uttar Pradesh's Bundelkhand region, Bharatiya Janata Party (BJP) leaders started sharing a picture of a dam and claimed it showed infrastructure being developed in Uttar Pradesh to facilitate better irrigation in Bundelkhand.

The photo has been shared by BJP members like Anil Kumar, Avadhesh Singh, and Ravindra Nath Tripathi with the caption, "Drought prone region of Bundelkhand will get irrigation projects during visit by PM Modi ji and CM Yogi ji." Many other verified profiles on Twitter shared the image claiming that the dam is from Uttar Pradesh. (Click here, here, and here to view them)
Fact Check
The claim is false.
Newsmeter performed a reverse image search and found a 2014 report by Deccan Chronicle that identified the dam as the Srisailam dam in Andhra Pradesh. Reports published in 2015, 2016, and 2017 by Deccan Chronicle carry the same image, identifying it as the Srisailam dam.
Times of India and The News Minute also identified the dam as the Srisailam dam. The reservoir gates were lifted after huge inflows of water resulted in the dam almost reaching its full capacity. Water released from the Srisailam dam would make its way to the Nagarjuna Sagar dam after the former reached capacity following flash floods in Andhra Pradesh in 2019.
Further, the visuals of the recently-launched project in the Bundelkhand region do not match the viral image. Narendra Modi's YouTube channel had uploaded a video of the project showing waterways, dams, and bridges and they do not match the photo being shared.

It is clear that the picture of the dam being shared by BJP leaders is not from a project in the Bundelkhand region but is of the Srisailam dam in Andhra Pradesh. Thus, the claim is false.
Claim Review :
A photo of a dam that is part of Uttar Pradesh's Bundelkhand project.