Fact Check: Claim that only Azaan was recited at Kisan rally during Priyanka's Gandhi's address is false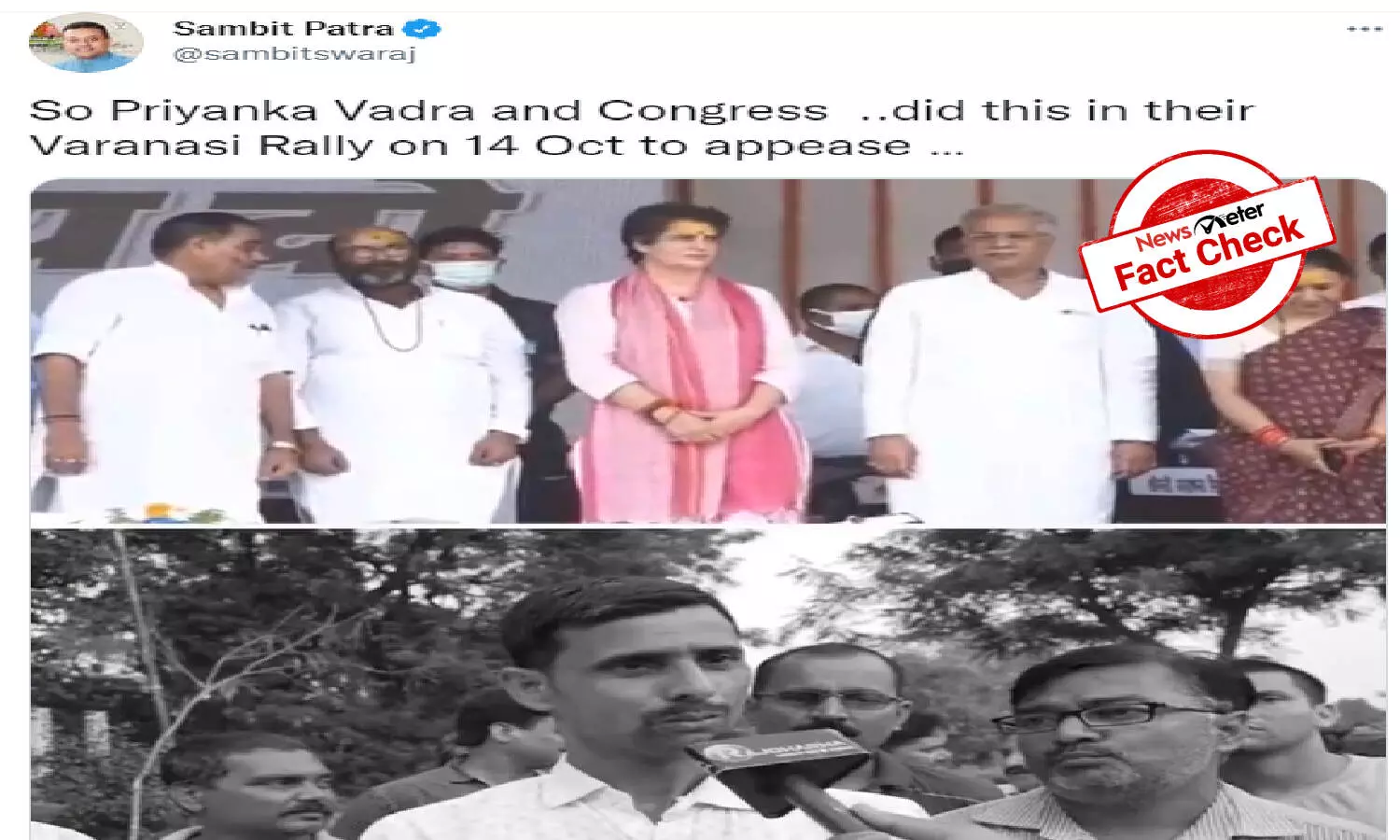 Hyderabad: Bharatiya Janata Party (BJP) national spokesperson Sambit Patra tweeted a video of Congress general secretary Priyanka Gandhi Vadra's address at the Kisan Nyay Rally that took place on 10 October in Varanasi. He claimed that the video shows that the party had only recited the Azaan to appease Muslims at the rally.

The tweet reads, "So Priyanka Vadra and Congress ..did this in their Varanasi Rally on 14 Oct to appease." (archive)
Many other social media users began sharing the video too suggesting that Congress tried to appease the minority community by only reciting the Azaan and excluded other religious prayers.
Fact Check:
The video has been edited to pass false claims.
NewsMeter searched for the official full video on YouTube and found it on the Indian National Congress' channel dated 10 October. In the video, Priyanka Gandhi addresses a large gathering at the 'Kisan Nyay' rally. Before the address starts, priests of different faiths can be heard reciting their respective prayers. A man can be heard saying, "Congress believes in treating all regions equally, and as per our tradition I invite priests from Hindu, Muslim, Sikh, and Christian faiths to recite the prayers." The viral video where verses from the Quran can be heard is clipped from around the six-minute point of the video.
Moreover, during the rally, Priyanka Gandhi started her speech with a prayer to Goddess Durga. Media organizations like The New Indian Express and The Print reported about Priyanka Gandhi chanting the Durga stuti during the Varanasi rally.
Clearly, the claim that only the Azaan was recited to appease Muslims at the Kisan Nyay Rally is false.
Claim Review :
Only Azaan was recited at Priyanka Gandhi Vadra's address at Kisan Nyay Rally.
Claimed By :
BJP national spokesperson Sambit Patra