Fact Check: Did President Kovind request Modi to revoke Kangana Ranaut's Padma Shri? Here's the truth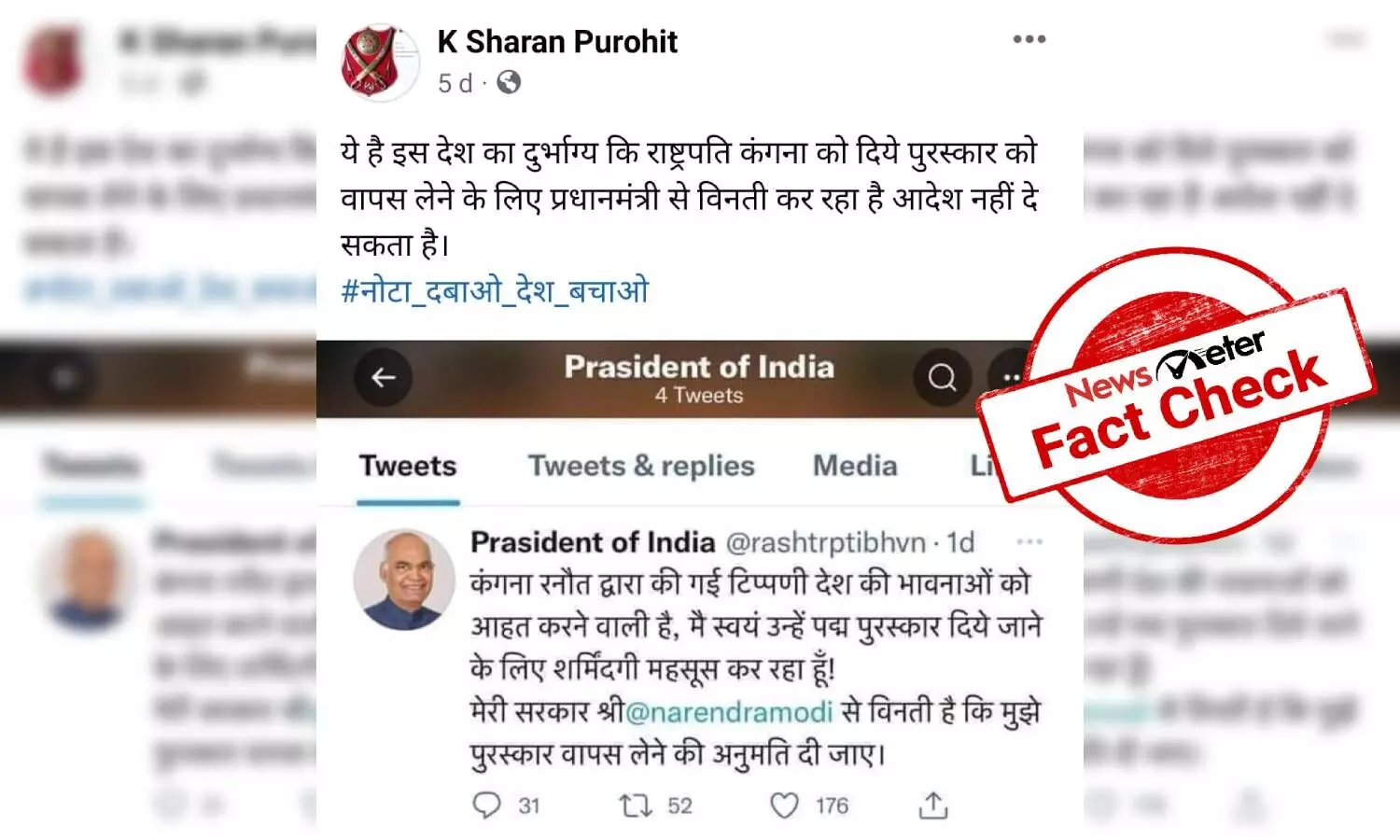 Hyderabad: A screenshot of a tweet, reportedly by the President of India, is going viral on social media. In the tweet, President Ram Nath Kovind asks Prime Minister Narendra Modi to take back actress Kangana Ranaut's Padma Shri Award.

This comes after Ranaut recently said, on a Times Now show, that India's Independence from the British in 1947 was "bheek".
The tweet, when translated, reads, "Remark made by Kangana Ranaut is hurting the sentiments of the country. I feel ashamed to have given the Padma award to her! I request Shri @narendramodi to allow me to withdraw the award."
Click here to view the post.
The claim is false.
NewsMeter tried to open the Twitter handle @rashtrptibhvn mentioned in the screenshot but was notified that the account has been suspended.
We noticed that President has been misspelled as 'Prasident' in the Twitter handle and nor is it a verified account.

The President of India's official verified Twitter handle is @rashtrapatibhvn, the location is New Delhi, and the date of joining Twitter is July 2017. The Twitter handle in the viral tweet has the username @rashtrptibhvn, the location is the United States of America, and the date of joining is November 2020.
Hence, the claim that President Kovind had requested Mr. Modi to revoke Kangana's Padma Shri is false. The tweet is by an imposter account.

Claim Review :
President Ram Nath Kovind had asked Prime Minister Narendra Modi to withdraw actress Kangana Ranauts Padma Shri Award.
Claimed By :
Social media users