Fact Check: Did US president Joe Biden kneel before former Israeli president to pledge support?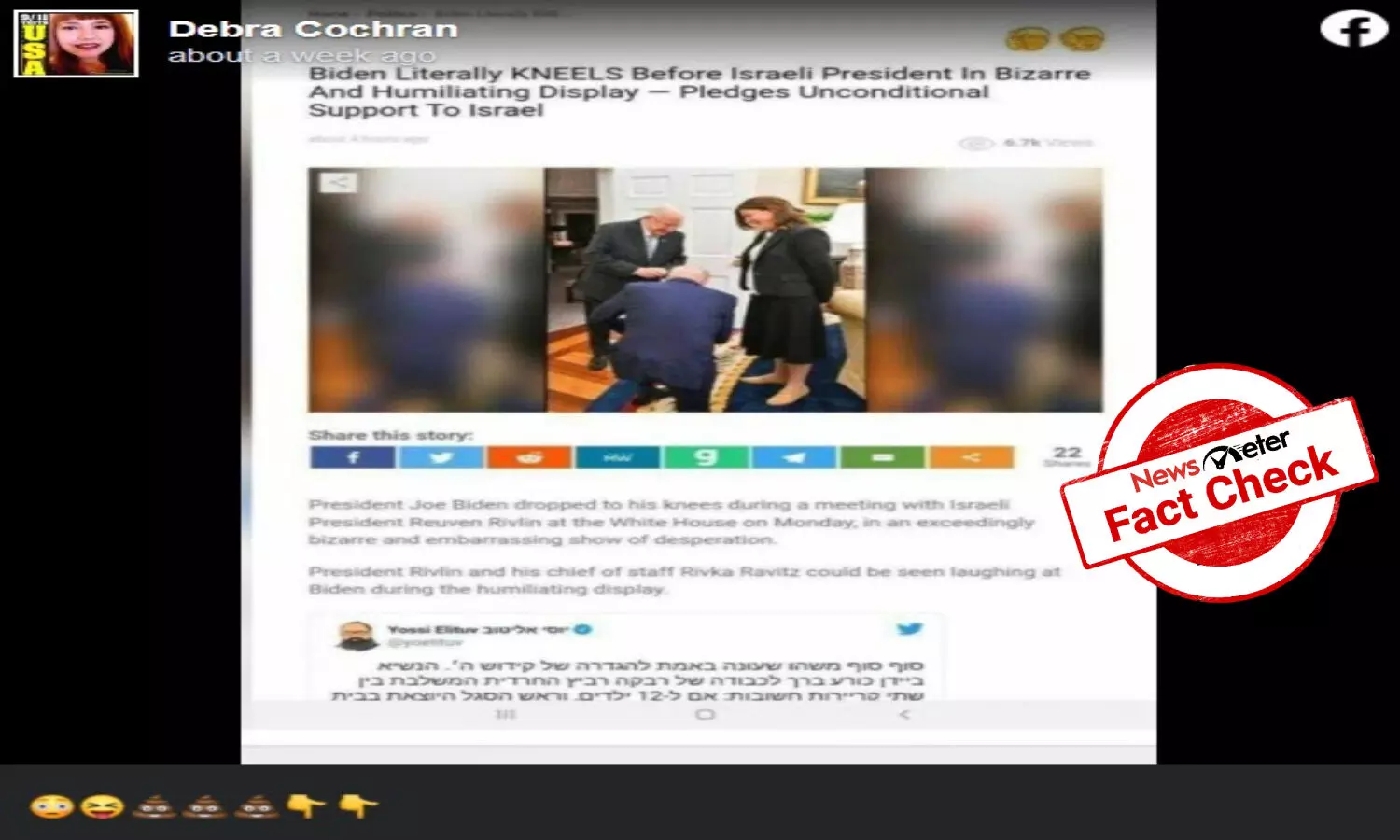 Hyderabad: An image of U.S President Joe Biden with former Israeli President Reuven Rivlin is viral on social media. Users claim Biden kneeled before Rivlin and pledged his unconditional support to Israel.
It shows Biden on one knee, head bowed as former Israeli President Reuven Rivlin and his chief of staff Rivka Ravitz looked at him during a June 28 White House meeting.

The posts include what appears to be a screengrab of an article with a featured image showing Biden on one knee in front of Rivlin and Ravitz.

Biden Kneels Before Israeli President; Pledges Unconditional Support to Israel – NewsWars and NewsMeter found similar news on Google too. - Bing

Fact Check:
The claim is False.

NewsMeter performed a reverse image search and found an image published in a July 2 article by the Times of Israel.

The outlet reported: Biden knelt in front of Ravitz is in awe of the fact that she has 12 children. Biden kneels before Rivlin aide after learning she has 12 kids | The Times of Israel

Secondly, another Israeli news outlet Yedioth Ahronoth tweeted the photo on July 2 saying Biden had jokingly kneeled before Ravitz after learning she was a mother of 12.
Rivlin met with Biden at the White House in late June to "reset" the relationship between Israel and the U.S., the Washington Post reported.
During the meeting, Biden said his commitment to Israel is "ironclad," according to a transcript of remarks published by the White House.

Remarks by President Biden and President Rivlin of the State of Israel Before Bilateral Meeting | The White House

Furthermore, USA Today an American daily middle-market newspaper also debunked the claim via their Fact check website.
Hence, the claim that Biden kneeled before Rivlin is false. Biden wasn't kneeling before Rivlin, he was doing it as a light-hearted show of respect for Ravitz, who is the mother of 12 children.
Claim Review :
An image claims U.S President Joe Biden kneeled before former Israeli President Reuven Rivlin and pledged his unconditional support to Israel.
Claimed By :
Social Media Users