Fact Check: Don't confuse 2020 video of COVID restrictions announcement by Yeddiyurappa as his latest move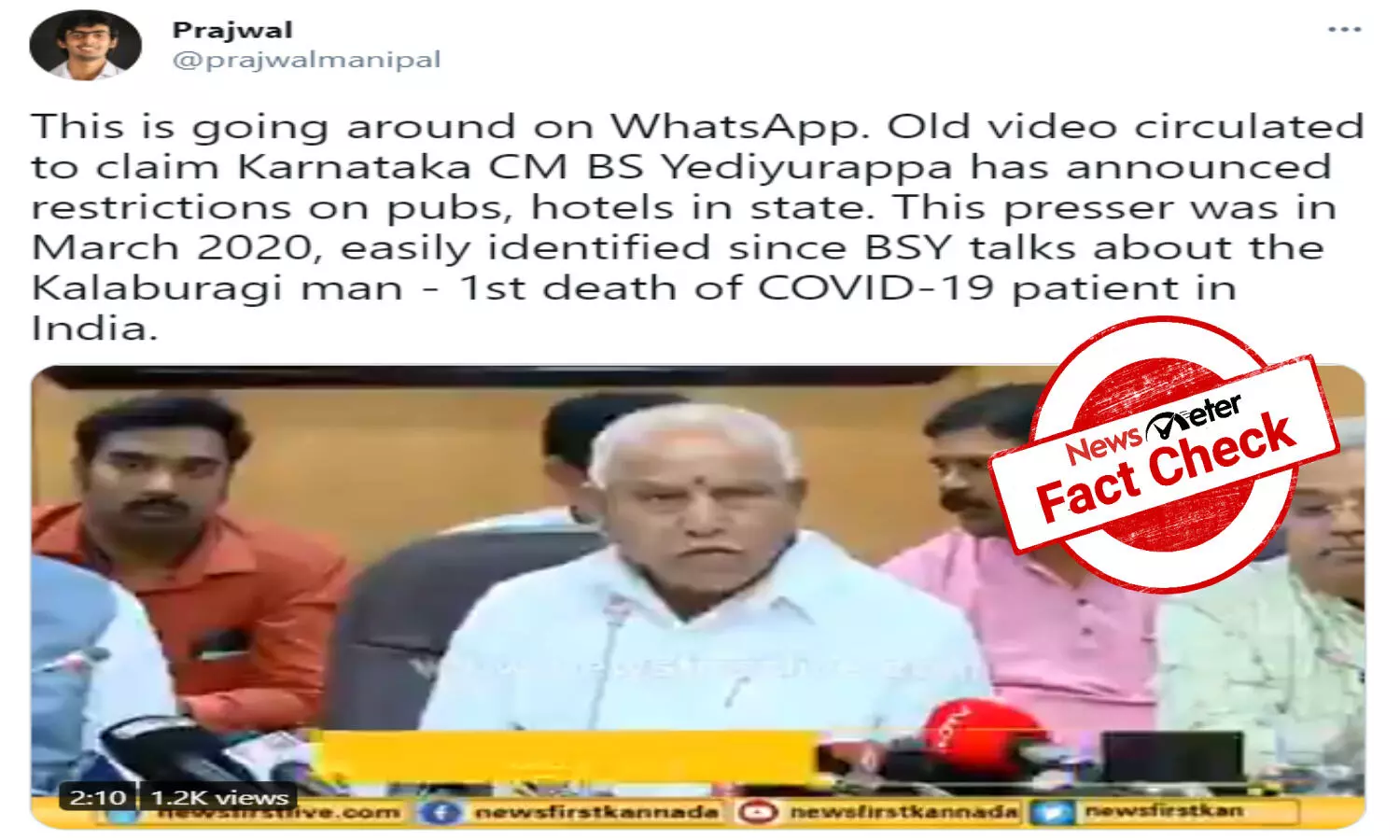 Hyderabad: Amid the rising cases of COVID-19 infection in India, a video from 2020 of Karnataka Chief Minister B.S. Yeddiyurappa announcing a week of restrictions on social life was being shared as a recent action taken by the CM. In the video, Yeddiyurappa announces restrictions for a week on malls, nightclubs, pubs, and cinema theatres.

A YouTube video dated 17 March 2021 shared the old announcement video of Yeddiyurappa announcing the restrictions.
Several Twitter users shared the video as recent news, while some pointed out that this video is old. Click here and here to view the archives.
Archive links:
Fact Check:
NewsMeter noticed the logo of 'NewsFirst Kannada' in the video and searched online with relevant keywords and found a Facebook page with the same name. The video we found was dated 13 March 2020 and is captioned, "Mall, Theatre, School will be shut for A Week in Karnataka". This confirmed that the viral video is from 2020 as the same information was being shared in both.
In the video, Yeddiyurappa referred to a case in Kalaburagi district where a man who came in contact with 46 people, died after testing positive. According to Deccan Herald and India TV, this incident occurred in March 2020. The 76-year-old victim mentioned had returned from Saudi Arabia and had tested positive. He was the country's first reported death due to COVID-19.

Furthermore, in the video, the man on the left of Yediyurappa, is B. Sriramulu. He is not the current Health Minister of Karnataka. He was replaced in the Health Ministry by Medical Education and Health Minister Dr K. Sudhakar.

Clearly, a 2020 video of Yeddiyurappa imposing restrictions in Karnataka was being falsely shared as a recent action by the government.
Claim Review :
Yeddiyurappa announcing a week of restrictions for covid
Claimed By :
Twitter Users