Fact Check: Fake FB post of BJP member K Surendran shared to call out Amit Shah's visit to Jain monk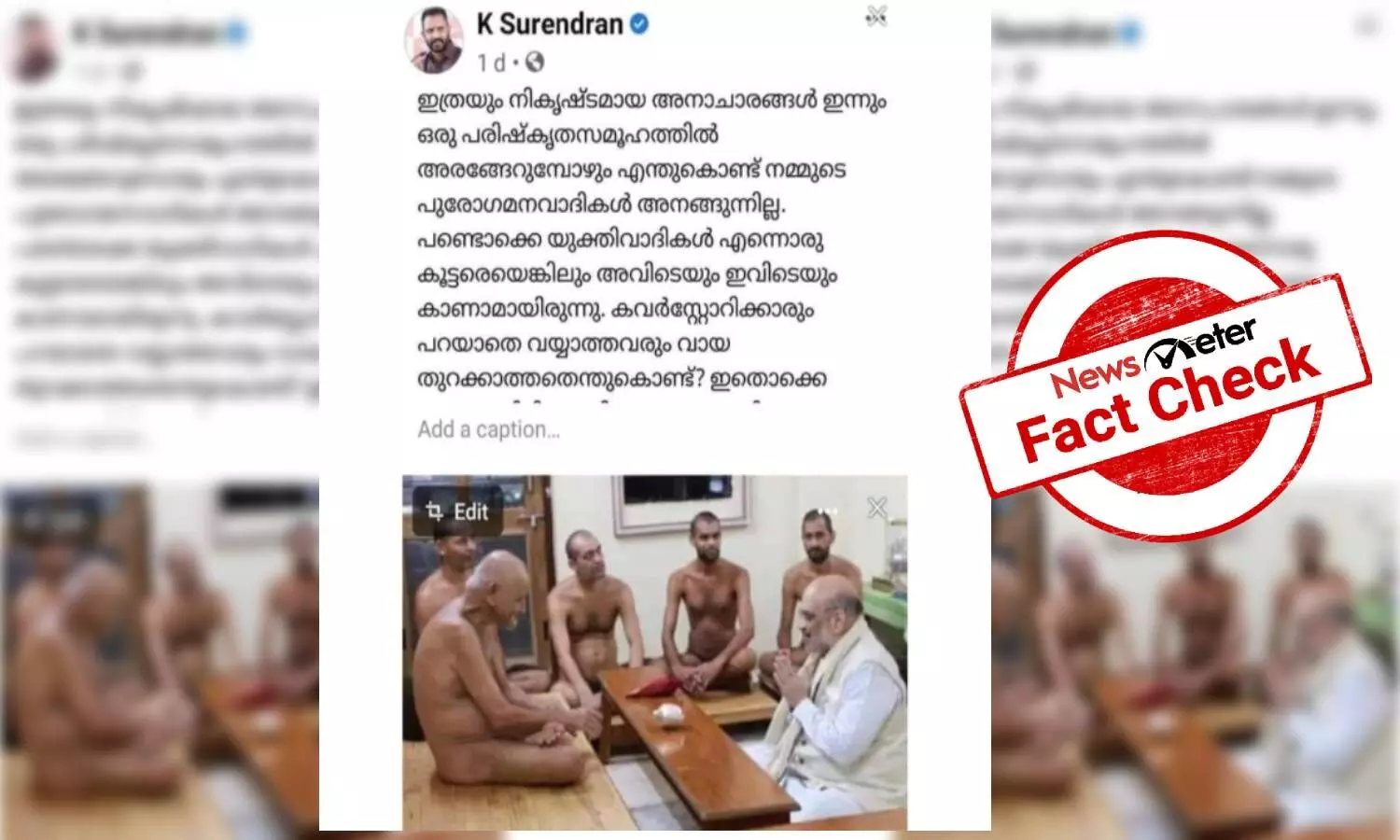 Hyderabad: Union Home minister Amit Shah visited Acharya Vidyasagar, a Jain saint, at Dayodaya Tirth in Jabalpur, Madhya Pradesh, in September. Mr. Shah tweeted a photo from his visit where he is seen sitting with the naked monks.

Following this, an alleged screenshot of a Facebook post by BJP Kerala state president K. Surendran is circulating on social media, calling Mr. Shah's meeting with the Jain monks an abomination.
The post, when translated, reads, "Why do our progressives not budge when such heinous practices are still prevalent in a civilized society? In the past, at least one group of rationalists could be seen here and there. Why don't storytellers and sick people keep their mouths shut?"
The screenshot is fake.
NewsMeter checked Mr. Surendran's Facebook page to verify the claim but couldn't find the post. Nowhere has he posted the image of Amit Shah with the monks and called it an abomination.
However, we found another post that carried the same words on Mr. Surendran's Facebook page but it had nothing to do with Mr. Shah or his visit to the Jain monks.
Clearly, the viral image is fake as text from another post by Mr. Surendran was attached along with Mr. Shah's picture with the monks.
Acharya Vidyasagar is the most renowned saint in the Digambar Jain community. Prime Minister Narendra Modi had visited the monk, too. Mr. Modi's meeting with Acharya was seen in the context of Mr. Shah's meeting with the monk in Kundalpur. The Home minister along with Chief Minister Shivraj Singh Chouhan during their stay in Jabalpur in September had reached Dayodaya Tirth and visited the eminent Digambar Jainacharya Vidyasagar Maharaj who was performing holy Varsha Yoga Chaturmas and took blessings by offering Shriphal. (Read reports here and here)
The photos were also uploaded on Amit Shah's official Twitter handle in September.
Evidently, the claim that BJP leader Surendran called Amit Shah's visit to a Jain monk an abomination is false.
Claim Review :
Kerala BJP state president K Surendran via Facebook called Amit Shah's visit to a Jain monk an abomination.
Claimed By :
Social media users