Fact check: Filmmaker Vivek Agnihotri shares year-old video of British journalist's hackling with misleading claim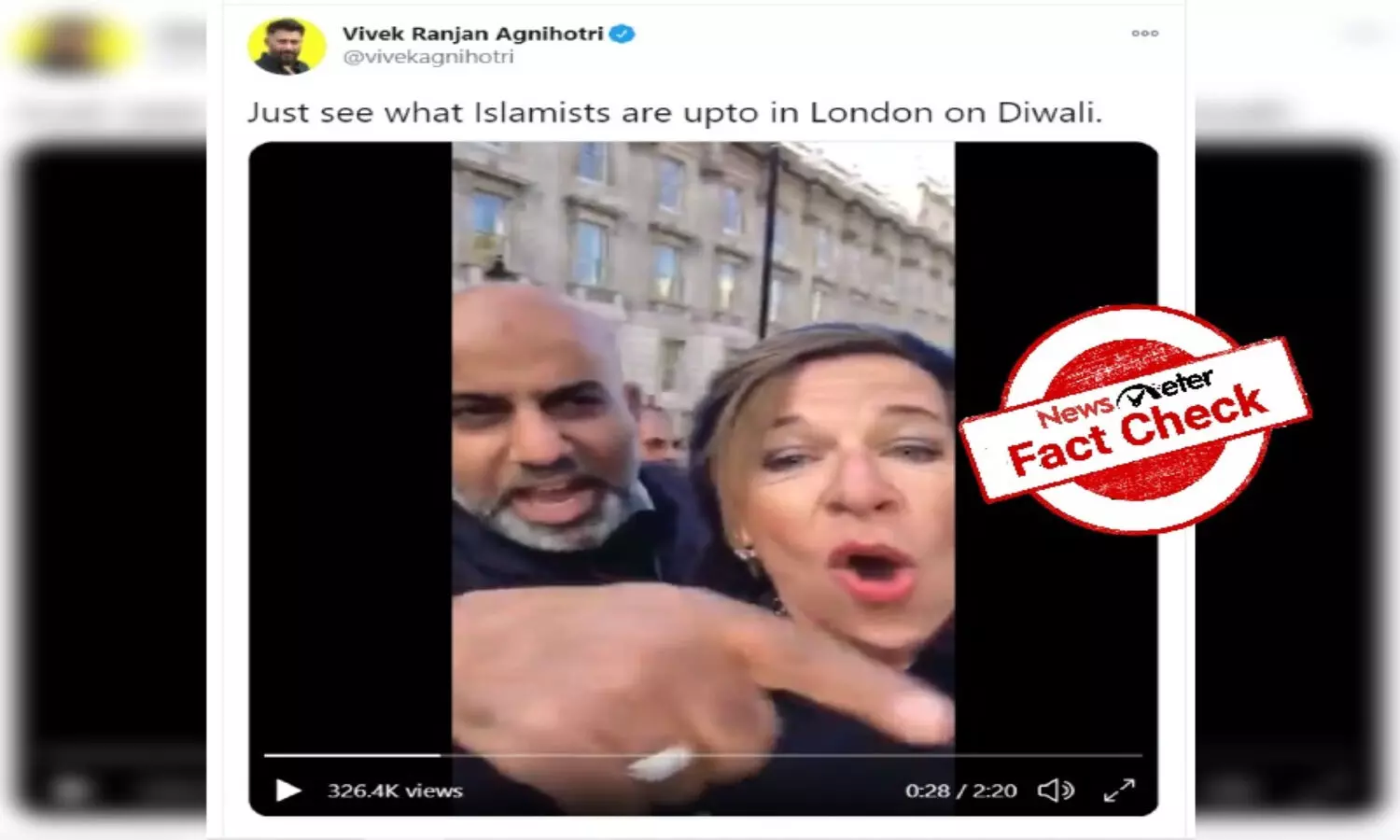 Vivek Agnihotri, famous author, and filmmaker has shared a video showing Katie Hopkins, British Journalist and Broadcaster being heckled by a group of protestors holding anti-India protests over Kashmir in London.
She can be heard saying that it is the festival of Diwali and the protestors, who were all men, heckled and jeered her.
Vivek Agnihotri shared this video with the caption: "Just see what Islamists are up to in London on Diwali".
Fact Check:
The claim is MISLEADING, as this is an old incident.
The journalist seen in this video is Katie Hopkins, a British Journalist. She shared this video on her Twitter account in October 2019. But as her Twitter account has been recently suspended, the link could not be found.
But when we searched with the keywords 'Katie Hopkins heckled' we found news reports from several media websites published in October 2019. This incident happened when some groups held anti-India protests over Kashmir in London coinciding it with Diwali celebrations in 2019.
During these protests, British broadcaster, journalist Katie Hopkins, who was seen showing her support for the Indian diaspora and Prime Minister Narendra Modi, was heckled by these groups. Following widespread concerns raised across the board including the House of Commons, Scotland Yard had imposed strict restrictions denied permission for the march to Indian High Commission in London.
According to the report published in Zeenews.com, there was a counter-protest by a large group of Kashmiris from Pakistan occupied Kashmir (PoK) in front of the Pakistan High Commission. To counter the anti-India protests, British Indian groups hired a digital billboard vehicle to traverse central London streets to spread the "inclusive" message of Diwali.
The vehicle, with a giant screen mounted on it, was seen doing the rounds of the streets of central London with Diwali music and flashing messages, like "Dear Pakistani and Pak-Occupied Kashmir Friends, Happy Diwali".
Republic World reported that these protests were organized by UK-based Tehreek-e-Kashmir on the occasion of Diwali which fell on October 27 in 2019 in London.
We found the same video shared by Katie Hopkins on her Instagram account on the same date
Hence, a year-old video of a journalist being heckled by a mob has been shared as recent by film Maker Vivek Agnihotri. The claim is MISLEADING.
Claim Review :
Filmmaker Vivek Agnihotri shares year-old video of British journalist's hackling
Claimed By :
Twitter Users