Fact Check: Footballer Christian Erikson did not suffer cardiac arrest due to COVID-19 vaccine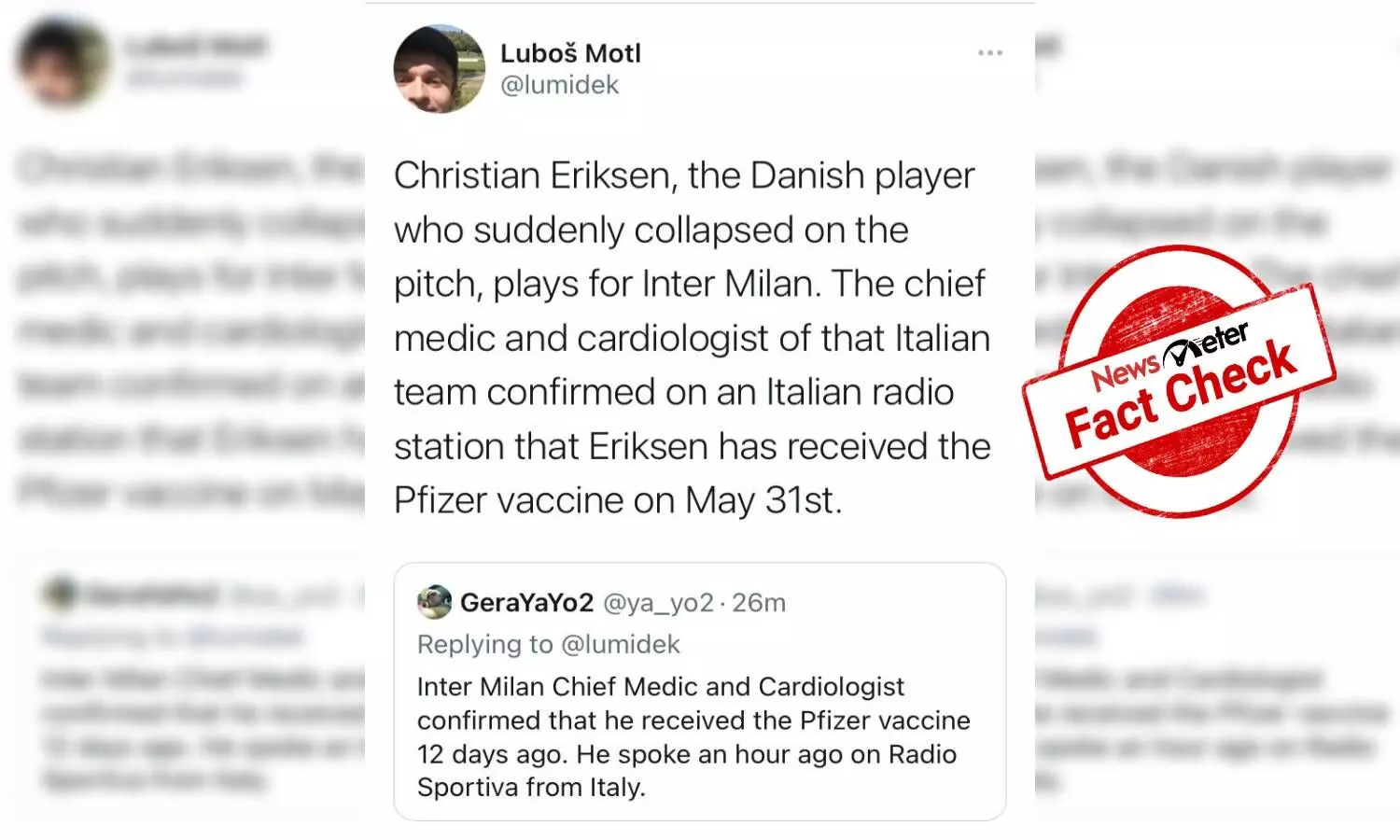 Hyderabad: After Danish soccer player Christian Erikson collapsed on the field in the middle of a Euro 2020 match against Finland, there have been rumours that Erikson had taken the Pfizer COVID-19 vaccine.

One such tweet that has been going viral said, "Christian Erikson, the Danish player who suddenly collapsed on the pitch, plays for Inter Milan. The chief medic and cardiologist of the italian team confirmed on an italian radio station that Erikson has received the pfizer vaccine on May 31st."
Another Twitter user replied that Inter Milan chief medic and cardiologist had confirmed to Radio Sportiva that Erikson had received the Pfizer vaccine 12 days ago.

Fact Check
The claim is false.
According to a report by ESPN, the 29-year-old Eriksen collapsed in the 43rd minute of Denmark's Euro 2020 opener against Finland in Copenhagen. He was administered CPR on the field and then taken to the hospital. Just over an hour after he collapsed, the Danish FA said his condition had stabilized.
We then found a tweet by Radio Sportiva from 13 June that denied reports that Eriksen had recently received a COVID-19 vaccine.
The tweet, written in Italian, translates as, "The information reported in the tweet mentioned is false. We have never reported any opinion from the Inter medical staff regarding Christian Eriksen's condition. Please remove the content from the tweet author, otherwise we will be forced to take action."
According to a report by Reuters, Inter Milan director Giuseppe Marotta dismissed suggestions that club midfielder Eriksen had previously contracted COVID-19 while the Italian club's doctor said he had shown no previous signs of a health issue.

Marotta dismissed the claims and said, "He didn't have COVID and wasn't vaccinated either."
USA Today, Politifact, Business Insider, and Forbes have debunked the claim and reported that Erikson was not affected by COVID-19.
Evidently, the claim that Danish footballer Erikson collapsed during a Euro 2020 match days after taking the Pfizer COVID-19 vaccine is false. He was neither infected by COVID-19 nor has he taken any vaccine.