Fact check: For the record, Moxie Marlinspike and Brian Acton created `Signal', NOT man from Uttar Pradesh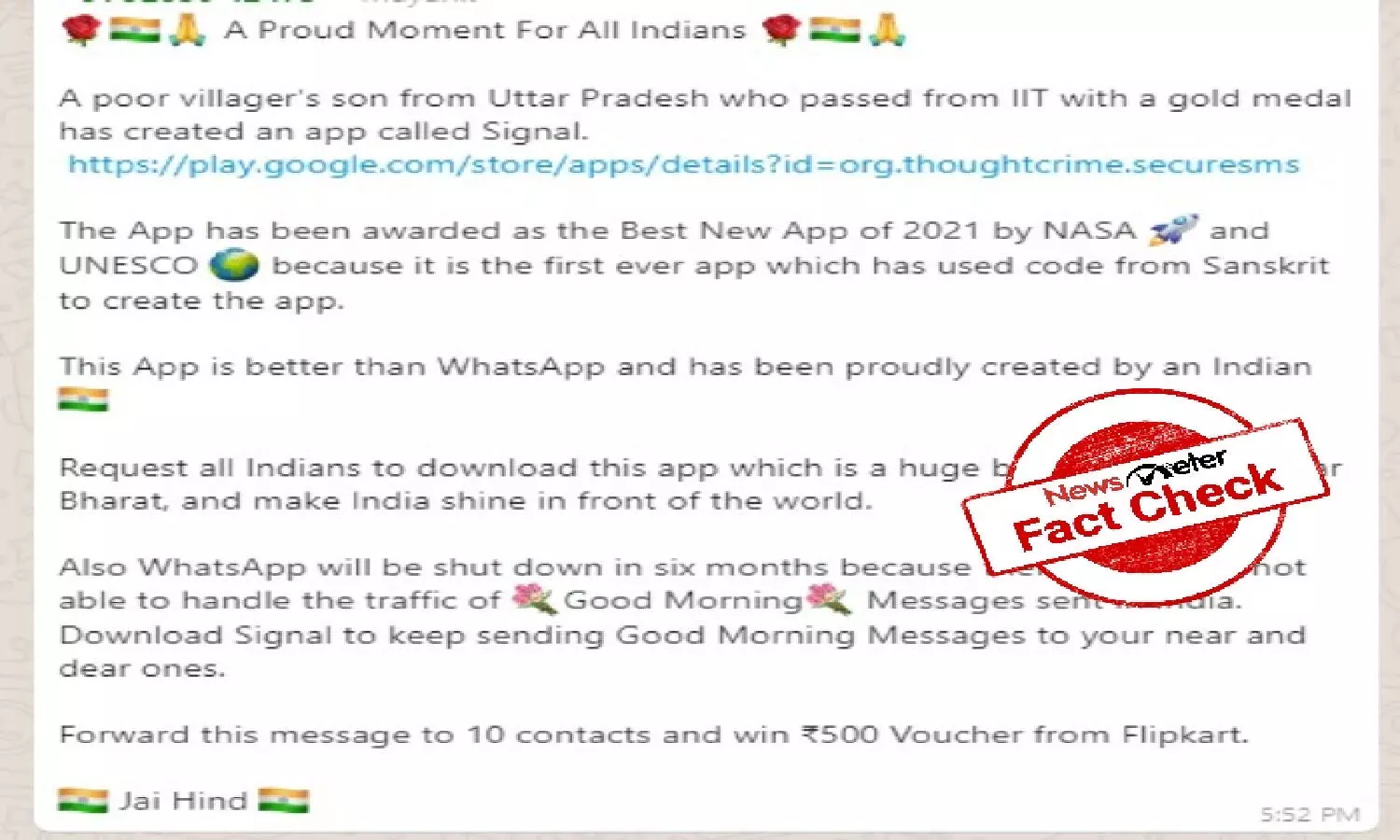 After WhatsApp announced its new privacy policy, its users started looking for alternatives. In this process, another instant messaging app - Signal --has risen to the top position in India, Germany, France, etc.

Tesla CEO Elon Musk, who is now the world's richest person, also advised people to use Signal after WhatsApp announced its new privacy policy.
Amid this, a message claiming that the Signal app has been developed by a person from Uttar Pradesh is going viral on social media especially Facebook and WhatsApp.

The claim says:
"A proud Moment for All Indians. A poor villager's son from Uttar Pradesh who passed from IIT with a gold medal has created an app called Signal.

The App has been awarded as the Best New App of 2021 by NASA and UNESCO because it is the first-ever app that has used code from Sanskrit to create the app.

This App is better than WhatsApp and has been proudly created by an Indian 🇮🇳

Request all Indians to download this app which is a huge boost to Atmanirbhar Bharat, and make India shine in front of the world.

Also, WhatsApp will be shut down in six months because their servers are not able to handle the traffic of Good Morning Messages sent in India. Download Signal to keep sending Good Morning Messages to your near and dear ones.

Forward this message to 10 contacts and win ₹500 Voucher from Flipkart".

Archive links:

https://web.archive.org/save/https://www.facebook.com/dprotim/posts/2674838579468674

https://web.archive.org/save/https://www.facebook.com/diego.peraltadelarrainymeira.3/posts/185681629924647

Fact Check:
The claim that the Signal, instant messaging app was created by poor villager's son from Uttar Pradesh is FALSE.

The signal app has been around 2014. It was developed by Signal Foundation and Signal Messenger LLC, a non-profit company. The Signal Foundation was created by WhatsApp co-founder Brian Acton and Signal Messenger CEO Moxie Marlinspike. Acton left WhatsApp in 2017 and donated $50 million to help fund Signal. It goes with the tagline "Say hello to privacy"

https://www.businesstoday.in/current/economy-politics/signal-climbs-to-top-of-free-apps-category-on-app-store/story/427515.html#:~:text=The%20Signal%20Foundation%20was%20created,million%20to%20help%20fund%20Signal

According to the website Signal foundation.org, Brian Acton is an entrepreneur and computer programmer who co-founded the messaging app WhatsApp in 2009. After the app was sold to Facebook in 2014, Acton decided to leave the company due to differences surrounding the use of customer data and targeted advertising to focus his efforts on non-profit ventures.

In February 2018, Acton invested $50 million of his own money to start the Signal Foundation alongside Moxie Marlinspike. Signal Foundation is a nonprofit organization dedicated to doing the foundational work around making private communication accessible, secure, and ubiquitous.
Moxie Marlinspike is the founder of Signal. The website also mentions Meredith Whittaker as another board member, but there is no mention of any Indian name on the team.

The messaging app is used by journalists, activists, lawyers, researchers, dissidents, politicians, and security experts around the world, and is backed by the likes of American whistleblower Edward Snowden, Twitter CEO Jack Dorsey among others.

It is available on Android and iOS. Unlike WhatsApp, the Signal Private Messenger app is also available on the iPad, and users can also download and install the Signal app on Windows, Linux, and Mac, like WhatsApp.

https://www.india.com/technology/what-is-signal-app-how-to-download-signal-whatsapp-substitute-user-data-privacy4319705-4319705/

Brian Action has supercharged a small messaging app, Signal, run by a security researcher named Moxie Marlinspike with a mission to put users before profit, giving it $50 million and turning it into a foundation. Now he's working with the same people who built the open-source encryption protocol that is part of Signal and protects WhatsApp's 1.5 billion users and that also sits as an option on Facebook Messenger, Microsoft's Skype and Google's Allo messenger.

According to a report in Forbes.com, Acton says that Signal now has unspecified "millions" of users, with a goal to make "private communication accessible and ubiquitous."

The code is not in Sanskrit as claimed and has not been awarded Best app 2021 by NASA or UNESCO as both these organizations do not give away any such awards. Even the statement that WhatsApp is doing to shut down soon is also FALSE.

The technical information about the app that helps developers can be found here: https://www.signal.org/docs/
So, the founders of Signal app are Moxie Marlinspike and Brian Action and NOT a poor villager's son from Uttar Pradesh as being claimed.

Hence, the claim is FALSE.

Claim Review :
man from Uttar Pradesh created Signal App
Claimed By :
Facebook Users