Fact Check: Girl in viral Image is not Afghan ambassador's daughter, but Pakistani transgender activist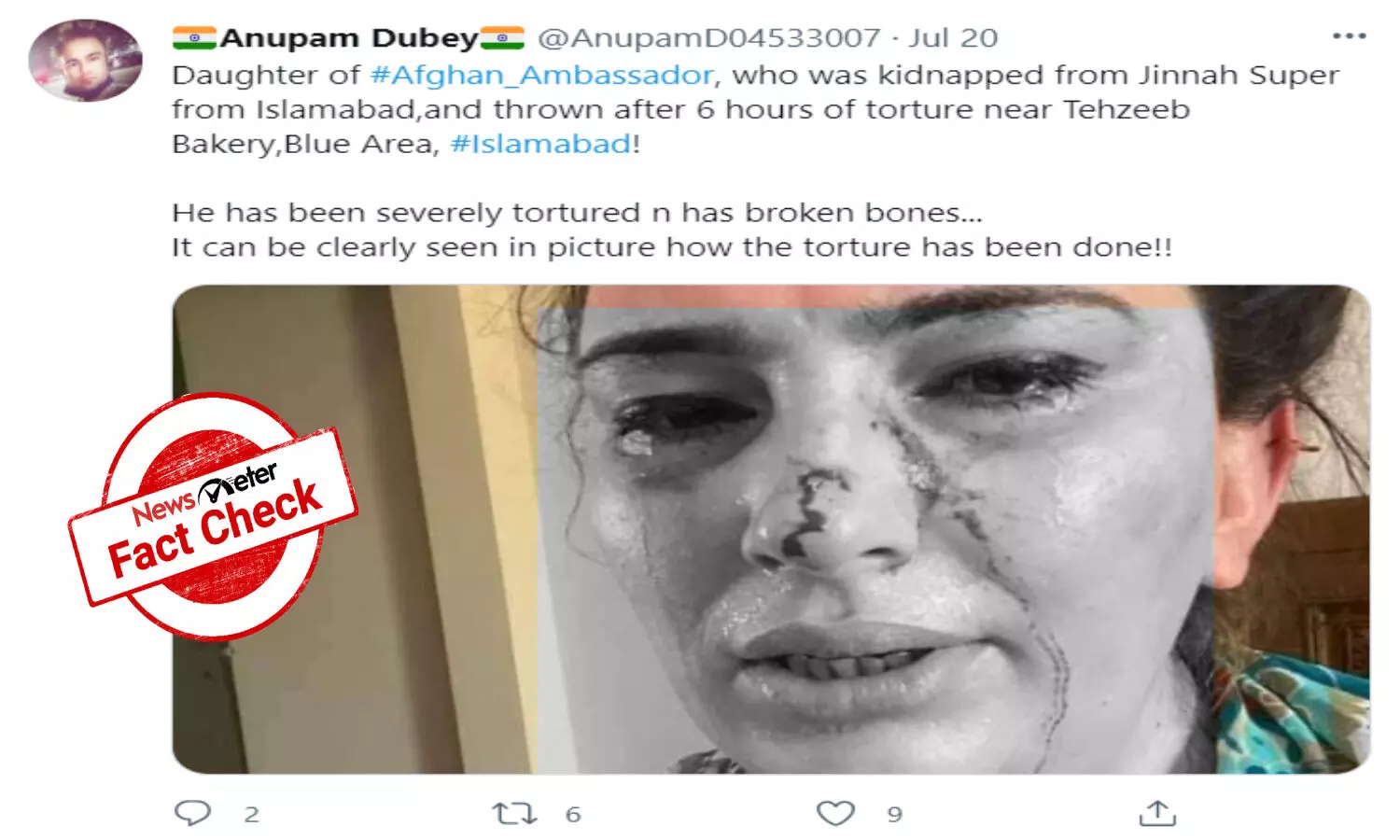 Hyderabad: An image of an injured woman is viral on social media. Users claim that she is the daughter of the Afghan ambassador to Pakistan. Users said she was kidnapped in Pakistan's capital Islamabad and released after being tortured for six hours.
(Click here for Archive)

Fact Check
The claim is misleading.

NewsMeter performed a Google Reverse Image Search of the viral image where we found a tweet of a columnist and news anchor Saleem Safi. "The image is circulating on social media and it is being falsely claimed that she is the daughter of the Afghan ambassador in Islamabad. I have spoken to the ambassador myself and confirmed in every way that this picture is not of his daughter," he tweeted.
On further research, we found a tweet by the Afghan ambassador on July 18, 2020. He had shared an image of his daughter and tweeted that "Sorry: I was forced to post a picture of my daughter's Selsila Ali Khel here, because someone else's picture was posted incorrectly on social media, even though I don't know her at all. Thank you."
We then found that the viral image is of Gul Chahat who posted these photos on her Facebook on July 16, 2021.
We then performed a keyword search and found that Gul Chahat is a Pakistani transgender activist. According to a report by The News International published on September 14, 2020, transgenders seek protection amid growing threats in KP.

In a video message, a trans activist Gul Chahat said she was facing life threats and need protection.
She said she had approached the police for help. A number of transgender persons have complained that they have faced threats on many occasions.
"I have been facing threats for long. The intimidation has made me psychologically disturbed. I am facing serious threats to my life. Please help me if you can instead of praising me when I am dead. Our friend Gul Panra was killed and Chahat injured in an attack the other day," Gul Chahat said in a video message to her friends and fans while bursting into tears.

It is therefore clearly evident that the viral claim is misleading. Girl in a viral image is not the daughter of the Afghan ambassador, but a Pakistani transgender activist Gul Chahat.
Claim Review :
Image of a daughter of Afghan ambassador
Claimed By :
Social Media Users