Fact Check: Hyd police chief did not suspend 92 officers for collaborating with GHMC poll candidates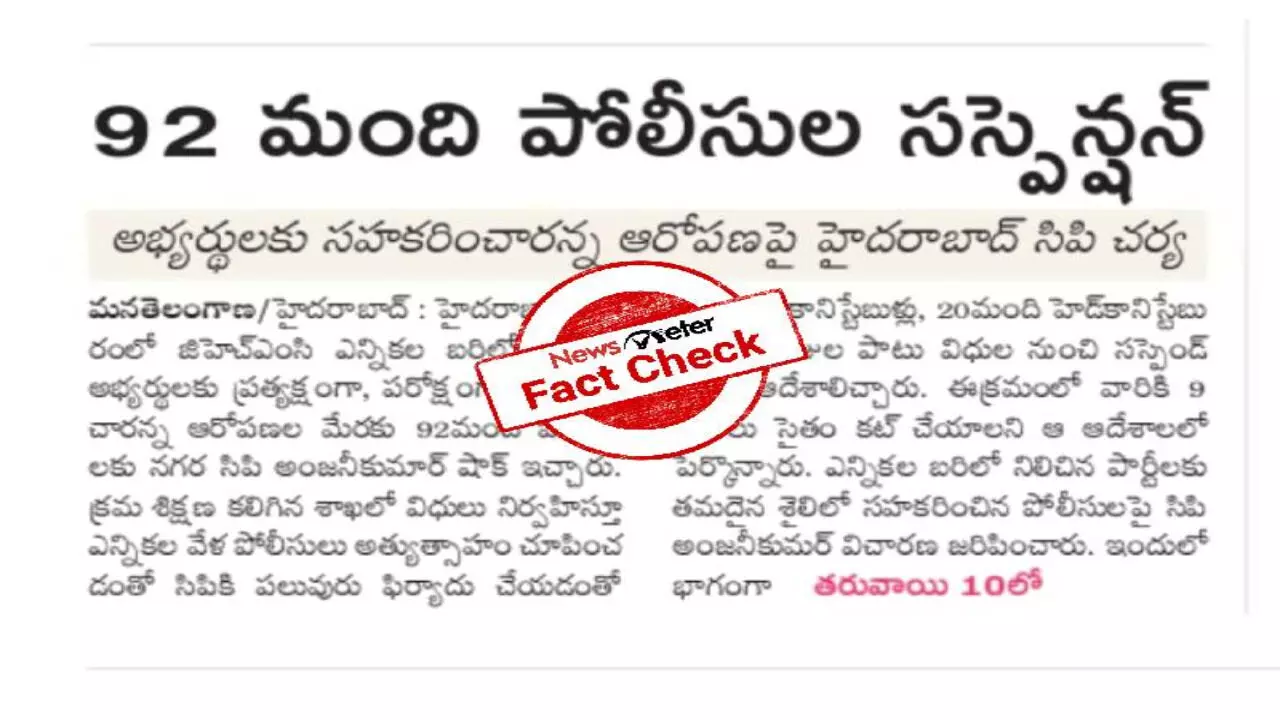 Hyderabad: A news report published in the Telugu daily Mana Telangana claiming that 92 police officers had been suspended created ripples across the state. According to the article, Hyderabad police commissioner Anjani Kumar suspended 92 policemen for allegedly, directly and indirectly, collaborating with GHMC candidates in the city.

"A total of 72 constables and 20 head constables have been suspended for nine days after several complaints were lodged with the CP, over their overzealousness during the election while performing duties," it said.
The report further said that Anjani Kumar is investigating the police for collaborating with the parties in the recent GHMC elections. As part of this, the commissioner examined photos of the policemen walking around with politicians, it said.
https://www.manatelangana.news/cp-anjani-kumar-suspend-orders-issue-to-92-police/
Archive link: https://web.archive.org/save/https://www.manatelangana.news/cp-anjani-kumar-suspend-orders-issue-to-92-police/
Fact Check:
The claim that 92 police officers were suspended for not performing their election duties and collaborating with candidates during the recent municipal elections in Hyderabad is FALSE.
Anjani Kumar, the Hyderabad commissioner of police, rubbished these claims. He took to Twitter to clarify the news, "A criminal case is being registered for circulating a FAKE NEWS that 92 police officers are suspended in one day. This is WRONG news. Please do not believe it. We are taking legal action against those spreading this FAKE NEWS for vested interest."
According to the report published in News 18 Telugu, the police had made strict arrangements to ensure that the elections in Greater Hyderabad was conducted peacefully. A total of 51,500 policemen conducted election duties. Of these, 43,000 manned polling stations, while more than 7,000 police were deployed as mobile and special parties for election duties.
Hence, the claim that 92 police officers were suspended as they did not perform their election duty properly in Hyderabad is FALSE.

Claim Review :
Hyd police chief suspend 92 officers for collaborating with GHMC poll candidates
Claimed By :
Mana Telangana News