Fact Check: K'taka medical officials did not 'fake' taking COVID-19 vaccine, video shared with misleading claims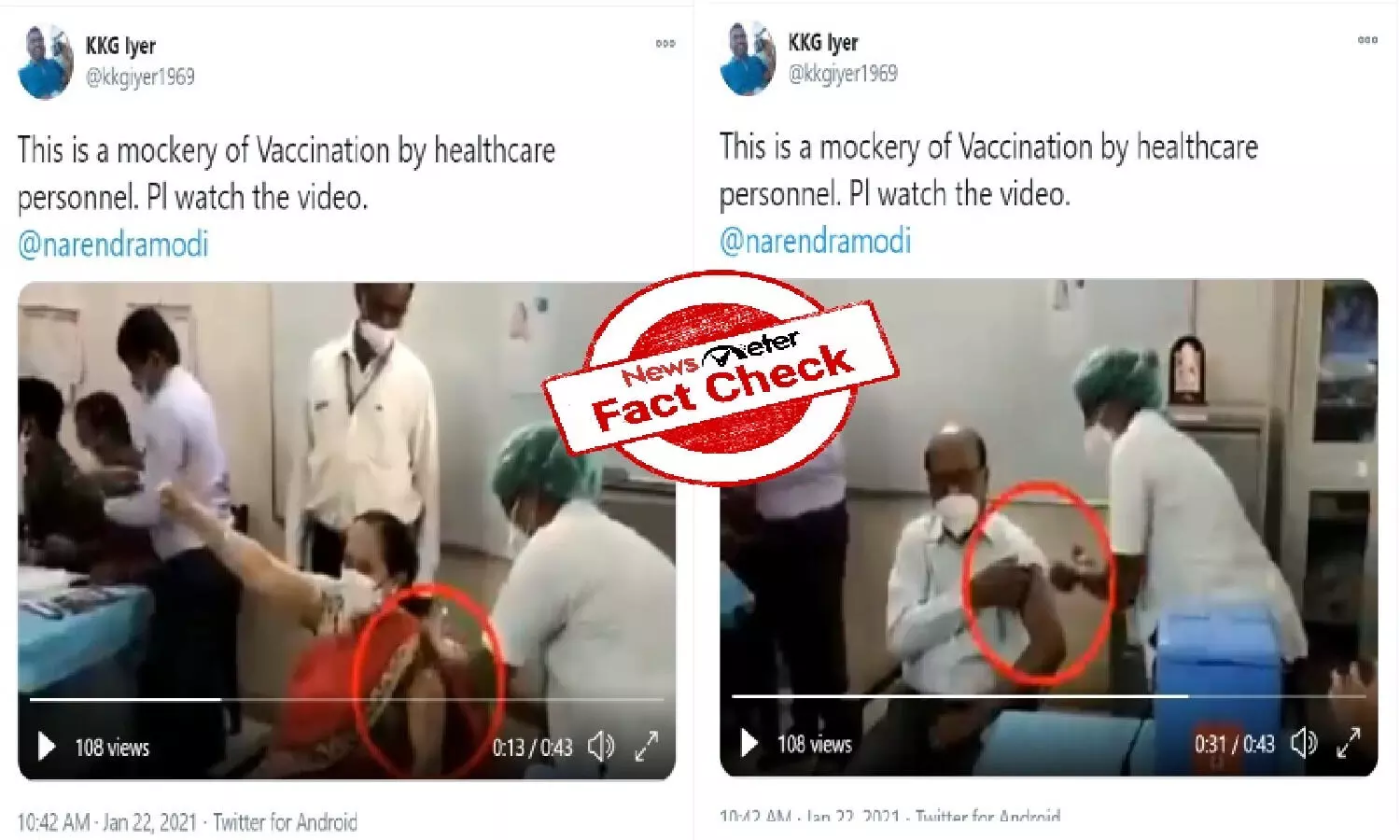 Hyderabad: A video showing medical personnel pretending to administer COVID-19 vaccine before media persons has gone viral on social media. In the video, a nurse can be administering the vaccine to officials. However, she has forgotten to remove the cap of the syringe. People behind the cameras can be heard asking her to remove the cap.

One Facebook user shared the video with the caption, "Fakecination" going on (for senior govt officials) in Tumkur district of Karnataka....!! (sic)"
Many Twitter users have also shared the video.
Archive links:

https://web.archive.org/save/https://www.facebook.com/pramod.kureel/posts/10226350115998544
https://web.archive.org/save/https://twitter.com/kkgiyer1969/status/1352484350822998017
https://web.archive.org/save/https://twitter.com/MhaskarChief/status/1352298247281229824
Fact Check:
Though it is true that officials were posing for the cameras, they took the vaccines according to official norms. The nurse and the officials were posing for the cameras because the media persons present there had missed taking photos of the actual vaccination.
According to reports, the persons seen in the viral video are Dr. Rajani, the principal of the Government Medical College in Tumkur, and Dr. Nagendrappa, Tumkur DHO.
Talking to several media outlets, the district commissioner of Tumkur, Dr. Rakesh Kumar, clarified that both the officials took the vaccines on 16 January. "The reporters had not got visuals of the vaccine being injected and asked her (Dr. Rajani) to pose for the pictures, which is what she did. She was not pretending to take the vaccine," he was quoted as saying.
https://www.opindia.com/2021/01/congress-fake-claim-doctors-karnataka-fake-vaccination-drive-fact-check/
Dr. Rajani also issued a clarification stating that the media persons entered the vaccination room just after she had received the vaccination shot. Obliging to their request, she sat down and posed for the cameras. The video was taken out of context and shared with false claims.
Claim Review :
K'taka medical officials taking COVID-19 vaccine
Claimed By :
Social Media Users