Fact Check: Lost in translation: AAP MLA Amanatullah Khan's video shared with false claims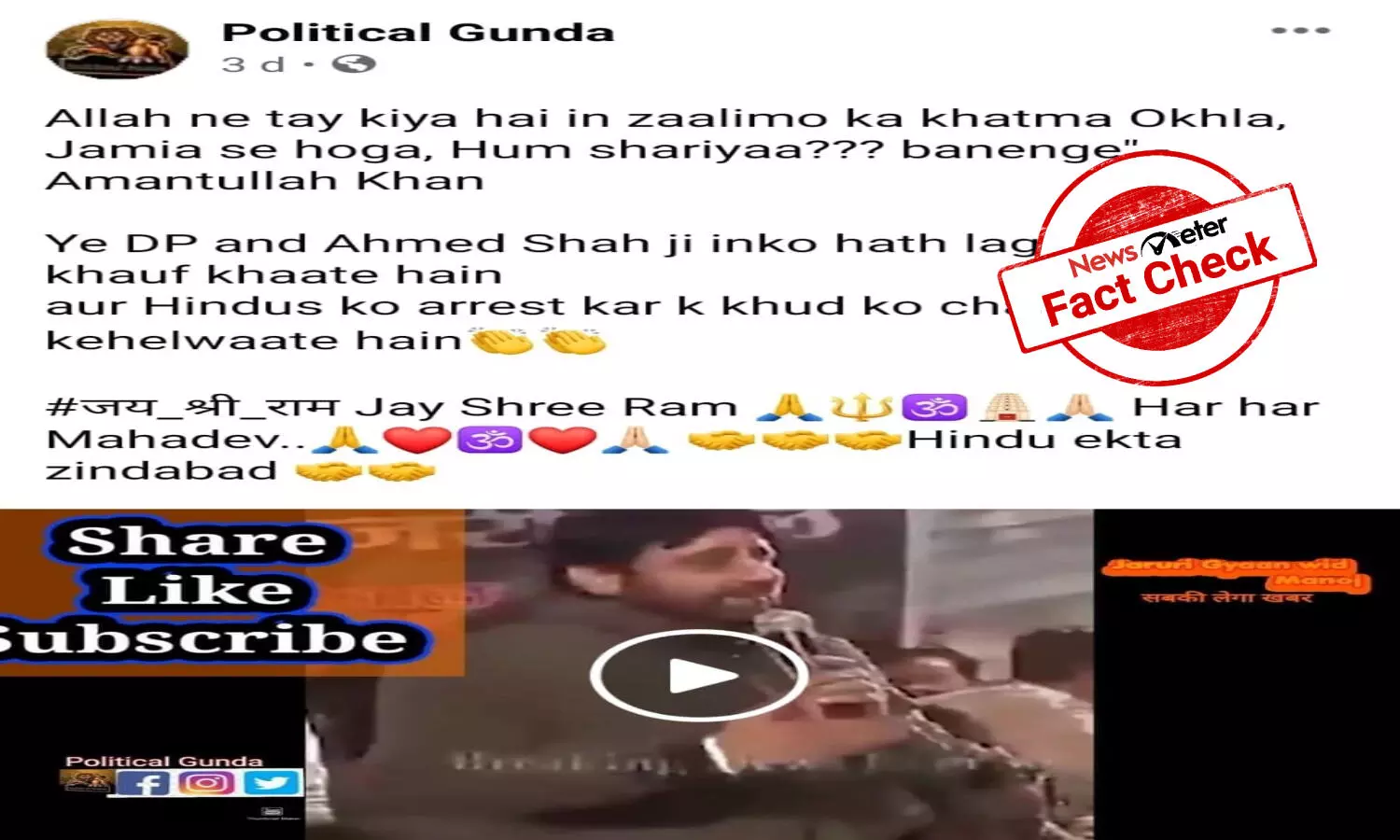 Hyderabad: A video of Aam Aadmi Party (AAP) leader Amanatullah Khan is viral on social media. This follows a police action against him for provocative sloganeering at Jantar Mantar.

It is alleged that in one of his speeches, he advocated Sharia system in the country. Users said Delhi Police did not take any action against him.
"Allah ne tay kiya hai in zaalimo ka khatma Okhla, Jamia se hoga, Hum shariyaa??? Banenge: Amantullah Khan. Ye DP and Ahmed Shah ji inko hath lagaane se khauf khaate hain aur Hindus ko arrest kar k khud ko chanakya kehelwaate hain," reads a viral post.

The link to the post can be seen here.
A similar video can be seen here.
Fact Check:
The claim is false.

NewsMeter found that Amanatullah Khan's video has a watermark of 'Breaking News Express'. In the search, we found a YouTube channel of 'Breaking News Express'. The watermark can be seen in all the videos being shared on social media.

On February 2, 2020, a video bulletin containing Amanatullah Khan's speech was received on the channel in which he is seen addressing the protesters of Shaheen Bagh. Khan certainly gave the speech. At 0.08 seconds of the beginning of his speech, one can clearly hear Khan saying 'zariya' (which means a way or a process) and not 'sharia'. Khan actually said "Hum zariya banenge" and not "hum shariya banenge".

On listening to this video, it is clear that this is an election campaign speech in which Khan is asking for votes.

He goes on to say that Allah has decided who will emerge victoriously, who will be insulted and who will take the honors.

"Hum zariya banenge," he said.

Khan never mentions the word 'Sharia' but said 'zariya', meaning a medium, or in this context, facilitators of the fall of the oppressors.
We performed some keyword searches on social media and found that the video has been doing rounds on social media since 2020 with the same claim. You can see the old claims here. BJP spokesperson Sambit Patra shared the video with some lines, purportedly extracted from the Okhla MLA's speech. It seems people have been circulating that again.
Claim Review :
Amanatullah Khan appeals for sharia.
Claimed By :
Social Media Users