Fact Check: Man in viral video is not Veer Savarkar, but actor playing his character in 1983 movie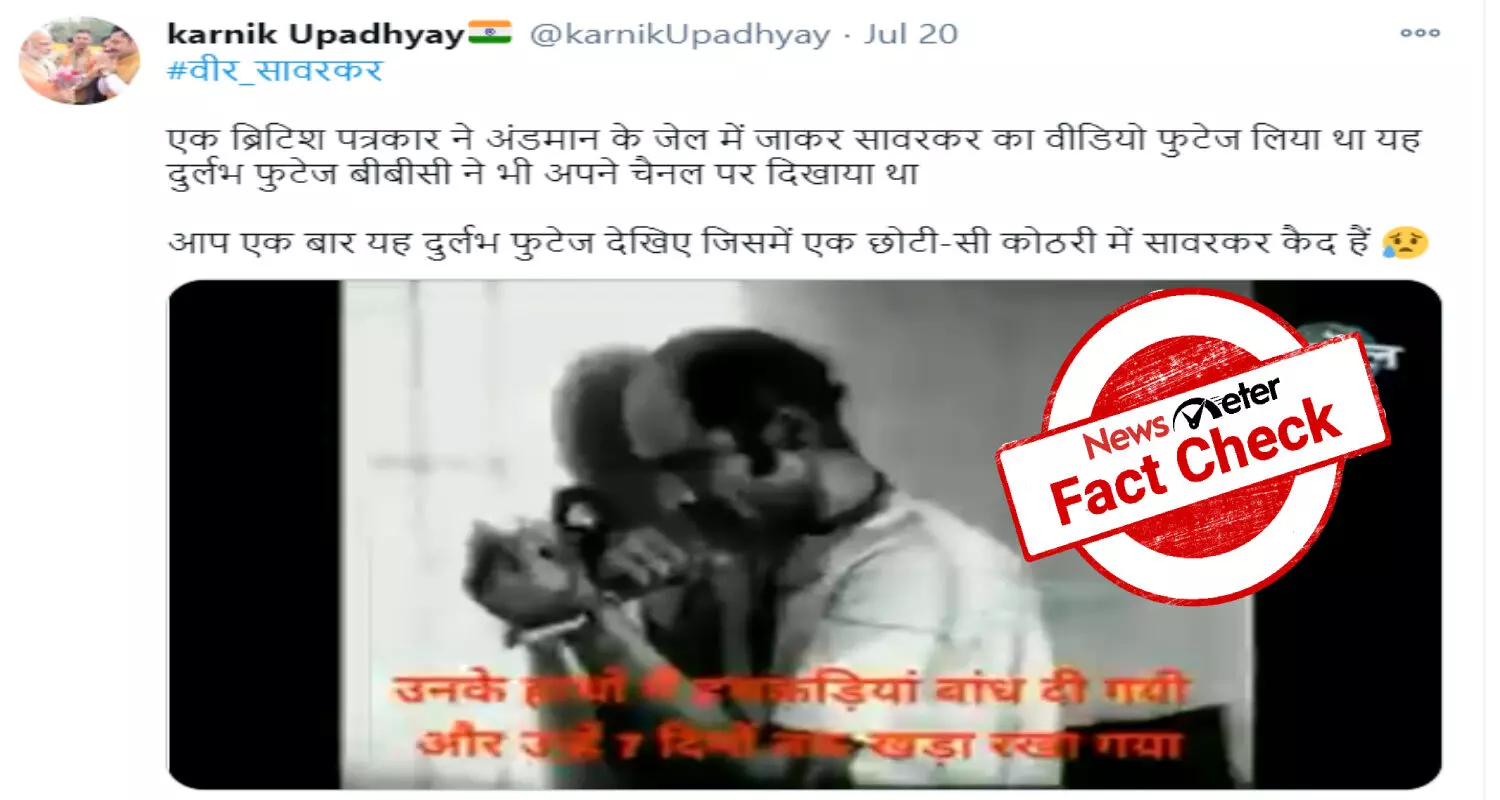 Hyderabad: A "rare footage" by a British reporter showing Vinayak Damodar Savarkar also called Veer Savarkar in Andaman jail, is viral on social media. Many netizens believe that this is the real-life footage of Savarkar in jail.
(archive)

(Click here to view similar claims)

FACT CHECK:
Vinayak Damodar Savarkar, also known as Veer Savarkar was an Indian Independence activist and politician who formulated the Hindu nationalist philosophy of Hindutva. In 1948, he was charged as a co-conspirator in the assassination of Mahatma Gandhi; however, he was acquitted by the court for lack of evidence.

To reinforce the idea of Savarkar being a freedom fighter, a video showing atrocities committed against him in jail is viral on social media.

However, NewsMeter found out that this video is not the footage of Savarkar.

We performed a keyword search and found a video published on

YouTube by the 'Ministry of Information & Broadcasting' from August 14, 2014, with the title, "Life of Shri Vinayak Damodar Savarkar". This video is 41 minutes long and a small clip from here has gone viral on social media.
The description of the video mentions: "The film depicts various important events in his life". The MIB video credited the Films Division of India for the footage.

Using this information, we searched on the website of the Films Division and found that a movie based on him called Veer Savarkar was a black-and-white movie made in 1983 directed by Prem Vaidya.

The viral video does not feature Veer Savarkar himself and is not reported by a British Journalist. The man in the video is an actor portraying his character in a 1983 movie which was commissioned by the Indian government. Hence, the claim is false.

Claim Review :
Man in viral video is Veer Savarkar
Claimed By :
Twitter Users