Fact Check: Message claiming people above 18 can register for vaccine through CoWINHelp is false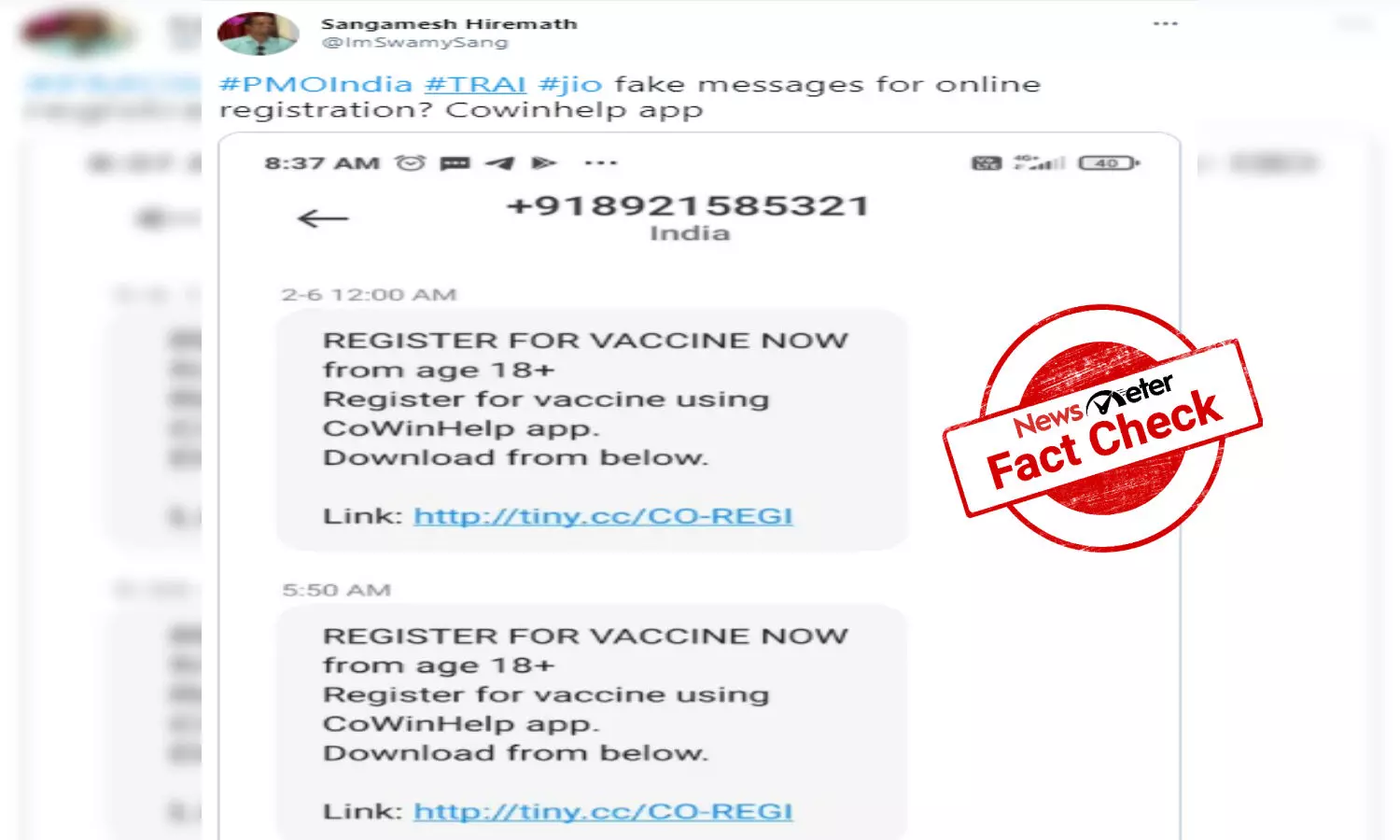 Hyderabad: As people await their turn to get the COVID-19 vaccine, a text message has been doing the rounds claiming that those who are above 18 years can download the CoWINHelp app and book their COVID-19 vaccine slot.
It is also being shared on Twitter.

The message contains a link through which a person can reportedly download the CoWINHelp app.

Fact Check
The message is a hoax.
When a person clicks on the link in the message, it takes them to a malicious website.
Also, there is no app called CoWINHelp.

The official CoWIN portal website link is https://www.cowin.gov.in/. NewsMeter has found that the fake website link is in no way related to the official CoWIN website. It has been advised that if you have received any such message, make sure not to click on the link. In fact, you must not tap on any link that is not verified by the government.
We tried to search for reports about the app but found none.
Currently, a person can book COVID-19 vaccine slot through the CoWIN portal at https://www.cowin.gov.in/.
NewsMeter also found a tweet by Lukas Stenfako, a malware researcher at ESET. He had shared screenshots of the text message and tweeted, "SMS worm impersonates Covid-19 vaccine free registration. Android SMS worm tries to spread via text messages as fake free registration for Covid-19 vaccine - targets India. It can spread itself via SMS to victim contacts with link to download this malware (sic)."
Here's an Indian Express report on everything you need to know about COVID-19 vaccination registration on CoWin and Aarogya Setu for 18-44 year-olds.

The official CoWIN website (cowin.gov.in) also has explained in detail how to register for the vaccine.

Evidently, the message is a hoax as there is no such app called CoWinHelp.
Claim Review :
Registration of vaccine for 18+ through CoWinHelp app