Fact Check: Message from WhatsApp 'director' claiming app will start charging users is fake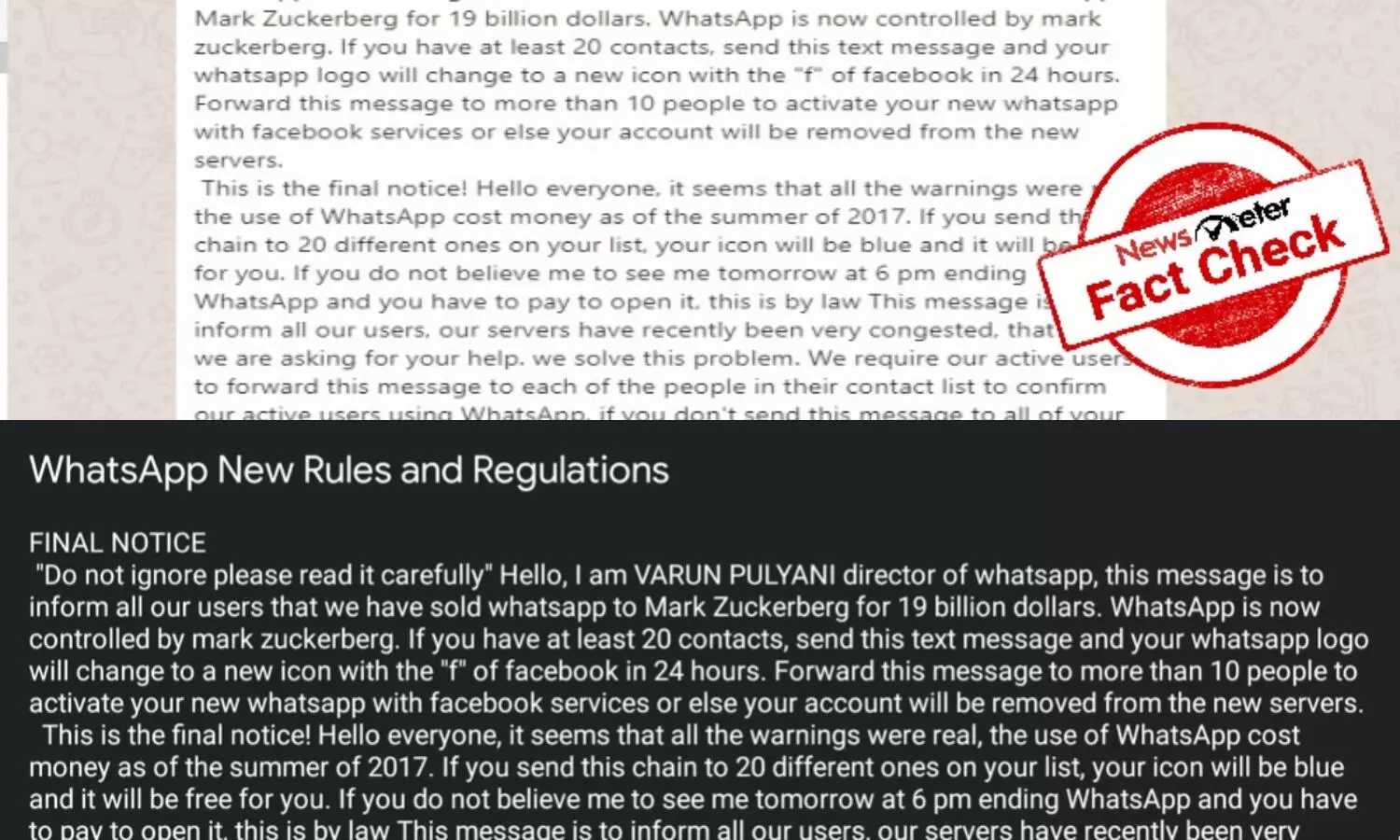 Hyderabad: A WhatsApp message reportedly sent by the "director of WhatsApp", Varun Pulyani, has been doing the rounds. It asks users to forward the message to at least 20 contacts. If they fail to do so, they will have to start paying for WhatsApp services, the message claims.

The message begins, "Do not ignore please read it carefully. Hello, I am VARUN PULYANI director of WhatsApp, this message is to inform all our users that we have sold WhatsApp to Mark Zuckerberg for 19 billion dollars. WhatsApp is now controlled by mark Zuckerberg. If you have at least 20 contacts, send this text message, and your Whatsapp logo will change to a new icon with the "f" of Facebook in 24 hours. Forward this message to more than 10 people to activate your new WhatsApp with Facebook services or else your account will be removed from the new servers."
It further reads, "This is the final notice! Hello everyone, it seems that all the warnings were real, the use of WhatsApp cost money as of the summer of 2017. If you send this chain to 20 different ones on your list, your icon will be blue and it will be free for you. If you do not believe me to see me tomorrow at 6 pm ending WhatsApp and you have to pay to open it, this is by law."
It asks users to forward the message to everyone in their contact list "to confirm our active users using WhatsApp". It claims that if users fail to forward the message then WhatsApp will start charging them and their accounts will become inactive and they will lose all your contacts.
The message also contains a "message from Jim Balsamic, the CEO of WhatsApp" that states, "We have had excessive use of usernames in Whatsapp Messenger. We ask all users to send this message to their entire contact list. If you do not forward this message, we will treat it as your invalid account and it will be deleted within the next 48 hours. DO NOT ignore this message or WhatsApp will no longer recognize your activation. If you wish to reactivate your account after it has been deleted, a fee of 25.00 will be added to your monthly bill."
It encourages people to be a frequent user and share the message with at least 10 people to keep WhatsApp free. "WhatsApp is going to cost us money soon. The only way it will remain free is if you are a frequent user, that is, you have at least 10 people that you are chatting with. To become a frequent user, send this message to 10 recipients (2 ticks) and your WhatsApp logo should turn blue…" the message further states.
This message has been shared on YouTube, Facebook, and Twitter.
Claim Review :
Message from WhatsApp 'director' claiming app will start charging users
Claimed By :
Social Media Users